Natural Whey Protein Powders
Natural protein powders are simply protein powders formulated without the addition of any artificial sweeteners, preservatives, or flavourings. Typically, protein powders include a variety of artificial sweeteners such as acesulfame potassium, sucralose, and aspartame. Although modern research as proven that these compounds are safe if consumed in sensible amounts, there is still a stigma associated with the use of artificial sweeteners among some people. As such, natural protein powders are an ever growing market for all the big name protein manufacturers.

Natural Protein Powder Ingredients
Instead of artificial sweeteners, natural protein powders typically use stevia to sweeten the powder. Stevia is extracted from the Stevia rebaudiana plant, which is also known as sweet leaf, or sugarleaf. Typically stevia sweeteners have a slightly bitter and lingering aftertaste. Of course, any flavouring agents used in natural protein powders would also be derived from natural sources.
Other than these minor additions, there are no significant changes between natural protein powders and the equivalent regular protein powders. So switching to a natural variety would definitely not mean that you are missing out on anything.
Natural vs Regular Protein Powder
To demonstrate the above point about natural and regular protein powders being the same, we will compare the world's most popular whey protein powder, Optimum Gold Standard 100% Whey with its sibling, Gold Standard Natural 100% Whey.
| | | |
| --- | --- | --- |
| | Natural 100% Whey (Chocolate) | Regular 100% Whey (Double Rich Choc) |
| Serving size | 32 g | 30.4 g |
| Calories | 130 | 130 |
| Protein | 24 g | 24 g |
| Fat | 1 g | 1 g |
| Carbohydrates | 5 g | 3 g |
| BCAAs | 5.5 g | 5.5 g |
| Glutamine | 4 g | 4 g |
| Serves/900 g tub | 28 | 29 |
As you can see from the above table, the specs between the two products are almost identical except for the slightly larger serving size of the Natural 100% Whey. For a 900 g tub, this translates into 1 fewer serving, which isn't really the end of the world.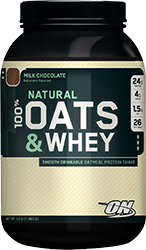 Natural Protein Powder Brands
Once upon a time there were very few brands that made natural protein powders. However, with an ever growing market, a lot of the major manufacturers are making their own natural products.
The Americans led the charge with companies such as Optimum Nutrition making Gold Standard Natural 100% Whey. Originally a single product, this has now expanded into a whole range which includes:
Natural Pro Complex – a flexible blended protein containing whey and egg proteins
Natural Oats & Whey – an oats and whey blend ideal for use as breakfast
Natural 100% Casein Gold Standard – a natural 100% casein protein for night time use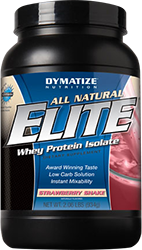 Of course, Optimum does not have the market to themselves. Long time rivals, Dymatize also make a Dymatize All Natural Elite Whey, a direct competitor to Optimum's Natural 100% Whey.
There are now also quite a few Australian & New Zealand brands who are also investing in natural protein powders. The most noteworthy of which would be Natural Health Supplements (NHS), who are a sister company of the popular brand, Redbak. These guys have an extensive range of pure protein powders including whey protein concentrate, whey protein isolate, soy protein, and casein protein. Each of those are 100% natural and do not even contain any flavourings or sweeteners, making their products ideal for purists.
BSc have made a strong commitment into developing a large natural range which includes protein powders such as Naturals Strongbody WPI and Naturals Organic Vegan Protein. In addition are also a range of natural health supplements including antioxidants among many others.
Balance are not new to proteins, but they have recently released Balance 100% Whey Natural.
Finally, International Protein have now also joined in on the naturals game. They have a complete range of natural protein powders including Natural WPI, Natural Rice Protein, Natural Egg White Protein, Natural Hydrolysed Whey, and Natural Soy Protein.