Quick Summary
Dragon's Breath Black is the stronger more intense version of Dragon's Breath pre workout.
1 full scoop contains 350mg of caffeine, 200mg of English walnut extract...with a bunch of other great ingredients to help you get the most out of your workout
Dragon's Breath Black is considered a "high stim" pre workout
Ingredients are broken down into 3 categories- Energy, pump, endurance and nootropics
Inexperienced pre workout users should start by taking ½ scoop and gradually increasing
Available in 4 different flavours- Blue clouds, grape lemonade, green cordial and cola lemonade
Red Dragon Nutritionals is an Australian company with a growing amount of retailers across the globe. They sell a range of products from pre workouts, proteins, fat burners and more. I highly suggest you give Dragon's Breath Black a shot if you are looking for a high stim pre workout that won't break your bank.
Dosage
This pre workout contains 350mg of caffeine, 200mg of English walnut extract and 60mg of bitter orange for fast acting, hard hitting energy. As you can see this is a high stim pre workout that will ensure that you will feel more energetic and ready to go. This pre workout comes in tubs of 30 servings with each serving being 8.7g.
Dragon's Breath Black Ingredients
The ingredients are broken down into 3 categories which are:
Energy Production: Caffeine Anhydrous, English walnut extract, hordenine and bitter orange.
Pump: Betaine Anhydrous and Nitrosigine which consists of Arginine, Inositol and Potassium.
Nootropic: Derived mainly from L-Tyrosine and vitamin B3 Also, an honourable mention is Glycine which has been shown to enhance power production and reduce the amount of lactate build up.

Dragon's Breath Black Flavours
Red Dragon Black comes in 4 different flavours:
• Blue Clouds
• Grape Lemonade
• Green Cordial
• Cola Lemonade
My favourite flavour so far has been the Grape lemonade as I love most grape tasting supplements and the lemonade factor helped enhance the flavour.
Dragon's Breath Black Caffeine & Stimulants
Unlike a majority of pre workouts Dragon's Breath Black does not contain any Beta Alanine. Which is perfect for those who do not enjoy the feeling of their skin tingling after taking some pre workouts. This pre workout does contain a whopping 350mg of caffeine anhydrous, 200mg of English walnut extract and 60mg of bitter orange. When caffeine and bitter orange is combined it enhances the effects of the caffeine. Thus, meaning you will feel the caffeine kick in faster and harder than before.
Dragon's Breath Black Benefits & Results
As this pre workout is rich with pump ingredients I found the best time to take a serving was 20 minutes before a training session this allowed the ingredients to absorb and start to take effect. By the time I got to the gym the caffeine and English walnut extract had already kicked in and I felt ready for a big training session. The pumps I have encountered while using this pre workout are amazing.
Dragon's Breath Black Side Effects
As this pre workout does contain a high number of stimulants some users may feel nauseous and jittery. I recommend starting with ½ scoop to gauge impact of this pre workout then gradually increase as tolerance increases. Some users may feel a "crash" when this pre workout starts to wear off. This can cause users to feel nauseous and sluggish.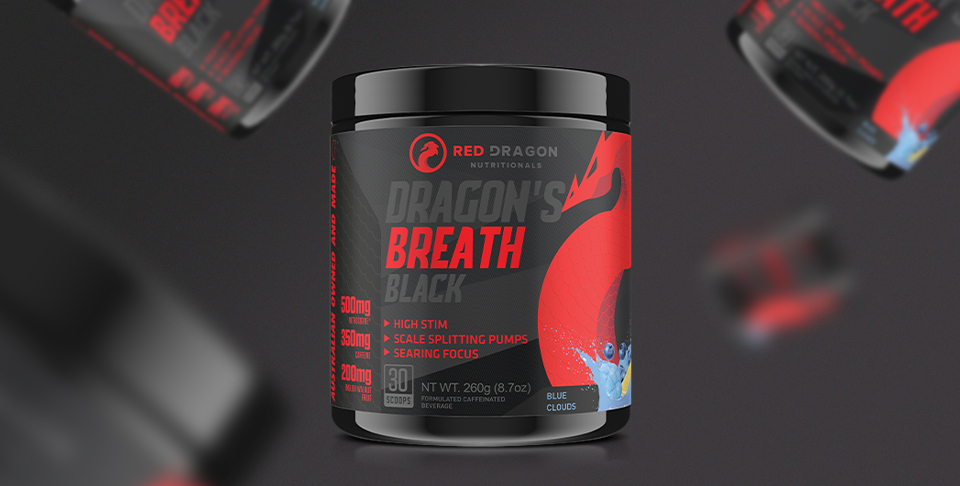 Dragon's Breath Black Safety
This pre workout is a high stim pre workout therefore I suggest starting with ½ scoop. Always be responsible and follow the manufacturer's label instructions when taking this product. Do not exceed 1 serving a day.
Conclusion
Dragon's Breath Black knows how to pack a punch with its high dose stimulant ingredients. As mentioned before the pumps I had after taking this pre workout were amazing and I felt more focused in and even after the training session had ended. This pre workout was a nice change as it contains no beta alanine – meaning my skin was not tingling the whole workout. I recommend this product to anyone wanting to improve the quality of their training sessions.