https://www.mrsupplement.com.au/rule-1-pre-lift?variation=15137
Rule 1 preLIFT (450g / 30 Serves Black Cherry Limeade)
Rule 1
Supplements > Pre Workout > Pre Workout
https://cdn.mrsupplement.com.au/resources/imgs/products/rule-1-pre-lift.1636673870703.png
http://schema.org/NewCondition
http://schema.org/InStock
AUD
https://www.mrsupplement.com.au/rule-1-pre-lift?variation=15137
79.95
AUD
https://www.mrsupplement.com.au/rule-1-pre-lift?variation=15134
Rule 1 preLIFT (450g / 30 Serves Blue Raspberry)
Rule 1
Supplements > Pre Workout > Pre Workout
https://cdn.mrsupplement.com.au/resources/imgs/products/rule-1-pre-lift.1636673870703.png
http://schema.org/NewCondition
http://schema.org/OutOfStock
AUD
https://www.mrsupplement.com.au/rule-1-pre-lift?variation=15134
79.95
AUD
https://www.mrsupplement.com.au/rule-1-pre-lift?variation=15136
Rule 1 preLIFT (450g / 30 Serves Orange Pineapple)
Rule 1
Supplements > Pre Workout > Pre Workout
https://cdn.mrsupplement.com.au/resources/imgs/products/rule-1-pre-lift.1636673870703.png
http://schema.org/NewCondition
http://schema.org/InStock
AUD
https://www.mrsupplement.com.au/rule-1-pre-lift?variation=15136
79.95
AUD
https://www.mrsupplement.com.au/rule-1-pre-lift?variation=15473
Rule 1 preLIFT (450g / 30 Serves Snow Cone)
Rule 1
Supplements > Pre Workout > Pre Workout
https://cdn.mrsupplement.com.au/resources/imgs/products/rule-1-pre-lift.1636673870703.png
http://schema.org/NewCondition
http://schema.org/InStock
AUD
https://www.mrsupplement.com.au/rule-1-pre-lift?variation=15473
79.95
AUD
https://www.mrsupplement.com.au/rule-1-pre-lift?variation=15135
Rule 1 preLIFT (450g / 30 Serves Wild Grape)
Rule 1
Supplements > Pre Workout > Pre Workout
https://cdn.mrsupplement.com.au/resources/imgs/products/rule-1-pre-lift.1636673870703.png
http://schema.org/NewCondition
http://schema.org/InStock
AUD
https://www.mrsupplement.com.au/rule-1-pre-lift?variation=15135
79.95
AUD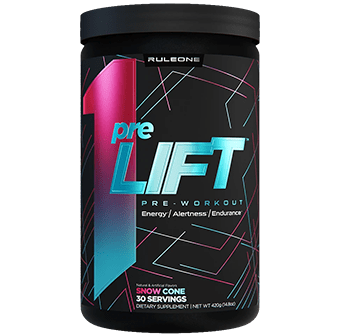 Pre Lift
Advanced Pre Workout
Long Lasting Energy - Train Harder For Longer
Increase Mental Alertness
Boost Endurance
6 Patented/Licensed Compounds
In Stock

(1)
Write a review
Product
Q&A's
Reviews
Add To Cart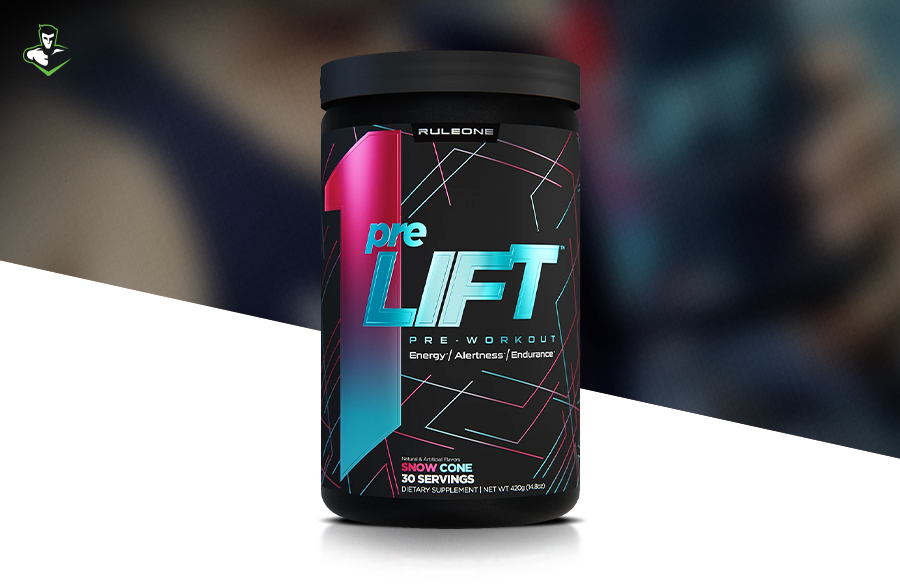 A serious pre-workout for serious lifters.
preLIFT is Rule 1's most advanced pre-workout ever. The unique formula not only helps support energy, alertness, and endurance, it's also designed to extend its energy benefits, so you have the potential to train harder, go longer and get more out of every workout.
Each scoop is packed with 25 active ingredients, including 6 patented/licensed compounds that will help you take your workout to the next level.
Q&A's
Ask a question about
Rule 1 preLIFT
Reviews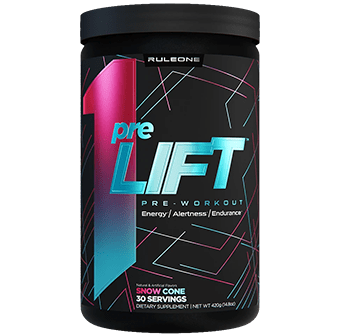 Excellent

Based on reviews collected by
&
Write a review

Rule 1 preLIFT
Rule 1 preLIFT
Rule 1 preLIFT
450g / 30 Serves Black Cherry Limeade
Great pre workout.
Collected via Trustpilot
Next Page
Contact Us