Quick Summary Points
OxyShred Non Stim is an all-natural stimulant-free fat burner that helps to support fat loss
Designed for anyone sensitive to caffeine/stimulants
Benefits may include an increase in metabolism, increased focus, enhanced energy & fatty acid oxidation
Safe to consume at night without keeping you awake making it fantastic for evening workouts
Oxyshred Non Stim offers minimal negative side effects compared to stimulant based fat burners
Oxyshred Non Stim comes in various flavours with Raspberry Kisses the most popular
Oxyshred Original (with stimulants) may offer greater fat loss benefits, however, Oxyshred Non-Stim is an excellent alternative should you wish to avoid stimulants
Stimulant-free fat burners have never been as popular as stimulant-based supplements however, despite this there is still a growing market for stimulant-free supplements. Within the fitness industry, without a doubt, EHP Labs OxyShred is one of the world's leading fat burners. They have announced their upcoming release of a stimulant-free version of OxyShred. Without further ado, let's take a closer look at the product.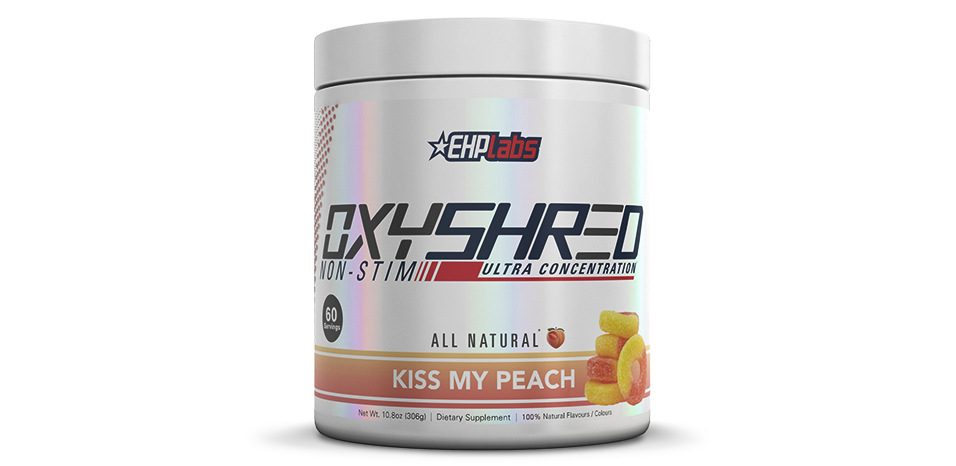 What is OxyShred Non Stim?
As the name suggests, OxyShred Non Stim is a 100% stimulant-free based fat burner designed to boost metabolism, suppress appetite & support fat loss. The formula for OxyShred Non-Stim remains similar to the original Oxyshred Ultra Concentration formulation, just minus stimulant type ingredients such as caffeine & green coffee bean extract.
Why Non Stim?
While many consumers are okay with consuming caffeine or other stimulants; there is still a vast range of people who experience uncomfortable and negative symptoms like dizziness, headaches or "jittery" feelings. More importantly, with stimulant-free fat burners; you can take them at any time, especially for those who train in the evening that won't interrupt rest at night.
OxyShred Non Stim Highlights
Caffeine Free
All Natural Formula
Reduce & Control Cravings
Boost Metabolism & Support Fat Loss
OxyShred Non Stim Ingredients & Dosage
OxyShred Non Stim formula has kept the majority of the ingredients from their original OxyShred formula just minus the stimulants.
Energy – 4 Calories/16kJ
Total Carbohydrates – 1g
Vitamin C (Ascorbic Acid) – 134mg
Thiamin (as Thiamin Monitrate) – 0.4mg
Riboflavin (Vitamin B12) – 0.6mg
Niacin (Niacinamide) -15.8mg
Vitamin B6 (Pyridoxine Hydrochloride) – 0.6mg
Vitamin B12 (Cyanobalamin) – 0.7mcg
Pantothenic Acid (as D-Calcium Pantothenate) – 1mg
Chromium – 2mcg
Oxyshred Non-stim Hyper-Lipolysis Compound - 2290mg
Acetyl L-Carnitine HCI, L-Carnitine Tartrate, Inulin Fiber, Garcinia Cambogia Fruit Extract, Conjugated Linoleic Acid (CLA), Teacrine, Raspberry Ketones, Oleuropein (Olive Leaf Extract), Grapefruit Seed Extract, Guggul Extract Powder (Guggulsterone) Mango Seed Extract, Chromium Picolinate.
Oxyshred Immunity Booster - 425mg
L-Glutamine, Vitamin C (as Ascorbic Acid).
Oxyshred Mood Enhancer - 1001mg
L-Taurine, L-Tyrosine, Huperzia Serrata Extract Powder (Huperzia Serrata), (Whole Herb).
Full B Vitamin Spectrum - 25mg
Niacinamide, D-Calcium Pantothenate, Pyridoxine HCL, Riboflavin, Thiamine Mononitrate, Vitamin B12.
Other Ingredients
Citric Acid, Natural Flavour, DL-Malic Acid, Sucralose, Silicon Dioxide, Calcium Silicate, Natural Colour (Beta-Carotene).
OxyShred Non Stim Benefits & Pros
Many people rely on caffeine-heavy pre-workouts to amp them up for their gym sessions, leading those who are sensitive to caffeine to believe that there are few to no options in terms of pre-workout supplements for them to enjoy the same buzz. This is where Oxyshred Non Stim comes in, giving you the energy, you need to fuel your session, without the unwanted side effects. Teacrine is a rising ingredient that has been used to replace caffeine by providing a natural, clean energy boost without giving you the jitters that often occur with caffeine. With the addition of Teacrine, it works to drive more oxygen to your working muscles enabling you to have more energy. It also functions to increase concentration and boost alertness which is what you want especially during training.
The original OxyShred formula contains Acetyl-L-Carnitine; this version adds L-Carnitine Tartrate (another carnitine form) which is responsible for further fat burning. Most supplements are now starting to include nootropics that help to improve mood, memory and cognition. The formula uses Huperzine A particularly known for its boost in mood and memory which is particularly important especially if you're looking to shed kilos.
For those who like to use OxyShred as a pre-workout, the Oxyshred Non Stim is better suited to those who train in the evenings, as it avoids potential insomnia or sleep disruption caused by consuming stimulant supplements closer to bedtime, without sacrificing the improved performance that they bring.
Oxyshred Non Stim Vs Oxyshred Original (Contains Stimulants)
When comparing the original Oxyshred & Oxyshred Non-Stim, it is essential to consider the primary differences between these two fat burning powders, as well as the potential impact on fat loss.
Oxyshred is a more potent thermogenic fat burner containing stimulants such as caffeine, designed to increase energy, enhance focus, & boost metabolism. The stimulating effects in Oxyshred can lead to more significant fat loss benefits, as the increased energy expenditure may promote a higher calorie burn during workouts & daily activities.
On the other hand, Oxyshred Non-Stim is a caffeine-free alternative that still offers many fat-burning benefits without the stimulating effects, making it an ideal choice for individuals who are sensitive to stimulants or prefer to avoid them. While both powders are formulated to support weight loss & help to achieve fitness goals, the choice between the two ultimately depends on personal preferences & your individual tolerance to stimulants.
If maximizing fat loss benefits is your priority & you can tolerate stimulants, the original Oxyshred formula may be the better option. On the other hand if you'd prefer no stims, then Oxyshred Non-Stim would be your go to.
OxyShred Non Stim | Taste, Best Flavour & Mixability
With an exciting range of flavors to choose from, users can now enjoy the benefits of this popular supplement while indulging their taste buds. Five delicious options include Kiss My Peach, Raspberry Kisses, Strawberry Sunrise, Appletini & Honeydew Melon. Each of these flavors is designed to provide an enjoyable experience and cater to different preferences, making it easy for consumers to find their perfect match.
Among these enticing flavors, Raspberry Kisses stands out as a fan favorite best flavour. With its perfect blend of sweet & tart notes, this option has captured the hearts of many Oxyshred Non-Stim users. The refreshing taste of ripe raspberries combined with the supplement's effective formulation makes it a winning choice for those seeking a delectable way to support their fitness goals.
Oxyshred Non Stim mixes easily without any clumpy residue. It is a powder that conveniently dissolves in water.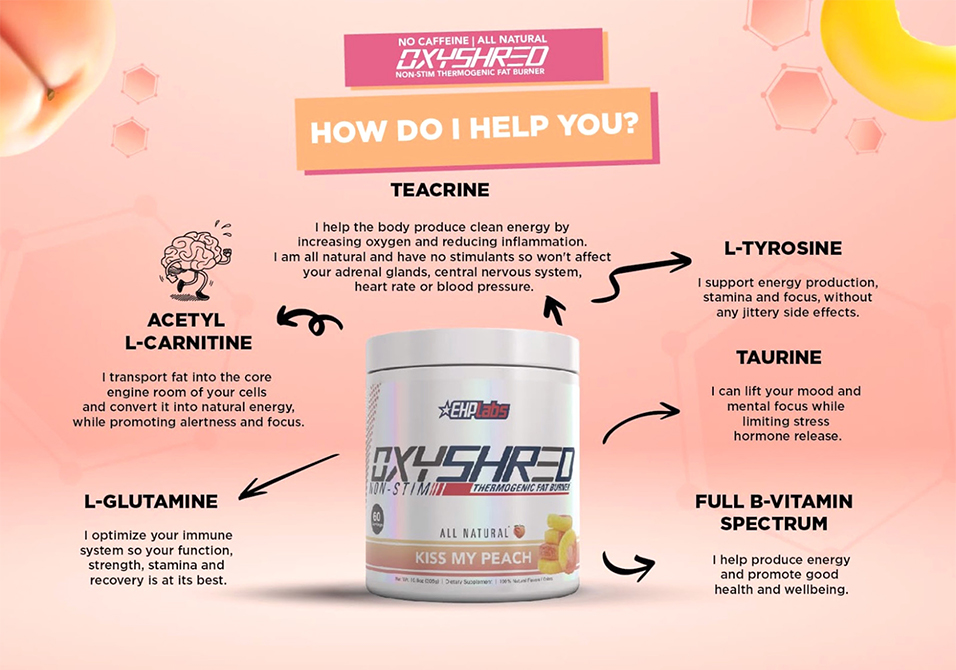 OxyShred Non Stim Conclusion
In conclusion, Oxyshred Non-Stim has proven itself to be an effective & enjoyable addition to any fitness or weight loss regimen. With its unique range of mouth-watering flavors, including the standout Raspberry Kisses, users can enjoy the benefits of this powerful supplement without sacrificing taste. Its caffeine-free formula ensures that individuals sensitive to stimulants can still support their fitness goals while avoiding unwanted side effects.
As you continue on your journey towards a healthier, more active lifestyle, Oxyshred Non-Stim is a reliable & tasty companion that can help you achieve your desired results.