https://www.mrsupplement.com.au/bang-energy-drink?variation=15189
Bang Energy Drink (500ml x 12 Apple)
VPX Sports
Supplements > Pre Workout > Pre Workout RTD
https://cdn.mrsupplement.com.au/resources/imgs/products/bang-energy-drink.1630899574728.png
http://schema.org/NewCondition
http://schema.org/InStock
AUD
https://www.mrsupplement.com.au/bang-energy-drink?variation=15189
64.95
AUD
https://www.mrsupplement.com.au/bang-energy-drink?variation=14584
Bang Energy Drink (500ml x 12 Bangster Berry)
VPX Sports
Supplements > Pre Workout > Pre Workout RTD
https://cdn.mrsupplement.com.au/resources/imgs/products/bang-energy-drink.1630899574728.png
http://schema.org/NewCondition
http://schema.org/OutOfStock
AUD
https://www.mrsupplement.com.au/bang-energy-drink?variation=14584
64.95
AUD
https://www.mrsupplement.com.au/bang-energy-drink?variation=14585
Bang Energy Drink (500ml x 12 Blue Razz)
VPX Sports
Supplements > Pre Workout > Pre Workout RTD
https://cdn.mrsupplement.com.au/resources/imgs/products/bang-energy-drink.1630899574728.png
http://schema.org/NewCondition
http://schema.org/OutOfStock
AUD
https://www.mrsupplement.com.au/bang-energy-drink?variation=14585
64.95
AUD
https://www.mrsupplement.com.au/bang-energy-drink?variation=15187
Bang Energy Drink (500ml x 12 Cotton Candy)
VPX Sports
Supplements > Pre Workout > Pre Workout RTD
https://cdn.mrsupplement.com.au/resources/imgs/products/bang-energy-drink.1630899574728.png
http://schema.org/NewCondition
http://schema.org/OutOfStock
AUD
https://www.mrsupplement.com.au/bang-energy-drink?variation=15187
64.95
AUD
https://www.mrsupplement.com.au/bang-energy-drink?variation=14589
Bang Energy Drink (500ml x 12 Froze Rose)
VPX Sports
Supplements > Pre Workout > Pre Workout RTD
https://cdn.mrsupplement.com.au/resources/imgs/products/bang-energy-drink.1630899574728.png
http://schema.org/NewCondition
http://schema.org/OutOfStock
AUD
https://www.mrsupplement.com.au/bang-energy-drink?variation=14589
64.95
AUD
https://www.mrsupplement.com.au/bang-energy-drink?variation=14586
Bang Energy Drink (500ml x 12 Mango Bango)
VPX Sports
Supplements > Pre Workout > Pre Workout RTD
https://cdn.mrsupplement.com.au/resources/imgs/products/bang-energy-drink.1630899574728.png
http://schema.org/NewCondition
http://schema.org/OutOfStock
AUD
https://www.mrsupplement.com.au/bang-energy-drink?variation=14586
64.95
AUD
https://www.mrsupplement.com.au/bang-energy-drink?variation=14587
Bang Energy Drink (500ml x 12 Miami Cola)
VPX Sports
Supplements > Pre Workout > Pre Workout RTD
https://cdn.mrsupplement.com.au/resources/imgs/products/bang-energy-drink.1630899574728.png
http://schema.org/NewCondition
http://schema.org/OutOfStock
AUD
https://www.mrsupplement.com.au/bang-energy-drink?variation=14587
64.95
AUD
https://www.mrsupplement.com.au/bang-energy-drink?variation=15188
Bang Energy Drink (500ml x 12 Pina Colada)
VPX Sports
Supplements > Pre Workout > Pre Workout RTD
https://cdn.mrsupplement.com.au/resources/imgs/products/bang-energy-drink.1630899574728.png
http://schema.org/NewCondition
http://schema.org/InStock
AUD
https://www.mrsupplement.com.au/bang-energy-drink?variation=15188
64.95
AUD
https://www.mrsupplement.com.au/bang-energy-drink?variation=14588
Bang Energy Drink (500ml x 12 Rainbow Unicorn)
VPX Sports
Supplements > Pre Workout > Pre Workout RTD
https://cdn.mrsupplement.com.au/resources/imgs/products/bang-energy-drink.1630899574728.png
http://schema.org/NewCondition
http://schema.org/OutOfStock
AUD
https://www.mrsupplement.com.au/bang-energy-drink?variation=14588
64.95
AUD
https://www.mrsupplement.com.au/bang-energy-drink?variation=14590
Bang Energy Drink (500ml x 12 Sour Heads)
VPX Sports
Supplements > Pre Workout > Pre Workout RTD
https://cdn.mrsupplement.com.au/resources/imgs/products/bang-energy-drink.1630899574728.png
http://schema.org/NewCondition
http://schema.org/OutOfStock
AUD
https://www.mrsupplement.com.au/bang-energy-drink?variation=14590
64.95
AUD
https://www.mrsupplement.com.au/bang-energy-drink?variation=14591
Bang Energy Drink (500ml x 12 Star Blast)
VPX Sports
Supplements > Pre Workout > Pre Workout RTD
https://cdn.mrsupplement.com.au/resources/imgs/products/bang-energy-drink.1630899574728.png
http://schema.org/NewCondition
http://schema.org/OutOfStock
AUD
https://www.mrsupplement.com.au/bang-energy-drink?variation=14591
64.95
AUD

Energy Drink
Off The Planet RTD Engery
160mg of Caffeine
Zero Sugar Zero Crash
BCAAs for Fast Recovery
Supports Mental Focus and Energy
In Stock

(3)
Write a review
Product
Q&A's
Reviews
Add To Cart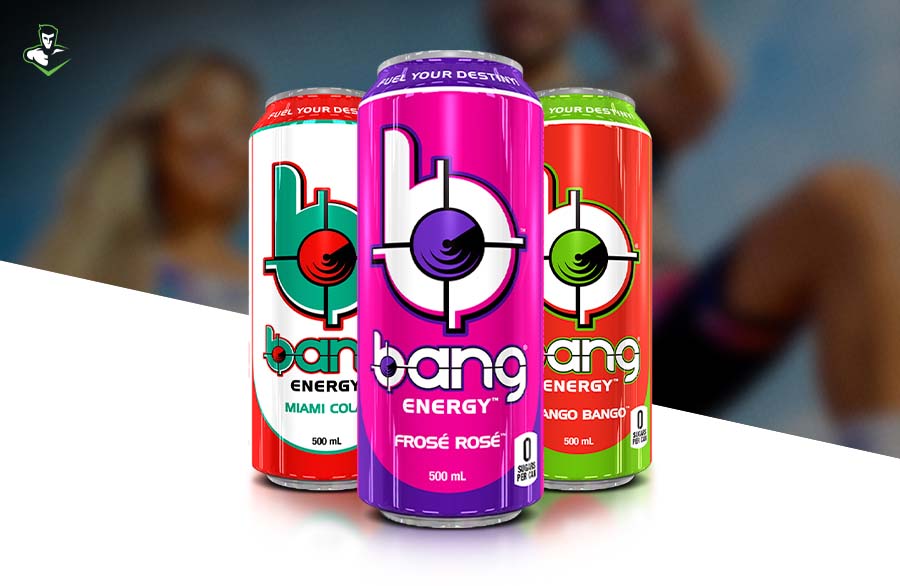 Bang is not your typical sugar-filled, soul-sucking soda masquerading as an energy drink. If it's just a jolt of energy you want, have a candy bar, wear a tinfoil hat in a lightning storm, or try one of the other "energy" drinks on the market. But if you're looking for something to fuel your next workout or hike, if you want sustained energy, as well as peak mental and physical performance, Bang is the energy drink for you!
Every can of Bang contains 160 milligrams of caffeine, which has been shown to increase endurance, as well as strength in some cases. Even better, Bang is sugar-free and has ZERO calories — yet it tastes great, with a variety of fantastic flavours to choose from!  Bang energy drinks also contain other ingredients designed to help you get more out of your workout, your day and your life… OK, that last one may be a little much, but Bang generates that kind of enthusiasm!
So, why waste time with other, dubious products? Get more Bang for your buck by ordering your Bang 12-pack today.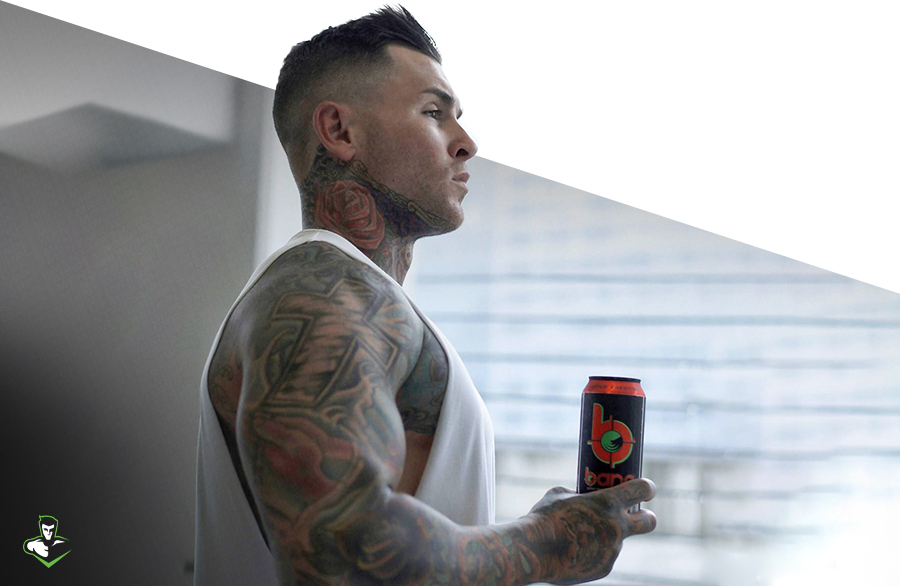 Q&A's
Ask a question about
Bang Energy Drink
Reviews

Average

Based on reviews collected by
&
Write a review

Bang Energy Drink
Bang Energy Drink
Bang Energy Drink
500ml x 12 Froze Rose
Picture is false. It's not the super creatine cans with 300mg of caffeine. It's the regular 160mg of caffeine with no creatine. Got screwed over. waste of my money
Bang Energy Drink
Bang Energy Drink
Yummy! Good hit of energy!
Collected via Trustpilot
Bang Energy Drink
Bang Energy Drink
Delicious! I usually shy away from RTD energy drinks, with most of them tasting like chemicals. The Bang flavours I have tried so far have all been great, the Candy Apple Crisp being one of the top
Collected via Trustpilot
Next Page
Contact Us