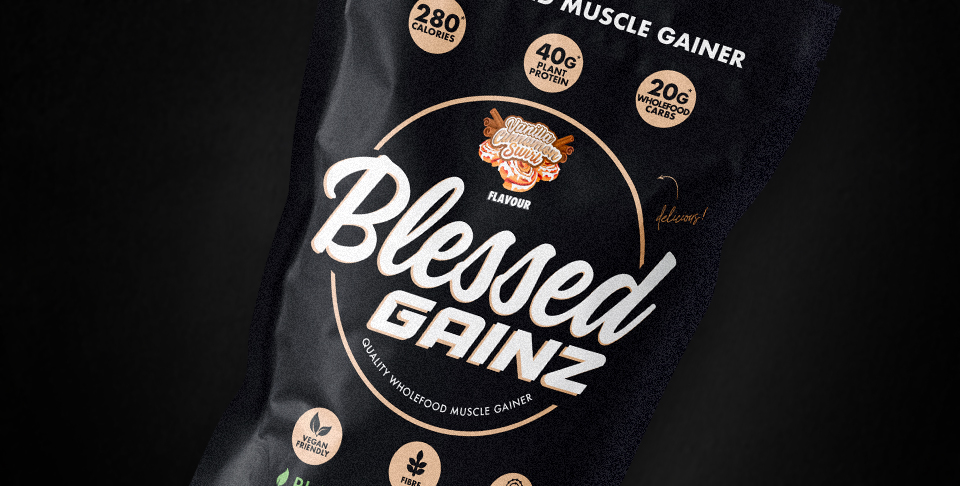 In July 2023, the Australian fitness market welcomed a game-changer - Blessed Gainz. As one of the few plant-based mass gainers available in the country, it promised to revolutionize the way fitness-minded users of supplements approach their workouts & muscle growth. With two delectable flavour choices, Vanilla Cinnamon Swirl or Peanut Butter, I was eager to experience the power of plants in this new addition to the market. In this review, I will share my personal journey with Blessed Gainz, focusing on taste testing, effectiveness, & the incredible value it brings at just $2.00 per serve.
The Power of Plant-Based Proteins
As a guy who takes supplements regularly, I understood the benefits of plant-based proteins & their gentle impact on the digestive system. Blessed Gainz utilized pea protein isolate, tapioca maltodextrin, & other natural ingredients in its formulation, ensuring an optimal blend to support muscle growth & recovery.
Taste Testing & Texture Experience
The flavour options of Vanilla Cinnamon Swirl & Peanut Butter intrigued me, & I decided to try them both. To my delight, each flavour was a delightful burst of taste. The Vanilla Cinnamon Swirl had a tantalizing combination of sweet & spicy notes, while the Peanut Butter option was a creamy & nutty treat. The smooth texture made it easy to consume, & I found myself enjoying every sip without any chalky aftertaste. Blessed Gainz truly nailed the taste & texture, making it a pleasure to incorporate into my fitness routine.
Enhanced Muscle Growth & Recovery
With Blessed Gainz as a key part of my daily regimen & after switching from a whey-based gainer, I continued to experience solid muscle growth & possibly faster recovery times. The plant-based protein blend, enriched with essential amino acids, proved to be effective in providing my muscles with the necessary nutrients for optimal repair & growth. I was able to continue to push myself during workouts & reduce muscle soreness, elevating the overall effectiveness of my mass building program.

Trusted Quality & Ethical Considerations
EHPlabs' (owners of the Blessed brand) dedication to delivering high-quality products shone through in Blessed Gainz. Knowing that it is made from organic & natural ingredients instilled confidence in my choice to use this plant-based protein mass gainer. As a vegan-friendly option, it shall align perfectly with many people's ethical values & allowed them to contribute to a positive impact on the environment.
The Value Proposition
At just $79.95 for a 1.5kg / 40 serve bag, Blessed Gainz is undeniably a steal in the Australian market. Priced at $2.00 per serve, it offers exceptional value for a premium plant-based mass gainer. With other options limited, Blessed Gainz stands out as an affordable & effective choice for fitness-minded users of supplements seeking a plant-powered approach to their fitness goals.
Conclusion
As a guy who works out regularly & has tried various protein supplements, I can confidently say that Blessed Gainz is a great addition to the Australian market. With its mouthwatering flavour choices, effective muscle support, trusted quality, & impressive value, it has left a positive impression on my fitness journey.
If you're looking for a plant-based protein mass gainer to elevate your workouts & optimize muscle growth, I wholeheartedly recommend Blessed Gainz. Embrace the power of plants & experience the difference for yourself.