Quick Summary Points
Legacy is a strong, hard-hitting pre workout formulated for advanced athletes wanting extra focus, pump, energy and tunnel vision focus
Features latest trademarked ingredients including Dynamine™ for crash free energy
All ingredients are efficaciously dosed with no proprietary blends (everything disclosed)
For beginners & individuals who don't want a lot of caffeine should start with a 1 scoop serve and for more advanced trainers or "stim junkies" who really want a big energy kick can take 2 scoops.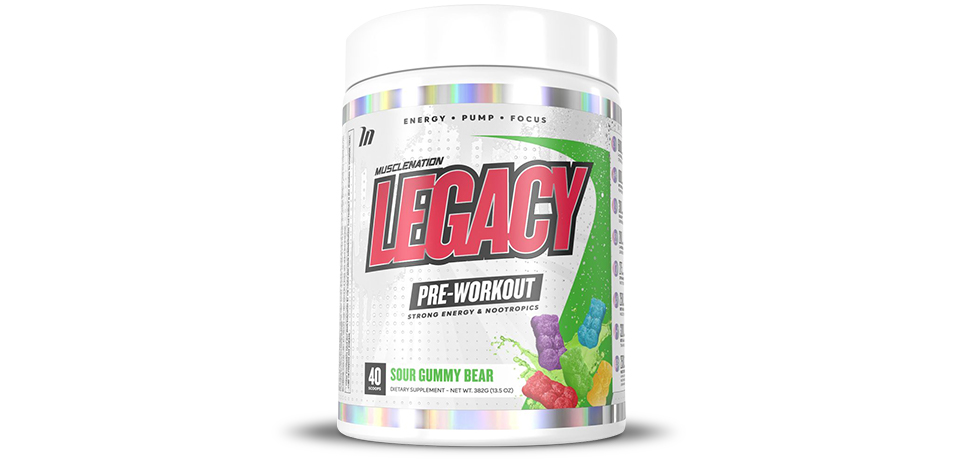 What is Muscle Nation Legacy?
Muscle Nation's Legacy is a revolutionary pre workout designed to take your training to the next level. This is definitely another hard-hitting pre workout that will quickly make a crowd favourite amongst the supplement industry. Muscle Nation have formulated Legacy to give you the tunnel vision focus, positive mental state, drive, strength, pumps and unmatched energy less chance of a crash, for the best workouts you have ever had.
Muscle Nation Legacy Highlights
Ingredients at optimal dosages including L-Citrulline, Beta Alanine & Taurine
No proprietary blends – all ingredients displayed on label
Hefty amount of Caffeine – 300mg per serve
Fast absorption & Better nutrient delivery

Muscle Nation Legacy Ingredients & Dosage
Muscle Nation Legacy's nutritional information is made up of 4 different matrixes (fully disclosed):
Energy Matrix – No Crash
Caffeine Anhydrous – 300mg
Dynamine™ - 275mg
N-Methyltryamine HCL -100mg
Hordenine HCL – 50mg
Performance – Power, Pump & Endurance
L-Citrulline Malate – 6000mg
Nitrosigine-bonded Arginine Silicate – 1000mg
Vaso6™ - Green Tea Extract (Leaf) – 300mg
L-Norvaline – 200mg
Betaine Anhydrous – 2500mg
Beta Alanine – 3200mg
Taurine – 1000mg
Nootropics – Focus & Mood Enhancers
Alpha Size – Alpha GPC 50% - 200mg
Huperzia Serrata – Huperzine A – 10mg
L-Tyrosine – 100mg
Velvet Bean Extract – 98% - 100mg
Lion's Mane Powder – Hericium Erinaceus – 300mg
KSM-66 Ashwaghanda Extract – 300mg
Absorption Enhancer
AstraGin – Panax Notoginseng extract (root)& Astragalus Membranaceus Extract (root) – 50mg
Muscle Nation Legacy Benefits & Pros
Legacy's formula goes beyond just stimulants and performance enhancers; it raised the bar on the whole pre-workout category adding in the significant ingredients to the pre-workout world from the Nootropic category including alpha-glycerylphophorylcholine or alpha-GPC. Nootropics are cognitive enhancers that give Legacy the unique focus component many athletes are raving about. The formula claims to have over 16g of active ingredients in each serving allowing you to be able to train at your fullest potential.
It has been cleverly formulated where all the ingredients used work synergistically to give you the results you want. Everything is dosed efficaciously and effectively, no corners cut. A strong, driving energy matrix without a crash, with a top end performance formula (power, pump, endurance) and synergetic and effective nootropics. Added absorption enhancing (AstraGin® 50 mg), and cortisol control (KSM-66® Ashwagandha 300 mg).
Legacy is a pre-workout that is extremely reliable, tested and thorough. Utilising new, studied, patented and cutting edge ingredients (in optimal dosages). Moreover, all ingredients are designed to work together to enhance the effectiveness of each ingredient. Despite the high number of stimulants, the formula does provide athletes with other useful benefits like enhanced focus, strength, pump, recovery and endurance.
Muscle Nation Legacy Side Effects & Is it Safe?
As all the ingredients in the Legacy formula is disclosed, we know exactly how much we are getting for each key ingredient. Having said that, one of the most common ingredients in pre workouts is caffeine. The formula uses approximately 300mg of caffeine per serve which can be too high for certain people. Whilst it is safe to consume caffeine of up to 400mg per day we suggest for first time users to start off with one scoop first to avoid any jittery side effects. Aside from the caffeine, the only other ingredient to look out for is beta alanine which may cause a light tingly sensation to certain individuals. The supplement is deemed safe, but it is recommended for advanced trainers that are more familiar with stronger pre workouts.
Muscle Nation Legacy Taste, Flavour & Mixability
Muscle Nation Legacy is only available in four different flavours. These include Bubblegum Grape, Candy Blue Raz, Sour Gummy Bear, and Strawberry Lemon Drop. Although there isn't a large range to choose from but you'll still be able to find something for you to enjoy. Mixability of the product is simple when mixed with water. The powder easily dissolves with water and all flavours are refreshing.
Muscle Nation Legacy Verdict
Muscle Nation Legacy pre workout has been formulated with a lot of thought, testing and for performance! A very reliable, strong pre-workout, that will push you, and tastes amazing! Still not convinced? Sometimes its not enough to read reviews, you need to try for yourself whether it works for you. Be open to new products and new challenges with Muscle Nation's Legacy outstanding pre workout.