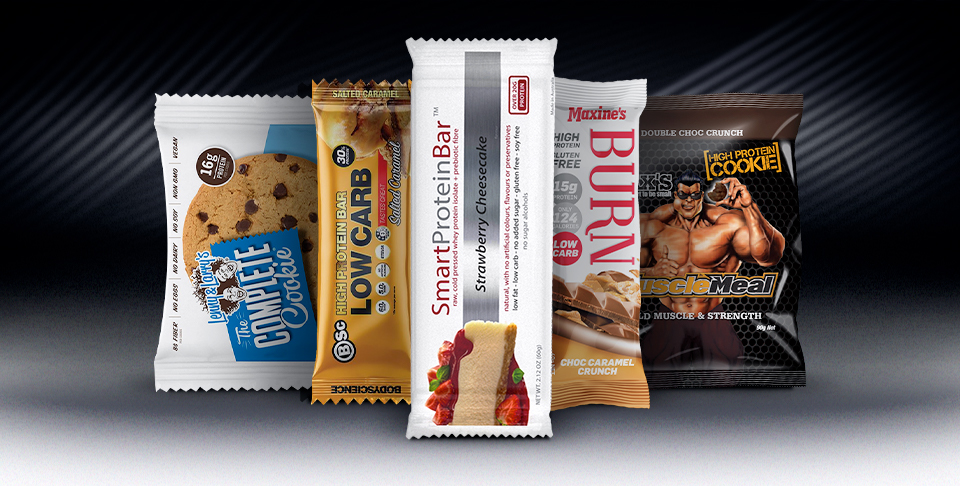 Summary
Different types of bars are recommended for different circumstances and preferences in this article
These are some of the best-selling bars, they are distributed across Australia to our customers
Fibre Boost Cold Pressed Protein Bars - an all-around healthy, natural snack with no artificial colours, flavours, preservatives, or sweeteners. Gluten-free, soy-free, GMO-free, Smart Bars contain neither added sugar nor sugar alcohol. Low carb and high in fibre, making them diet-friendly. Available in many flavours.
BSc High Protein Low Carb Bar - over 30% protein with less than 4g of carbs per bar. No artificial flavours and packed full of fibre. Comes in seven flavours.
Maxine's Burn Bars - perfect guilt-free snack for weight loss. Contains 15g of protein per bar, as little as 124 clean calories, and only 3.5g of carbs (1.5g of which are sugar). Gluten-free and has various flavours to choose from.
Lenny & Larry's Cookies - vegan option. A filling cookie that although containing protein is not the most healthy or diet-friendly option. Each serving contains 200 calories, 32g of carbohydrates (13g of which are sugar), and 8g of protein. Available in different flavours.
Introduction
This article highlights the best protein bars in Australia for 2023.
With the fast-paced lifestyle of today's society, protein bars offer a quick, convenient and healthy snack option. Unlike the sugary chocolate bars of the past, modern-day protein bars are made with high-quality whey isolate, minimal sugars and carbohydrates, and are high in fibre.
This article offers a list of viable options for different circumstances rather than a best-to-least-best ranking. The article highlights protein bars that are healthy, natural, low-carb, gluten-free, vegan, and high in protein to cater to different needs.
Preamble
In this day and age, where we all live a fast-paced, on-the-go lifestyle, convenience is key. Sometimes we want a quick snack to get through the day. Usually, a quick snack doesn't mean healthy. Unless of course, you're talking about protein bars.
Protein bars are no longer sugary chocolate bars with a bit of protein powder added. They have come a long way. Most now use a high-quality whey isolate as opposed to soy or milk protein concentrates which include little carbohydrates, and minimal sugars plus tend to be high in fibre.
There are many options for bars to suit different needs, so this article isn't so much a best-to-least-best list, but rather, a viable option for different circumstances. This list is definitely worth reading all the way to the bottom (I made it simple with five).
Let's Dive Into The Best Protein Bars of 2023

1. Fibre Boost Cold Pressed Protein Bars (previously known as Smart Diet Protein Bars)
Fibre Boost Cold Pressed Protein Bars, once recognized as Smart Diet Protein Bars, represent a revitalisation in the realm of nutritional snacks. Beyond being a quick, handy source of protein, these bars distinguish themselves by committing to healthfulness & authenticity.
They are crafted without any artificial colours, flavours, preservatives, or sweeteners, making them an outstanding choice for the health-conscious. Moreover, these protein bars meet various dietary requirements: they are free from gluten, soy, & GMOs, & do not contain added sugars or sugar alcohols.
Each bar not only packs 21 grams of protein but does so with an average calorie count of only about 137, depending on the flavour—indicating a considerate design for those monitoring their caloric intake. Their minimal carbohydrate content renders them suitable for individuals following a ketogenic diet, while their high fibre content complements a low-carb lifestyle excellently.
Most importantly, the taste is not compromised, and with an extensive range of flavours—approximately 20 in total—there's a delightful option for every palate.
Important Update: Until September 2023, what is now known as Fibre Boost Cold Pressed Protein Bars were marketed under the brand Smart Diet Solutions Bars. Following an internal discord within the original company, Smart Diet Solutions was relegated to receivership & subsequently liquidated.
However, the legacy of quality continues with Fibre Boost Cold Pressed Bars. These bars maintain the same production standards as the former Smart Bars, & the stewardship has been entrusted to a management team previously at the helm of Smart Diet Solutions. This team's expertise & dedication ensure the unwavering quality & nutritional value that customers have come to appreciate.

2. BSc High Protein Low Carb Bar
Sticking with the trend of low carb brings us to Bsc Low Carb bars. Each bar is over 30% protein with less than 4g of carbs.
These are by far some of the best-tasting options on the market. Much like the above-mentioned option, these bars have no artificial flavours and are packed full of fibre to make you feel satisfied and fuller for longer.
Coming in 7 mouth-watering flavours, you are sure to find a flavour to suit your taste buds. Our personal favourites here at Mr Supplements are Choc Mint, Cookie Dough and Salted Caramel.

3. Maxine's Burn Bars
After looking at one of the higher, denser calorie options, let's go the other way and look at by far one of the best options for a lower calorie, weight loss-seeking lifestyle.
Maxine's, made specifically as a female alternative to the ultra-popular Max's brand, has made the perfect guilt-free snack. With as little as 124 clean calories in each bar (15g of which are protein) this bar will be sure to not make too big of a dent in your daily calorie intake. With a tiny 3.5g of carbs (only 1.5g of which are sugar), this bar won't in any way impede a carb-cutting diet.
They are also gluten-free, or as Maxine's like to refer to their bars "Gluten Free, Guilt Free) which I think sums them up pretty well. They have many options for their flavours including (but not limited to) a Cookies n Creme, a Chocolate Mint, a Choc Mocha (great with a mid-day coffee) as well as a variety box for those wanting to try each one first before deciding which is their favourite.

4. Lenny & Larry's Cookies
These days, the word diet isn't as simple as referring to low calories or high calories. Heck, it isn't even as simple as low carbs, high carbs, low fat, high fat, high...well you get the picture. Now, with people much more aware of how their bodies work, thus being much more aware of allergies or just simply what makes their body function the best, we now have gluten-free diets, lactose-free diets and more.
However, possibly the most highlighted as of late, whether it be due to what works best for your body or simply your beliefs, has to be the vegan diet and just like the others, it will mean a lot more attention needs to be given to labels and packaging. Luckily, I'm including a vegan-specific option here for your convenience, Lenny & Larry's Cookies.
Now, on that, although containing protein they are definitely not the most healthy, or diet-friendly option. Each serving contains 200 calories, 32g of which are carbohydrates (with 13g of that being sugar) and 8g of protein, meaning both the sugar and carbs outweigh the protein by a considerable amount. It may also be worth me pointing out that their "serving" is only half a cookie, so if you're planning on consuming the whole cookie, double all those numbers above.
On the bright side, Lenny & Larry's clearly labelled their product as vegan-friendly with no dairy or egg products, and they taste pretty good too.

5. Max's Muscle Meal Cookies
Last, but definitely….definitely not least. Max's Muscle Meal Cookies. So far we have covered great low-carb, low-calorie options for healthy on-the-go snacks, we have covered gluten-free, vegan options...you name it. But what about the avid gym-goer in their bulking phase? What about the person who just needs to replenish what they've lost in the gym? They need high protein, high carbs and solid calories. Well, this one's for you.
This single cookie has 377 calories, with 40g of glycogen-restoring carbohydrates, as well as 24g of protein which includes an added amount of BCAA's at a 1:1:1 ratio. This protein cookie is a snack of snacks for those looking to get a quick fix after a gruelling, muscle-tearing session.
Lastly, it may be worth noting this snack contains 23g of sugar. We have all learned the evils of sugar, but as serious trainers know, sugar is at its worst when combined with sedation. After an intense session, however, the body may appreciate a bit of an insulin spike, especially for maximal protein uptake.
Oh, P.S., these may be the best-tasting snacks available, as one would hope with that many calories.
Conclusion
So there you have it, 5 very different snacks for very different people with very different goals and lifestyles. All have a specific purpose, are convenient, are a healthy snacking alternative plus taste great. Hope you enjoyed the read.