Quick Summary
Switch Nutrition Adrenal Switch is a magnesium support formula
Helps recovery and aids with sleep
1 scoop contains 300mg of magnesium, 335mg of Ashwagandha and many more great ingredients
Natural vegan-friendly formula
Wide range of amazing flavours
Switch Nutrition is an Australian brand with a great range of products, ranging from protein powders to fat burners and all the ones in between! All products are vegan friendly and contain natural ingredients with no added sugars. Adrenal Switch is perfect for those looking to improve their recovery and quality of sleep. Best taken immediately after exercise or before bed.
Dosage
Adrenal Switch comes in 3 different sizes: 10x6g (individual sachets), 180g (30 servings) and 360g (60 servings). The recommended dosage is one small 6g powder serving which is easily measured from the scoop supplied.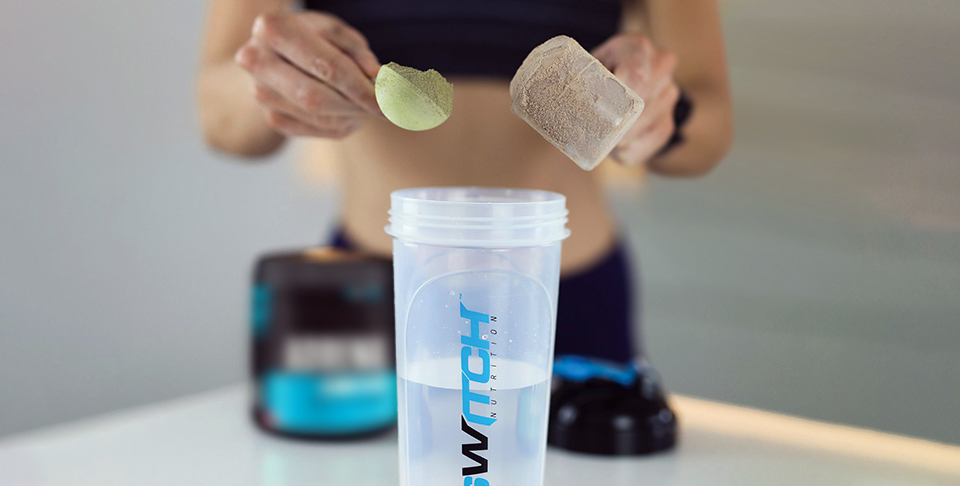 Adrenal Switch Ingredients
The main ingredients that makes up the 6g serving size are L-Leucine (1000mg) which is one of the nine essential amino acids, L-Glycine (1000mg) which is a non-essential amino acid but has been proven to help sleep and aid in brain function, Ashwagandha (335mg) which is a very popular ingredient to help reduce stress levels and Magnesium (300mg) which has many benefits such as increasing exercise performance and may help reduce blood pressure.
Below is the nutritional panel for Adrenal Switch where all ingredients are listed;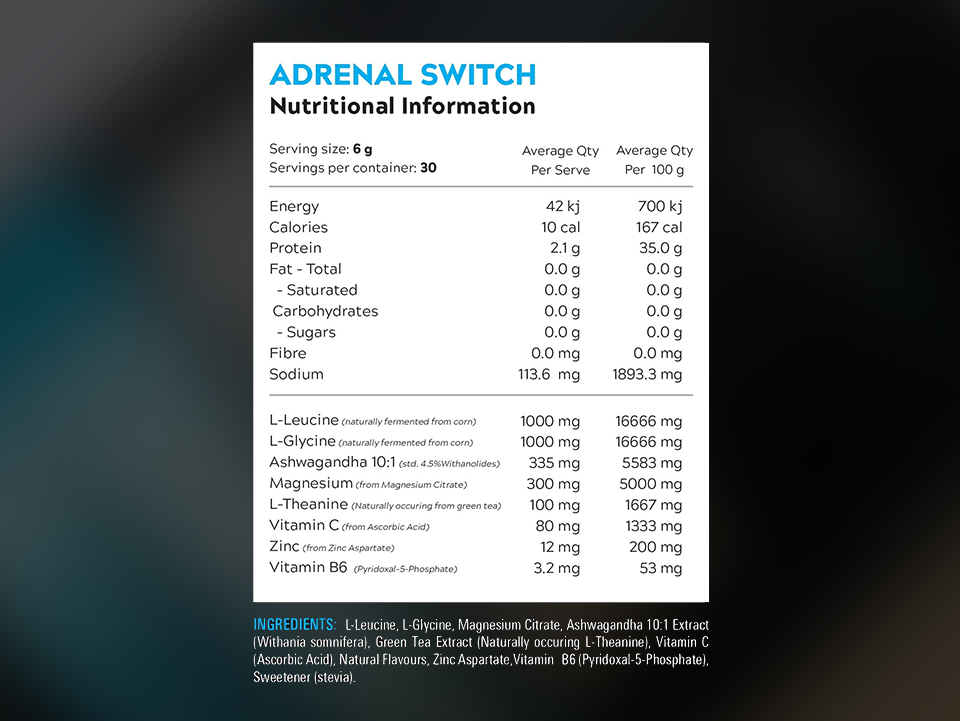 Adrenal Switch Flavours
Adrenal Switch comes in 8 different flavours! You will definitely be able to find one (or more) that's right for you.
The flavours are:
Blackcurrant Apple
Lemonade
Strawberry Pineapple
Mango Nectar
Peaches and Cream
Chocolate
Choc Mint
Salted Caramel
Although I am still yet to try a couple of the flavours my favourite & best Adrenal Switch flavour so far has been chocolate, closely followed by blackcurrant apple. The chocolate flavour really is delicious.
Pro tip: Use the chocolate flavour one to create a hot chocolate. Perfect for a bedtime drink.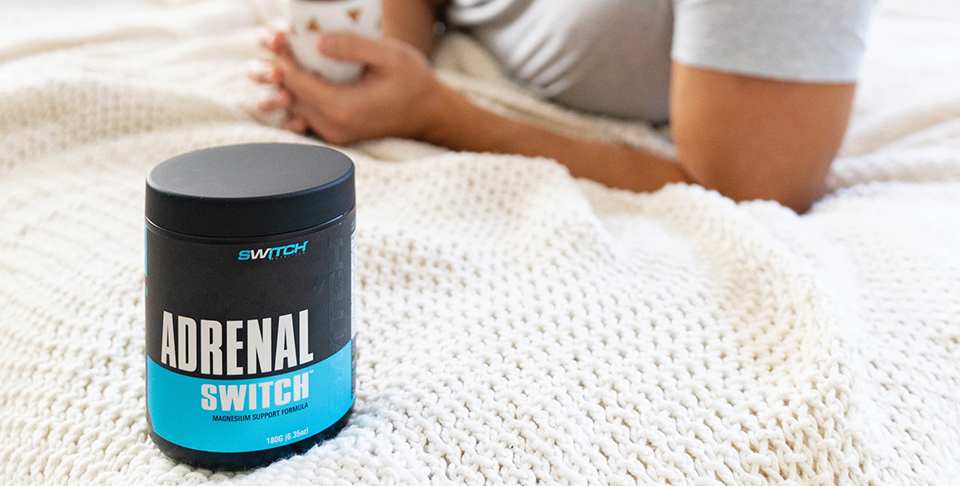 Adrenal Switch Benefits and Results
After taking Adrenal Switch every day for 1 week straight, I noticed that the quality of my sleep had improved as I was sleeping all night long for 8-9 hours, instead of waking up during the night and struggling to get back to sleep. On training days I take 1 scoop straight after training which helps calm me down after an intense session. On non-training days I take 1 scoop 25-30 minutes prior to going to bed, this definitely helps me to fall asleep faster.
Adrenal Switch Side Effects
From my experience with Adrenal Switch, I did not experience any "negative" side effects. I did feel drowsy 30 minutes after taking Adrenal Switch. I recommend taking this product in the evening/before going to bed.
I'd also recommend no exceeding the recommended dose as excess magnesium, a key ingredient in Adrenal Switch has been shown to induce stomach cramps, nausea & diarrhoea. To be clear though I did not experience these effects when taking the recommended dose.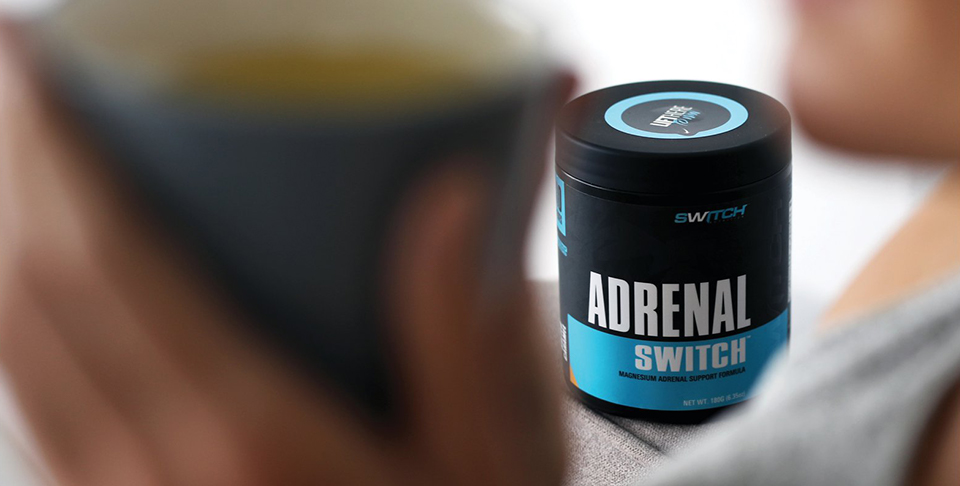 Adrenal Switch Safety
Always follow the manufacturer's label instructions and do not exceed 1 scoop daily.
Conclusion
If you are struggling to wind down after training or want to improve your quality of sleep then this product may be for you. I have noticed a significant improvement with my sleep. Adrenal Switch also has a good amount of recovery ingredients which is perfect to take before bedtime as that is when the body does most of its recovery work. With all ingredients being natural ingredients this will ensure you don't wake up feeling groggy the next morning as some sleep products do. Another great product from Switch!