Quick Summary
Zombie Labs Musclez is a Bio-Enhanced Whey Protein Blend tailored for muscle growth & recovery
It caters to athletes, fitness enthusiasts, & bodybuilders
The blend contains both essential & non-essential amino acids, including 8g of enhanced BCAAs & glycine
Features DigeZyme® and AstraGin® for enhanced digestion & nutrient absorption
Low calorie (134Cal per serving) but nutrient-dense at 72% protein
Contains premium ingredients, like Organic Coconut Oil Powder for a silky texture
Zero added sugars & packaged in Australia
Unique, eye-catching Zombie-themed labelling
Available in 12 diverse flavours, with Cereal Milk judged as the best by our experts
Backed by a 30-day money-back guarantee for flavour satisfaction
Can be combined with other Zombie Labs supplements like 'Cross Eyed' pre-workout & 'Molotov' fat burner
What is Zombie Labs Musclez: An Introduction
Zombie Labs Musclez isn't just another protein supplement. This Bio-Enhanced Whey Protein Blend is meticulously crafted for those deeply committed to muscle growth & optimal recovery. Catering to athletes, fitness buffs, & bodybuilding pros alike, Musclez delivers a powerhouse combo of proteins, amino acids, & handpicked ingredients to feed your muscles the best nutrition.

Unlocking the Power of Zombie Labs Musclez: Key Features & Benefits
Derived from a Whey blend of Crossflow Microfiltered Whey Protein Concentrate, Milk Protein Isolate & Hydrolysed Whey Protein Isolate.
Provides approximately 72% protein (dry basis), this is in the normal range of quality blended whey protein powders.
Comprehensive Amino Acid Profile: Equipped with both essential & non-essential amino acids, including 8g of enhanced BCAAs & glycine this supplement offers holistic muscle support.
Bio-Enhanced Digestive Support: The inclusion of DigeZyme® and AstraGin® elevates Musclez's value. DigeZyme®, a multi-enzyme complex, facilitates the breakdown of carbohydrates, lactose, cellulosic fibres, fats, & proteins, ensuring optimal nutrient absorption. AstraGin® further bolsters this by enhancing the absorption of various nutrients at the cellular level.
Low in Calories, High in Nutrients: Get a power-packed dose of nutrients with just 134 Cal per serving.
Premium Ingredients: Musclez prides itself on its premium ingredients, ranging from Crossflow Microfiltered Whey to Organic Coconut Oil Powder.
Easy Mixability: Say goodbye to clumpy shakes, thanks to Musclez's top-notch solubility.
Silky Texture: Thanks to the Organic Coconut Oil Powder, Musclez offers a delightful silky texture, enhancing the drinking experience.
Zero Added Sugars: A health-first approach means no added sugars, focusing purely on your body's needs.
Eye-Catching Labeling: The label showcases a Zombie downing his protein shake from a shaker bottle, emphasizing the strength & power the product promises to deliver (the Zombie really does look cool).
Packaged in Australia: Adhering to the highest FSANZ quality assurance standards.
Money Back Flavour Guarantee: Zombie Labs offer a 30-day money-back guarantee.
Musclez Taste & Flavour Unwrapped: A Symphony of Delicious Options
Every athlete or gym-goer has their own flavour preference, & Musclez delivers a choice of 12 flavours to cater to every palate:
Banana Ice Cream
Caramel Biscuit
Caramel Popcorn
Cereal Milk
Chocolate Milk
Choc Honeycomb
Choc Peanut Butter
Cookies & Cream
Iced Coffee
Peanut Butter Cookie
Strawberry Milkshake
Vanilla Ice Cream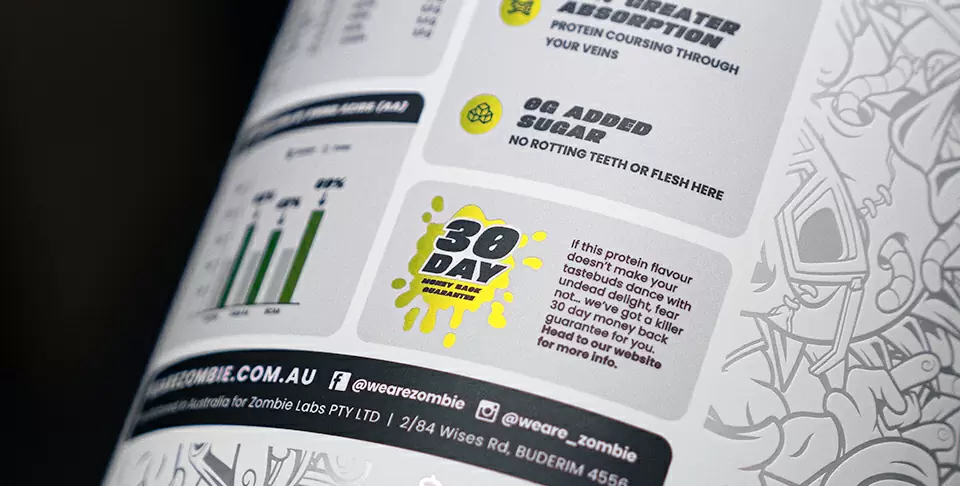 Daniel & Kate, experienced staff members from Mr Supplement, embarked on a taste test journey with Musclez. Among the plethora of choices, Cereal Milk emerged as the standout, judged the best Musclez flavour, striking a perfect balance between sweetness & a nostalgic creamy texture.
Now, if the flavours don't resonate with your palate, Zombie Labs offers a 30-day money-back guarantee, underscoring their confidence in the product & their commitment to customer satisfaction.
How to Best Use Zombie Labs Musclez: Directions for Optimal Gains
For maximum results, mix one heaped scoop (32.5g) with 300-400mls of ice-cold water or your preferred beverage. You can consume this blend up to three times daily. Given its versatile formulation, Musclez is designed to fuel your muscles multiple times a day.
Limitations & Considerations: Know Before You Buy
While Musclez boasts numerous strengths, there are certain aspects to keep in mind:
Size Limitations: At the time of writing, it's available only in a 910g size. For those consuming it three times daily, it could last just over nine days.
Specific Demographics: Musclez is not recommended for children under 15 years or for pregnant or lactating women. It's essential to consult with a healthcare professional if there's any doubt.
Musclez is neither gluten-free nor lactose-free. Users with dietary sensitivities should be aware of this.
Synergising Your Workout: How to Stack Musclez with Other Supplements
Musclez's comprehensive protein blend pairs well with other Zombie Labs supplements. Consider integrating it with Cross Eyed pre-workout for that extra push during exercises or Molotov thermogenic fat burner to optimise fat loss while preserving lean muscle mass. Always recalibrate dosages when combining supplements & feel free to consult with a trained Mr Supplement expert.

Storage 101: Keeping Your Musclez Fresh & Potent
Ensure longevity & freshness of your Musclez supplement by storing it in a cool, dry place below 30°C, well away from direct sunlight. Such care ensures that your protein powder maintains its efficacy & flavour until the very last scoop.
Conclusion: Is Zombie Labs Musclez the Game-Changer You Need?
This is a great protein powder, in the realm of fitness supplements, Zombie Labs Musclez carves its niche. With its dynamic ingredients, extensive flavour range, & crucial considerations, Musclez seems set to elevate fitness journeys everywhere.