https://www.mrsupplement.com.au/zombie-labs-musclez?variation=16164
Zombie Labs Musclez (900g / 28 Serves Caramel Biscuit + FREE Samples)
Zombie Labs
Supplements > Protein Powders > Whey Protein Blends
https://cdn.mrsupplement.com.au/resources/imgs/products/zombie-labs-musclez.1690330883229.png
http://schema.org/NewCondition
http://schema.org/InStock
AUD
https://www.mrsupplement.com.au/zombie-labs-musclez?variation=16164
74.95
AUD
https://www.mrsupplement.com.au/zombie-labs-musclez?variation=16156
Zombie Labs Musclez (900g / 28 Serves Caramel Popcorn + FREE Samples)
Zombie Labs
Supplements > Protein Powders > Whey Protein Blends
https://cdn.mrsupplement.com.au/resources/imgs/products/zombie-labs-musclez.1690330883229.png
http://schema.org/NewCondition
http://schema.org/InStock
AUD
https://www.mrsupplement.com.au/zombie-labs-musclez?variation=16156
74.95
AUD
https://www.mrsupplement.com.au/zombie-labs-musclez?variation=16160
Zombie Labs Musclez (900g / 28 Serves Cereal Milk + FREE Samples)
Zombie Labs
Supplements > Protein Powders > Whey Protein Blends
https://cdn.mrsupplement.com.au/resources/imgs/products/zombie-labs-musclez.1690330883229.png
http://schema.org/NewCondition
http://schema.org/InStock
AUD
https://www.mrsupplement.com.au/zombie-labs-musclez?variation=16160
74.95
AUD
https://www.mrsupplement.com.au/zombie-labs-musclez?variation=16161
Zombie Labs Musclez (900g / 28 Serves Choc Honeycomb + FREE Samples)
Zombie Labs
Supplements > Protein Powders > Whey Protein Blends
https://cdn.mrsupplement.com.au/resources/imgs/products/zombie-labs-musclez.1690330883229.png
http://schema.org/NewCondition
http://schema.org/InStock
AUD
https://www.mrsupplement.com.au/zombie-labs-musclez?variation=16161
74.95
AUD
https://www.mrsupplement.com.au/zombie-labs-musclez?variation=16158
Zombie Labs Musclez (900g / 28 Serves Choc Peanut Butter + FREE Samples)
Zombie Labs
Supplements > Protein Powders > Whey Protein Blends
https://cdn.mrsupplement.com.au/resources/imgs/products/zombie-labs-musclez.1690330883229.png
http://schema.org/NewCondition
http://schema.org/InStock
AUD
https://www.mrsupplement.com.au/zombie-labs-musclez?variation=16158
74.95
AUD
https://www.mrsupplement.com.au/zombie-labs-musclez?variation=16162
Zombie Labs Musclez (900g / 28 Serves Cookies N Cream + FREE Samples)
Zombie Labs
Supplements > Protein Powders > Whey Protein Blends
https://cdn.mrsupplement.com.au/resources/imgs/products/zombie-labs-musclez.1690330883229.png
http://schema.org/NewCondition
http://schema.org/InStock
AUD
https://www.mrsupplement.com.au/zombie-labs-musclez?variation=16162
74.95
AUD
https://www.mrsupplement.com.au/zombie-labs-musclez?variation=16163
Zombie Labs Musclez (900g / 28 Serves Iced Coffee + FREE Samples)
Zombie Labs
Supplements > Protein Powders > Whey Protein Blends
https://cdn.mrsupplement.com.au/resources/imgs/products/zombie-labs-musclez.1690330883229.png
http://schema.org/NewCondition
http://schema.org/InStock
AUD
https://www.mrsupplement.com.au/zombie-labs-musclez?variation=16163
74.95
AUD
https://www.mrsupplement.com.au/zombie-labs-musclez?variation=16157
Zombie Labs Musclez (900g / 28 Serves Peanut Butter Cookie + FREE Samples)
Zombie Labs
Supplements > Protein Powders > Whey Protein Blends
https://cdn.mrsupplement.com.au/resources/imgs/products/zombie-labs-musclez.1690330883229.png
http://schema.org/NewCondition
http://schema.org/InStock
AUD
https://www.mrsupplement.com.au/zombie-labs-musclez?variation=16157
74.95
AUD
https://www.mrsupplement.com.au/zombie-labs-musclez?variation=16159
Zombie Labs Musclez (900g / 28 Serves Strawberry Milkshake + FREE Samples)
Zombie Labs
Supplements > Protein Powders > Whey Protein Blends
https://cdn.mrsupplement.com.au/resources/imgs/products/zombie-labs-musclez.1690330883229.png
http://schema.org/NewCondition
http://schema.org/InStock
AUD
https://www.mrsupplement.com.au/zombie-labs-musclez?variation=16159
74.95
AUD
https://www.mrsupplement.com.au/zombie-labs-musclez?variation=16155
Zombie Labs Musclez (900g / 28 Serves Banana Ice Cream + FREE Samples)
Zombie Labs
Supplements > Protein Powders > Whey Protein Blends
https://cdn.mrsupplement.com.au/resources/imgs/products/zombie-labs-musclez.1690330883229.png
http://schema.org/NewCondition
http://schema.org/InStock
AUD
https://www.mrsupplement.com.au/zombie-labs-musclez?variation=16155
74.95
AUD
https://www.mrsupplement.com.au/zombie-labs-musclez?variation=16153
Zombie Labs Musclez (900g / 28 Serves Chocolate Milk + FREE Samples)
Zombie Labs
Supplements > Protein Powders > Whey Protein Blends
https://cdn.mrsupplement.com.au/resources/imgs/products/zombie-labs-musclez.1690330883229.png
http://schema.org/NewCondition
http://schema.org/InStock
AUD
https://www.mrsupplement.com.au/zombie-labs-musclez?variation=16153
74.95
AUD
https://www.mrsupplement.com.au/zombie-labs-musclez?variation=16154
Zombie Labs Musclez (900g / 28 Serves Vanilla Ice Cream + FREE Samples)
Zombie Labs
Supplements > Protein Powders > Whey Protein Blends
https://cdn.mrsupplement.com.au/resources/imgs/products/zombie-labs-musclez.1690330883229.png
http://schema.org/NewCondition
http://schema.org/OutOfStock
AUD
https://www.mrsupplement.com.au/zombie-labs-musclez?variation=16154
74.95
AUD

FREE PRE-WORKOUT SAMPLES
Purchase any Zombie Labz Musclez and receive 5X Free Cross-Eyed Pre-Workout Samples!



Musclez
Bio-Enhanced Whey Protein Blend
A wide Choice 12 of Flavours
High In Protein & Low in Carbs
Increases Lean Muscle Mass & Growth
Hastens Workout Recovery & Muscle Soreness
In Stock

(0)
Write a review
Product
Q&A's
Related Articles
Reviews
Add To Cart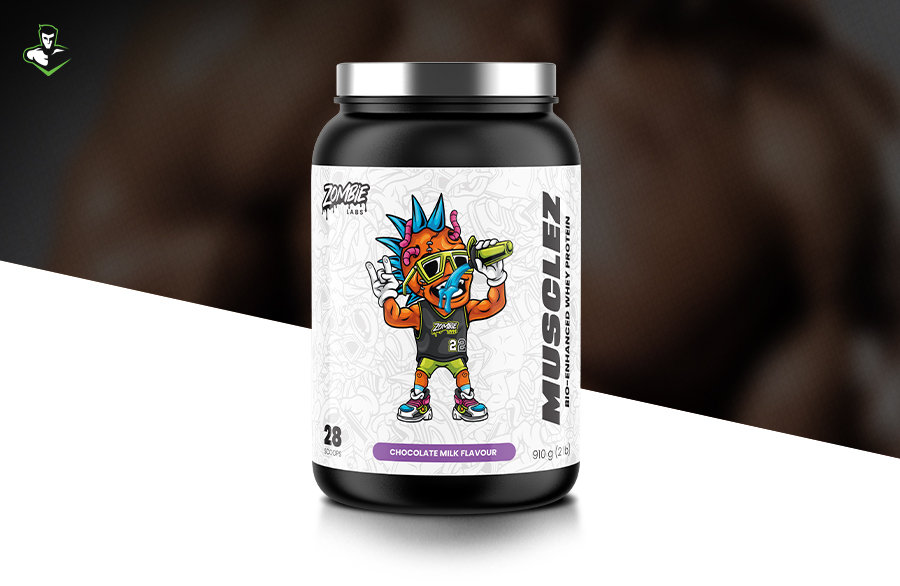 Welcome to Zombie Labs Musclez - Your Key to Outlasting the Protein Apocalypse
Are you prepared to power through your workouts with unmatched intensity? Get ready to experience a transformative surge of nutrients, engineered to supercharge your muscle-building & recovery. Zombie Labs Musclez is here.
Created by ingenious scientists, Zombie Labs Musclez is geared to rejuvenate your fatigued muscles, acting as your essential ally in navigating the challenging fitness landscape.
Boasting an impressive array of 12 flavours, this bio-enhanced whey protein powder is set to ignite your taste buds. Each flavour is meticulously curated to immerse you in a post-apocalyptic fitness realm, where every sip is a testament to your survival.
Zombie Labs Musclez transcends being just a homage to the undead. It is a nutritional juggernaut, custom-built to propel your gains. Packed with top-tier whey protein, it furnishes the essential amino acids your muscles demand for prime recovery & growth.
Be it wrestling with hefty weights or warding off zombies in your go-to fitness class, Zombie Labs Musclez has your back. To help you outlast demanding training sessions, Musclez is enhanced with a unique blend of vitamins & minerals.
Embody the might of the undead. Let Zombie Labs Musclez shape you into a beacon of stamina & resilience. Don't be caught unprepared by the apocalypse. Arm yourself with Zombie Labs Musclez - the protein powder that reshapes your fitness voyage & leaves the undead shaking with fear.
Remember, it's survival of the fittest. Fuel your muscles with a protein that is not only deliciously terrifying but also scientifically crafted for your triumph. Brace for the muscle-pumping frenzy that Zombie Labs Musclez brings – because when the stakes are high, the resilient rise above.
Q&A's
Ask a question about
Zombie Labs Musclez
How does Zombie Labs Musclez support muscle recovery?




Zombie Labs Musclez is formulated with a rich amino acid profile, including both essential & non-essential amino acids, which are crucial for muscle recovery & growth.

Can I use Zombie Labs Musclez as a meal replacement?




While Musclez is packed with high-quality proteins & nutrients, it's primarily designed as a supplement to a balanced diet, not a meal replacement.

Is Zombie Labs Musclez suitable for vegetarians or vegans?




Musclez is a whey protein blend, which is derived from milk, making it suitable for some vegetarians. However, it's not suitable for vegans.

Can Zombie Labs Musclez help me lose weight?




While Musclez is not a weight-loss product per se, it can support weight management as part of a balanced diet & exercise regimen by helping build lean muscle, which can increase metabolic rate.

Can I take Zombie Labs Musclez on workout rest days?




Yes, consuming Musclez on rest days can help support continuous muscle recovery & growth.

How quickly can I expect to see results with Zombie Labs Musclez?




Results vary depending on individual fitness levels, diet, & workout intensity. However, with regular use and a consistent workout routine, users may start to see noticeable muscle growth & recovery improvements within a few weeks.

Does Zombie Labs Musclez contain any allergens?




Musclez is a whey protein blend & contains dairy. If you have any specific allergy concerns, it's recommended to review the product label carefully & consult a healthcare professional.

Is there a best time to take Zombie Labs Musclez?




While you can consume Musclez up to three times a day, many users find it beneficial to consume one serving post-workout to support muscle recovery.

What does "Bio-Enhanced" mean in terms of Zombie Labs Musclez?




"Bio-Enhanced" refers to the inclusion of digestive enzymes like DigeZyme® & AstraGin® in Musclez, which aid in the breakdown & absorption of nutrients, ensuring you get the maximum benefit from each scoop.
Related Articles
Reviews


Based on reviews collected by
&
Write a review

Contact Us