https://www.mrsupplement.com.au/zombie-labs-pumpz?variation=16367
Zombie Labs Pumpz (400g / 40 Serves Gruesome Grape)
Pumpz is Zombie's stimulant-free super-pump formula. Containing ingredients specific for both insane pumps and performance - this is truly a super-natural formula. 
Zombie Labs
Supplements > Pre Workout > Pre Workout Stim-Free
https://cdn.mrsupplement.com.au/resources/imgs/products/zombie-labs-pumpz.1667330157566.png
http://schema.org/NewCondition
http://schema.org/InStock
AUD
https://www.mrsupplement.com.au/zombie-labs-pumpz?variation=16367
69.95
AUD
https://www.mrsupplement.com.au/zombie-labs-pumpz?variation=15735
Zombie Labs Pumpz (400g / 40 Serves Passion Mango Mayhem)
Pumpz is Zombie's stimulant-free super-pump formula. Containing ingredients specific for both insane pumps and performance - this is truly a super-natural formula. 
Zombie Labs
Supplements > Pre Workout > Pre Workout Stim-Free
https://cdn.mrsupplement.com.au/resources/imgs/products/zombie-labs-pumpz.1667330157566.png
http://schema.org/NewCondition
http://schema.org/OutOfStock
AUD
https://www.mrsupplement.com.au/zombie-labs-pumpz?variation=15735
69.95
AUD
https://www.mrsupplement.com.au/zombie-labs-pumpz?variation=15736
Zombie Labs Pumpz (400g / 40 Serves Raspberry Ripper)
Pumpz is Zombie's stimulant-free super-pump formula. Containing ingredients specific for both insane pumps and performance - this is truly a super-natural formula. 
Zombie Labs
Supplements > Pre Workout > Pre Workout Stim-Free
https://cdn.mrsupplement.com.au/resources/imgs/products/zombie-labs-pumpz.1667330157566.png
http://schema.org/NewCondition
http://schema.org/InStock
AUD
https://www.mrsupplement.com.au/zombie-labs-pumpz?variation=15736
69.95
AUD
https://www.mrsupplement.com.au/zombie-labs-pumpz?variation=15734
Zombie Labs Pumpz (400g / 40 Serves Undead Unflavoured)
Pumpz is Zombie's stimulant-free super-pump formula. Containing ingredients specific for both insane pumps and performance - this is truly a super-natural formula. 
Zombie Labs
Supplements > Pre Workout > Pre Workout Stim-Free
https://cdn.mrsupplement.com.au/resources/imgs/products/zombie-labs-pumpz.1667330157566.png
http://schema.org/NewCondition
http://schema.org/InStock
AUD
https://www.mrsupplement.com.au/zombie-labs-pumpz?variation=15734
69.95
AUD

Pumpz
Non-Stimulant Pump Pre Workout
Everything Needed for a Massive Pump including
7,000mg of L-Citrulline Malate per 20g Serve
4200mg of Beta-Alanine
Electrolytes from Potassium & Sodium
In Stock

(1)
Write a review
Product
Q&A's
Reviews
Add To Cart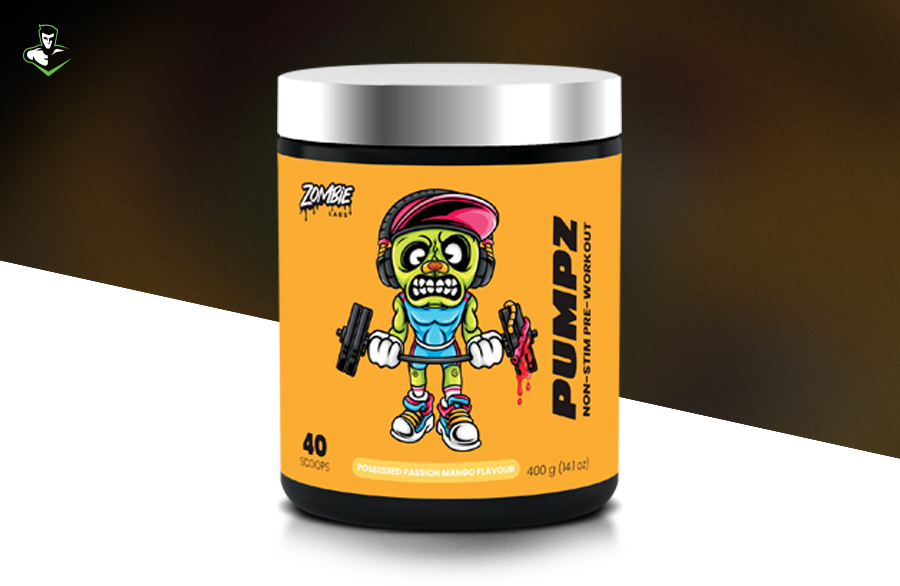 Skin Splitting Zombie Pumps & Performance - Pumpz is Zombie's stimulant-free super-pump formula. Containing ingredients specific for both insane pumps and performance - this is truly a super-natural formula.
Hyper Focus Nootropic Blend - Despite not containing any stimulants Zombie Pumpz still has an effective nootropic blend for Zombie-like one-mission-in-mind focus for your workout goals.
Zombie Labs Pumpz Flavours
With the best flavour combinations, Zombie Labs Pumpz is available in Raspberry Ripper, Posessed Passion Mango & Undead Unflavoured. So whether you want delicious flavours or a natural unflavoured version the choice is yours.
Q&A's
Ask a question about
Zombie Labs Pumpz
When should I take Pumpz?




Zombie Labs Pumpz should be taken 15 minutes pre-workout. It also may be consumed intra-workout.

Can Zombie Labs Pumpz be taken in the evening as a pre-workout?




Yes it can. Pumpz is ideal to take in the evening however it does contain vitamin B & nootropic ingredients. As such we would not recommend taking it within 3 hours of sleep.

Does Pumpz pre-workout contain caffeine?




Yes and No. There is zero added caffeine in Zombie Labs Pumpz unlike most pre-workouts. It does however contain 25mg of coffee berry extract which shall have a very small amount of caffeine in it. For most people the amount is so small they would not notice any effect.

Who is Pumpz suitable for?




Zombie Labs Pumpz is suitable for healthy men and women, 15 years of age or older.

What is Zombie Labs Pumpz?




Pumpz is a stimulant free pump pre-workout formula.
Reviews

Excellent

Based on reviews collected by
&
Write a review

Zombie Labs Pumpz
Zombie Labs Pumpz
Zombie Labs Pumpz
400g / 40 Serves Undead Unflavoured
Gets the blood pumpin hard
Collected via Trustpilot
Next Page
Contact Us