https://www.mrsupplement.com.au/zombie-labs-infected?variation=16366
Zombie Labs Infected (400g / 40 Serves Gruesome Grape)
Zombie Labs
Supplements > Pre Workout > Pre Workout High-Stim
https://cdn.mrsupplement.com.au/resources/imgs/products/zombie-labs-infected.1667329743571.png
http://schema.org/NewCondition
http://schema.org/InStock
AUD
https://www.mrsupplement.com.au/zombie-labs-infected?variation=16366
69.95
AUD
https://www.mrsupplement.com.au/zombie-labs-infected?variation=15739
Zombie Labs Infected (400g / 40 Serves Orange Mango)
Zombie Labs
Supplements > Pre Workout > Pre Workout High-Stim
https://cdn.mrsupplement.com.au/resources/imgs/products/zombie-labs-infected.1667329743571.png
http://schema.org/NewCondition
http://schema.org/InStock
AUD
https://www.mrsupplement.com.au/zombie-labs-infected?variation=15739
69.95
AUD
https://www.mrsupplement.com.au/zombie-labs-infected?variation=15737
Zombie Labs Infected (400g / 40 Serves Raspberry Ripper)
Zombie Labs
Supplements > Pre Workout > Pre Workout High-Stim
https://cdn.mrsupplement.com.au/resources/imgs/products/zombie-labs-infected.1667329743571.png
http://schema.org/NewCondition
http://schema.org/InStock
AUD
https://www.mrsupplement.com.au/zombie-labs-infected?variation=15737
69.95
AUD
https://www.mrsupplement.com.au/zombie-labs-infected?variation=15738
Zombie Labs Infected (400g / 40 Serves Vicious Vanilla Cola)
Zombie Labs
Supplements > Pre Workout > Pre Workout High-Stim
https://cdn.mrsupplement.com.au/resources/imgs/products/zombie-labs-infected.1667329743571.png
http://schema.org/NewCondition
http://schema.org/InStock
AUD
https://www.mrsupplement.com.au/zombie-labs-infected?variation=15738
69.95
AUD

Infected
High-Stimulant Pre-workout
325mg of Caffeine per 20g Serving
Hyper Focus Nootropic Blend
Zombie Level Pumps & Performance
Non-Stop Energy
In Stock

(0)
Write a review
Product
Q&A's
Reviews
Add To Cart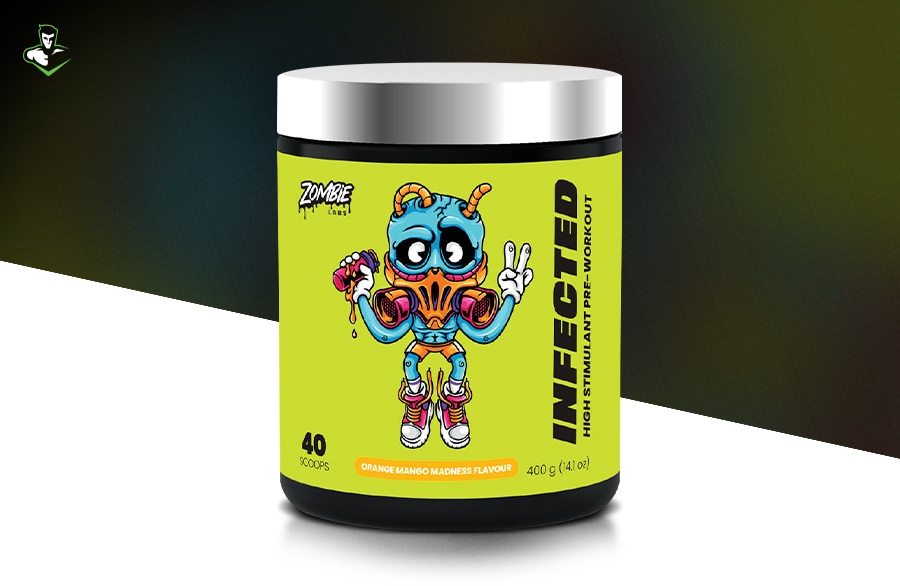 Zombie Labs Infected is a mid-strength pre-workout plus nootropic blend designed to support energy, pumps, performance & focus in the gym. Infected is suitable for men and women alike, offering a clean sustained boost.
Zombie Labs Infected Benefits
Go full Zombie in your workout. Zombies never stop with barriers in front of them and neither should you. Keep moving forward with your gains and perform like a Zombie. Zombie Infected contains ingredients specific for energy and Zombie-like focus as well as increasing strength to un-human levels.
Infected Pre-Workout Flavour
Infected comes in the best easy-to-drink flavours including Raspberry Ripper, Vicious Vanilla Cola & Orange Mango Madness.
Q&A's
Ask a question about
Zombie Labs Infected
What is the normal dosage size of Infected pre workout?




A regular dose of Infected is 10g or 1 scoop (scoop provided). We recommend new users begin on 1/2 scoop before proceeding to higher doses. Some experienced users may choose to take 2 scoops of Infected however this is not the standard recommendation. Always follow the manufacturers label recommendations.

How much caffeine is in Infected pre workout?




There is 162mg of caffeine anhydrous per 10g scoop in Infected.

Does Infected pre workout contain creatine?




Infected by Zombie Labs does NOT contain creatine.

Who is Infected pre workout suitable for?




Infected is suitable for healthy men and women 15 years or older.

When should you take Zombie Labs Infected?




Infected should be consumed around 20 minutes before your workout?

How should I take Infected pre workout?




Infected powder should be mixed with water, blended and consumed, it's that simple.

What is Zombie Labs Infected?




It is the brands mid strength pre workout supplement.
Reviews


Based on reviews collected by
&
Write a review

Contact Us