Quick Summary Points
Ghost Pump is a stimulant free pump pre workout formula designed for users looking to get pumped throughout their workout

Formula contains a range of potent ingredients consisting of citrulline, arginine nitrate, taurine etc

The benefits of using Ghost Pump include a boost in nitric oxide levels, enhanced muscle pumps & better physical performance

Can be stacked with other supplements including Ghost's Legend, amino acid supplements, creatine or protein powders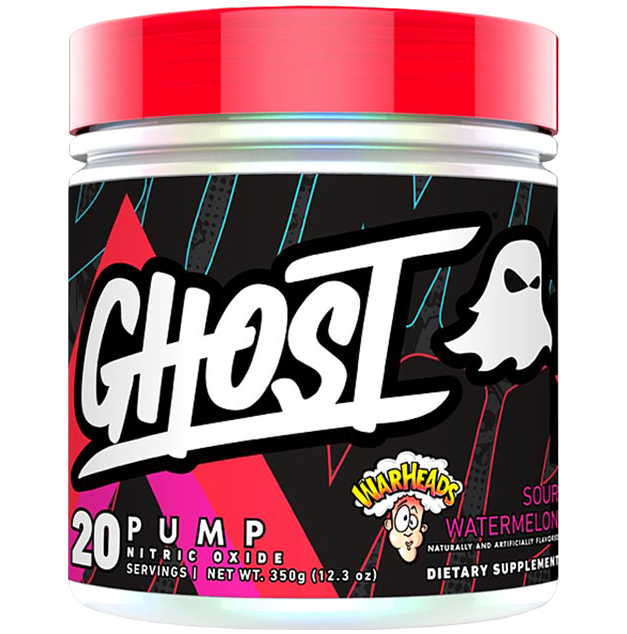 Ever since the Ghost products have launched, it has been a crowd favourite especially their flagship pre workout Ghost Legend Pre. The next supplement to keep your eyes out is going to be pump version pre workout by the name of Ghost Pump. Without further ado, here's some critical info on the upcoming product.
Ghost Pump Highlights
Stimulant Free Pump Pre Workout Formula

Combines 7 Potent Ingredients including Citrulline & Arginine Nitrate

Boost Nitric Oxide Levels

Enhance Muscle Pumps & Performance
Ghost Pump Ingredients & Dosage
Whilst the official panel hasn't been released as of yet, but what we do know is that the formula contains approximately seven potent ingredients including citrulline, arginine nitrate, GlycerPump (glycerol), taurine, norvaline, pine bark, AstraGin and some added flavouring.
Each Ghost Pump tub will contain 20 servings in a 350 gram tub. Ghost recommends users to use a single serving size sufficient for 40 training sessions instead of the two scoop protocol for maximum results. Here is the full ingredients list of Ghost's Pump product:
4000mg Fermented Citrulline Malate – Ghost Lifestyle really takes care of their customers by creating products not only that work, but they have added fermented L-Citrulline that is vegan friendly.

2500mg (NO3-T®) Arginine Nitrate – For a pump product, Ghost has gone hard out in providing you the best pump experience. With 2500mg of Arginine Nitrate, this allows users to experience more powerful pumps and more energy throughout your workout

2000mg Taurine – Ghost Pump contains more than the average dose of Taurine. This allows users to experience the benefits of improved focus, concentration and higher endurance.

1500mg GlycerPump (Glycerol Powder (65%) – GlycerPump is a patented form of glycerol to improved intracellular uptake into the muscle and gets quickly absorbed by the body.

300mg L-Norvaline – This acts as an enzyme inhibitor that prevents arginine from being degraded in the body allowing more nitric oxide to flow through the muscles. L-Norvaline is known to improve muscle growth.

250mg Vitamin C – This is an important vitamin in pump pre workouts as it is linked with the enhancement of nitric oxide production

200mg Pine Bark Extract (Pinus Pinaster) Extract (95% Proanthocyanins) – Another crucial pump ingredient that works synergistically with the above listed ingredients. More importantly, pine bark extract helps to deliver the nutrients to your muscles.

50mg AstraGin – This is another patented combination of ingredients Panax Notoginseng and Astragalus Membranaceus that functions to maximise absorption and ATP production
Ghost Pump Benefits & Pros
For users looking for a stimulant free option pre workout, Ghost Pump is completely free from stimulants but still offer you the vascularity and pump to get you through the workout. As the formula will contain highly validated pump ingredients like Citrulline and Arginine Nitrate, we expect the supplement to give users a boost in nitric oxide, feel an increase in muscle volume and deliver nutrients to working muscles. It utilises 4000mg of Citrulline, which is the perfect dose to get you pumped. Citrulline is a well-researched ingredient that is known to drive nitric oxide during intense exercise. Due to the formula being stimulant free, Ghost have added a higher dose of taurine in order to achieve that extra volumized pump. Moreover, L-Norvaline and Pine Bark Extract work together to enhance pump and deliver the nutrients to your muscles while AstraGin has been added to achieve maximum absorption.
Ghost Pump is a very cleverly formulated to combine a suite of ingredients that work synergistically to promote nitric oxide production especially with the inclusion of Citrulline, Arginine Nitrate as well as norvaline that prevents the breakdown of Arginine allowing a constant regulation of nitric oxide throughout the body. Additionally, they have created another fully transparently labelled product suitable for everyone including vegans.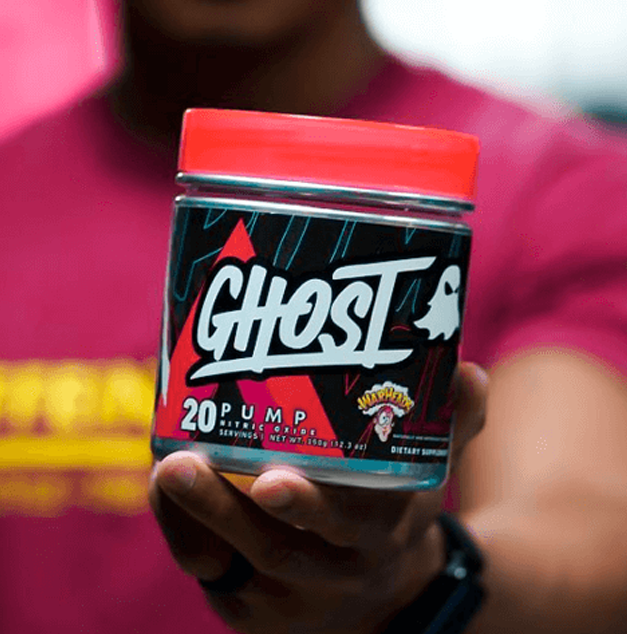 Ghost Pump Flavours, Taste & Mixability
Ghost Pump will be available in two flavours including Warhead flavour Sour Watermelon and Lemon Lime. We trust that the mixability is just as good as Ghost's Legend pump pre workout. The company describes the flavour profile as a taste sensation that is both sour and zingy like no other pre workout.
Ghost Pump Best Flavour
Although there are only two flavours, amongst the two the winner goes to the Warhead flavour Sour Watermelon. Ghost have specifically partnered up with Warheads® in order to achieve the authentic pre workout flavour. It features an extreme sour flavour known to all warhead lovers. This particular flavour is also the first amongst the supplement industry to have a flavour collaboration combined with potent ingredients.
Ghost Pump Final Verdict
If you're looking for some serious pumps and wanting to go further in your training with extra energy, Ghost Pump is not only delicious but it is a solid pre workout pump supplement that is fully dosed for each active ingredient.