Quick Summary Points
Muscle Nation Destiny is a well-rounded strong fat burner that is designed to boost metabolism, suppress appetite, increase energy and improve mood & focus.
Destiny uses a range of scientifically validated ingredients including acetyl-l-carnitine, garcinia cambogia, Dynamine™, coleus forskholii and many more.
The product is available in refreshing flavours and is best taken early during the day, before training or as directed.
FDA tested and manufactured in a strict quality facility.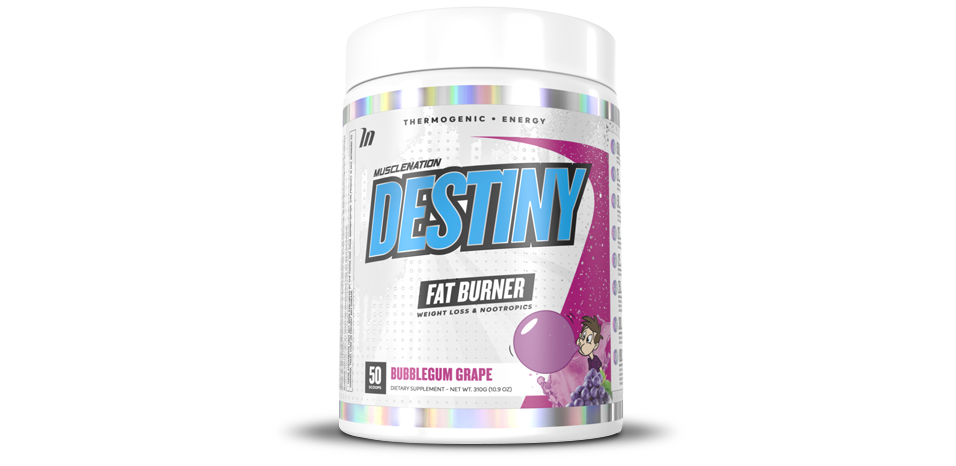 Supplement apparel brand Muscle Nation is ready to tackle the supplement industry. They have formulated a line of supplements with the latest patented and most innovative ingredients. All ingredients work synergistically to achieve maximum results for anyone serious about their fitness journey. Read on for our detailed review on their latest ground breaking fat burner, Destiny.
What is Muscle Nation Destiny?
Muscle Nation's Destiny is a multi-functional fat burner that is designed to promote fat loss, increase energy, boost metabolism, suppress appetite and enhance mood and focus. Destiny contains over 20 ingredients that include the latest ingredients including Methyl liberine aka Dynamine™. It is an extremely potent formula with a strong synergistic and effective nootropic edge.
Muscle Nation Destiny Highlights
Utilises Scientifically Proven Ingredients
High Strength & Hard-hitting energy
Clean & Crash Free Formula
Promotes Fat Burning & Boosts Metabolism
Enhances Mood & Focus
Muscle Nation Destiny Ingredients & Dosage
The formula of Muscle Nation's Destiny is made up of six different matrixes which include metabolism boosters, appetite suppressants, natural diuretics, stimulants as well as focus & mood enhancers. This fat burner provides a comprehensive blend of fully dosed ingredients that are hard-hitting yet suitable for training.
Without further ado, here is the full ingredient list:
Super Carnitine – Fat Metabolizing Matrix
Fat Burning & Metabolism Booster Matrix
Coleus Forskohlii Extract - 125mg
Cocoabuterol-n-coumaroyl dopamine 20% - 50mg
Vanillin – 75mg
Capsimax – 50mg
Synephrine HCL – 30mg
Appetite Suppressants & Control Matrix
Water Shred Matrix – Natural Diuretics
Dandelion Root Extract – 100mg
Horsetail Herb Powder – 100mg
Juniper Berry Extract – 50mg
Energy & Mental Endurance Matrix
Caffeine Anhydrous – 150mg
Dynamine 40% - 50mg active Methyl Liberine – 125mg
Hordenine HCL – 40mg
Nootropics – Focus & Mood Enhancement Matrix
AlphaSize – Alpha GPC 50% - 200mg
Huperzia Serrata - Huperzine A 1% - 75mcg Active 7.5mg
Velvet Bean Extract - 98% - 100mg
Lion's Mane Powder - Hericium erinaceus - 200mg
L-Tyrosine - 1000mg
Kelp - Yielding 50mcg Iodine - 12.5mg
KSM-66 - Ashwagandha Extract - 150mg
Absorption Enhancer
BioPerine – Black Pepper Extract – 5mg
Muscle Nation Destiny Benefits & Pros
Muscle Nation has prioritised quality and results above all else with their brand new cutting-edge fat-burner, Destiny. Containing a result-driven panel of ingredients that work synergistically together to enhance energy, increase fat burning, speed up metabolism, suppress your appetite, and improve mood and focus, what more could you possibly want from a fat-burner? If you look closely at the ingredients, Muscle Nation have really done their research in placing ingredients that are proven to work including Dynamine. Other highlights include the addition of green coffee bean extract to support fat burning and glucose metabolism to a generous dose of acetyl l–carnitine to support energy and performance levels whilst supporting the utilisation of storing fat as fuel. The fat metabolisers are responsible for transporting stored body fat into muscle cells where it can be burned for energy. Together these ingredients, increase your base metabolic rate, which causes an increase in energy levels and forces your body to burn more calories throughout the day.
Lean GBB™ otherwise known as gamma-butyrobetaine dioxygenase is another main ingredient of this formula. It functions similarly to other carnitine supplements but takes a step further due to its ability to raise plasma levels so incredibly high (insane sweat!). Lean GBB™ enhances and elevates your body production of L-Carnitine which allows your body to burn off more calories. At 25 mg Lean GBB™ per scoop, it is considered a fairly strong dose. It helps your body to produce more carnitine. In addition to an already generous dose of Acetyl L-Carnitine, this formula has been carefully designed to help your body stimulate and break down fat cells, transporting them into the bloodstream to be used as a source of energy. Leaving you with accelerated fat burning, some may experience excess sweating which is completely normal.
As you can see, Destiny consists of a myriad of potent ingredients that help you reach your goal faster. Whilst the formula of Destiny is deemed potent and effective, exercise and diet will always remain the fundamental factors when it comes to weight loss.
Muscle Nation Destiny Cons
As previously mentioned, LeanGBB is an ingredient that functions similarly to other carnitine supplements. With that being said, LeanGBB can cause the body to sweat more than usual. Whilst this is completely normal, some may find it uncomfortable. So, we strongly suggest to those who have never used L-carnitine, start by taking a smaller dose first before proceeding further.
When is the Best Time to Take Muscle Nation Destiny?
This fat burner is formulated to be taken twice per day, to ensure key fat metabolisers, fat burning, and metabolism boosters are functioning throughout the day (in the morning and in the night). Destiny utilises appetite suppressants to control your cravings, natural diuretics to flush out excess water and nootropics to keep you in a happy, up-beat and focused state. The only disclaimer is relation to the caffeine, if you're sensitive to caffeine it is always best to take it as early in the day as possible.
Muscle Nation Destiny Taste, Flavour & Mixability
Destiny is available in four different flavours consisting of Strawberry Candy, Rainbow Sherbet, Peach Sunrise and Bubblegum Grape. All the flavours of this fat burner are leaning towards the fruity lolly flavours. The flavours have been designed to give users a refreshing taste to take during the day or before training. Amongst all flavours, the most popular flavours in house is Rainbow Sorbet and Bubblegum Grape for its sweet yet refreshing taste. The powder also mixes and dissolves easily with water.
Muscle Nation Destiny Verdict
Despite the competitive market out there, Muscle Nation still did their best in creating a formidable fat burner to compete against other rivals out there. Destiny is a well-rounded fat burner that offers a range of benefits for anyone looking for a comprehensive fat burner. It's an excellent product to help with suppressing appetite and boosting energy levels throughout the day, which is important to keep you focussed whilst on a calorie deficit diet. Are you ready to take on Muscle Nation's Destiny?
1Nagao, T., Komine, Y., Soga, S., Meguro, S., Hase, T., Tanaka, Y., & Tokimitsu, I. (2005). Ingestion of a tea rich in catechins leads to a reduction in body fat and malondialdehyde-modified LDL in men–. The American Journal of Clinical Nutrition, 81(1), 122-129.