MuscleTech Hydroxycut Zero Protein Review
Hydroxycut Zero Protein is a new mass market fat loss protein from heavyweight supplement company MuscleTech. With Hydroxycut Zero, MuscleTech have finally decided to leverage their powerful Hydroxycut weight loss brand to make a fat loss protein that will appeal to the masses. In many respects, it's a wonder why MuscleTech didn't release a fat loss protein like Hydroxycut Zero Protein a long time ago; especially as they have labelled themselves as makers of 'America's #1 selling weight loss supplement brand'. In Australia especially, fat loss proteins seem to be more popular than the US so it will be interesting to see how this product fares on the back of its big brand reputation. The ensuing article will take a close look at how Hydroxycut Zero Protein stacks up in key areas.

MuscleTech Hydroxycut Zero Protein Highlights
The standout features fo Hydroxycut Zero Protein would have to be its low zero carb, fat and sugar content. With the popularity of low carb/sugar approaches to weight loss nowadays, Hydroxycut Zero ticks all the boxes. The inclusion of several fat burner ingredients plus carnitine give the product a nice rounded appeal as we will touch on further below.
MuscleTech Hydroxycut Zero Protein Ingredients & Dosage
Each serve of Hydroxycut Zero Protein includes a 419mg 'Weight Loss Plus Complex' that includes green coffee, l-carnitine, white mulberry and yacon. The complex is a fraction smaller than the 550mg 'Weight Loss Plus Complex' found in its more hardcore partner product - Hydroxycut SX-7. As such, it is evident that Hydroxycut Zero Protein is targeted more to your average run-of-the-mill consumer, especially having only 10g of protein per serve. What's more, the protein features milk protein isolate as the main protein, while SX-7 has whey protein isolate as its main protein.
In contrast with the 'Weight Loss Plus Complex' in SX-7, MuscleTech chose not to disclose the amount of each ingredient in Hydroxycut Zero's 'Weight Loss Plus Complex'; other than the green coffee extract, which is present at 200mg as it is in SX-7. This leaves 219mg to be split across the remaining three ingredients: l-carnitine l-tartrate, white mulberry extract and yacon powder. Needless to say, this does not make for particularly potent levels.
Directions for Hydroxycut Zero stipulate that users consume two servings each day 30 to 60 minutes before their two 'largest' meals. As such MuscleTech expect that the supplement will work to reduce hunger and food consumption at meal time. However, with just 10g of protein per serve and zero carbs and fat, some users may simply chose to have two serves at once as a substitute for a meal. But with just 35 serves per 454g tub, Hydroxycut Zero will only last 17-18 days if users are continually having two serves a day.
Hydroxycut Zero Protein Pros & Effectiveness
As touched on above, the absence of carbs and fat in Hydroxycut Zero Protein is a major positive for the product. Hardcore low carb and low fat fanatics will relish the fact they can take a weight loss supplement that's pure protein and fat burners.
Hydroxycut Zero Protein Cons
The relatively low level of protein in each serve of Hydroxycut Zero could be a deal breaker for some. At just 10g per serve, it's not really enough to properly fuel muscle growth/recovery, especially if being used by an individual participating in regular resistance training. Having said that though, it is obvious that MuscleTech are not going for the hardcore fat loss protein market with this product.
Hydroxycut Zero Protein Taste & Mixability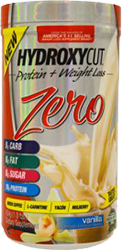 Unfortunately, taste is the one area where Hydroxycut Zero falls a bit short. The vanilla flavour we sampled in-house was generally rated as not having a strong enough vanilla taste. This was compounded by the fact most considered it not sweet enough. Mixing wise, it was fine as you would expect from any top quality protein. Depending on the users diet plan, they may mix it with bananas or berries to improve flavour. However, for those without a sweet palate, the taste and flavour of the supplement will likely be suitable.
Hydroxycut Zero Protein Verdict
Hydroxycut Zero Protein is the weight loss protein supplement that MuscleTech had to release. With such a great reputation for weight loss supplements, it's a wonder MuscleTech didn't release a product like this much earlier. With its formulation and ingredient profile, it's obvious that Hydroxycut Zero is targeted at the mass consumer market looking for a general weight loss protein powder, while its partner product SX-7 is targeted at the more serious trainers.