Best Flavour of N.O. Xplode
Since its release over two years ago, N.O. Xplode by BSN has been one of the most popular pre-workout formulations on the market. The pre-workout market has changed significantly over this time. We have seen products come and go, ingredients fall in and out of favour, and most notably, a rise in concentrated pre-workouts, over original formulations like N.O. Xplode, yet N.O. Xplode has not only endured, but picked up even more fans along the way.

Many people who want a pre- workout that will maximise pump and blood flow and deliver massive engorged muscles have turned to N.O. Xplode for the boost they need. N.O. Xplode packs one of the most comprehensive blends of pump enhancing ingredients of any product on the market, and the low stimulant formula is perfect for people who want an energy boost without going overboard.
N.O. Xplode may have a great ingredient list, but another secret to its success is the fact it tastes so good. BSN have distinguished themselves in a crowded market by producing one of the only effervescent pre-workouts on the market. On top of this, the company has switched out flavours in response to consumer demand, which livens up the range and shows that this is a company that listens to their customers.
There are five delicious flavours of N.O. Xplode to choose from, and picking one can be hard. We decided to take a bit of stress out of this situation for our customers and compile a definitive guide. We offered ourselves up as guinea pigs, tasting all five N.O. Xplode flavours, and combined our thoughts with the sales figures, giving us with a comprehensive and accurate idea of which flavour is the best, and why. Here's how it panned out.
#5 Raspberry Lemonade – This is the new flavour on the block, and it is still trying to find its feet with a market that seems to be remaining loyal to the original range. Raspberry Lemonade replaced the unpopular Lemon Lime flavour, and seems to be received much better. This fruity flavour does an excellent job of hiding the at times bitter ingredients. The lemon provides a real kick which is well balanced by the sweetness of the raspberry.
#4 Fruit Punch – This is a classic pre-workout flavour, and fruit punch is probably the most common flavour of gym supplement around. In our opinion, BSN's take on Fruit Punch is ahead of many other manufacturers, and this tangy, sweet, well balanced drink will please most people out there. If you're new to supplements, fruit punch is a delicious place to start. If you've been in the game for a while, you might be suffering fruit punch fatigue, which is something we understand!
#3 Orange Citrus – Like C4's orange, N.O. Xplode's orange citrus sits in the middle of the pack. This is not a natural tasting orange, but if you're the sort of person who enjoys a refreshing glass of Fanta on the odd occasion, you will enjoy this take on orange soda. This is one of the flavours that really works well with the effervescence. Orange Citrus is quite a strong flavour, and some people may prefer it with a little extra water.
#2 Watermelon – NO Xplode Watermelon is probably the most divisive of the flavours. This is another intense flavour, which tastes a lot like candy, rather than natural watermelon. People with a sweet tooth will love this flavour, and the sweetness is well balanced by the tiniest hint of saltiness from the effervescence. This is quite different from the weak, watery melon flavours put out by some brands, and watermelon N.O. Xplode has a lot of repeat customers.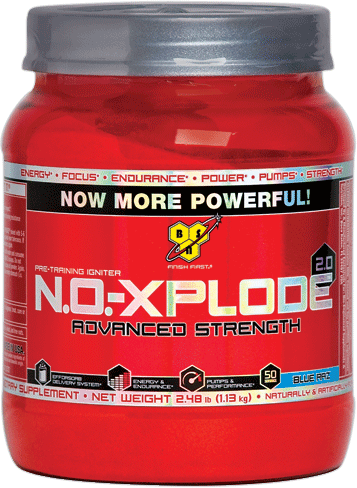 #1 Blue Razz – The tiniest of margins separated the top three flavours, and fourth and fifth weren't far behind. Snatching a hotly contested victory, however, is N.O. Xplode Blue Razz. This is a very well developed flavour, with just enough tang to offset the sweetness. Like the best formulated flavours, the slight bitterness of some of the active ingredients actually enhances and adds to the taste profile of this in a way that adds depth to the overall flavour. Like fruit punch, Blue razz is a classic pre-workout flavour, but BSN have gone well above expectations with this formulation, which is very easy to drink, and should be to the taste of almost everyone.
BSN have formulated the N.O. Xplode range with strong, distinctive flavours, which reflect the effect this pre-workout has on pump and strength during a workout. With the dud flavour gone, all varieties of N.O. Xplode were acceptable to all our testers, and there isn't really a bad choice in this delicious range. Fruit Punch and Blue Razz are safe, classic flavours that everyone will enjoy. Orange and Raspberry Lemonade are perfect for fans of tangy citrus flavours, and Watermelon is unique and dynamic, popular with people looking for something a bit different. Enjoy!