Max's Super Whey vs Gold Standard 100% Whey
There are so many 100% whey protein blends around and it can be extremely difficult to pick one, especially if you are new. You may have heard of Optimum Nutrition 100% Whey Gold Standard. It is without doubt, the world's top selling and most popular whey protein, known best for its quality. However, Australian companies like Max's are no slouch, and know a thing or two about making a high quality powder. Max's Super Whey is the case in point. This article will compare the world's favourite protein powder against Australia's favourite protein powder to determine, objectionably, which is best.
Max's Super Whey vs Gold Standard 100% Whey Ingredients
Whey Gold is a relatively simple product, made up of whey protein isolate (WPI), whey protein concentrate (WPC), and whey protein hydrolysate, in that order.
Super Whey is a slightly more complex product with whey protein concentrate, whey protein isolate, and hydrolysed whey protein isolate. On top of this, Super Whey is also fortified with a complete spectrum of vitamins and minerals.
Although Whey Gold uses WPI as a primary ingredient compared to the WPC of Super Whey, you will see further down that this does not actually make much of a difference. The same can be said about the vitamin & mineral complex found in Super Whey.
This therefore brings it down to comparing the supplier of the protein. Optimum obtains their protein from Glanbia, their parent company. This company is known best for its innovative and high quality dairy ingredients. Max's use suppliers from Australia and New Zealand, two countries with global reputations for their exceptional dairy produce.
Winner: Tie – The ingredients used make the two products extremely hard to split.
Max's Super Whey vs Gold Standard 100% Whey Doses
Because Max's recommend such a large serving size (50 g), they make things difficult for us in this doses comparison. So instead of comparing by serving size, we will compared the two based on 100 g
| | | |
| --- | --- | --- |
| Per 100 g | Super Whey | Gold Standard |
| Calories | 382 | 427 |
| Protein | 79.1 g | 78.9 g |
| Fat | 3.1 g | 3.3 g |
| Carbohydrates | 8.1 g | 9.9 g |
| BCAAs | 19.4 g | 18 g |
| Glutamine & Glutamic Acid | 11 g | 13.2 g |
Based on the macronutrients, the two products are extremely hard to split. Despite Whey Gold using more WPI than WPC, the end product is almost identical in protein compared to Super Whey (around 80% each). The same can also be said for fats and carbohydrates. Max's therefore neutralises Optimum's WPI advantage. Even if we look deeper, we can see that although Super Whey has more BCAAs, Whey Gold has more glutamine. Super Whey could have won this category with its vitamin and mineral blend. However, its dosage is too low to really make a significant difference.
Winner: Tie – Again, based on the above figures, this is another one that's hard to split.
Max's Super Whey vs Gold Standard 100% Whey Effectiveness
Considering that we were unable to split the two products based in ingredients and doses, would it be at all a surprise to expect that both products are equally effective? We didn't think so either. This is another tie. Both products are excellent for use immediately post workout, as well as in between meals to help build lean muscle.
Winner: Tie
Max's Super Whey vs Gold Standard 100% Whey Taste, Flavour & Mixability
As expected from two top quality products, mixability is good for both. If you mix the products with a shaker bottle, both powders mix well without lumps or froth.
Super Whey is one of the best tasting protein powders ever. It is rich, milky, and not at all too thick or thin. It is the perfect balance of sweetness and does not taste at all artificial. Although Whey Gold has such a strong following, a decent flavour profile, and over 20 different flavours, we feel that it just cannot compete with Super Whey. Perhaps the Americans would disagree, but Super Whey is definitely more suited to the Australian palate.
Winner: Max's Super Whey by a mile
Max's Super Whey vs Gold Standard 100% Price & Value
Super Whey and Whey Gold come in different sizes. If you take a quick look, it would seem that Whey Gold provides better value as it contains more servings. However, it should be noted that the suggested serving size of Super Whey is a whopping 50 g. To be honest, we feel that this is needlessly high and can be reduced significantly.
Comparing the two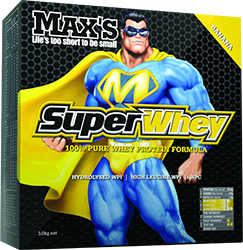 products on a per gram basis would be a more objective measure. In this case, the two whey proteins are extremely price competitive.
Winner: Tie once again
Max's Super Whey vs Gold Standard 100% Whey Overall Winner
Super Whey and Whey Gold are two extremely similar products that have proved difficulty to split. In fact, the two protein powders have been neck and neck for every single category with only one exception. Super Whey is the superior tasting product, which is enough to break the tie to make it the winner.
Overall winner: Max's Super Whey by the skin of its teeth
Although we try to be as objective as possible, we understand that opinions can vary between individuals. As such, the results of this comparison may not be agreed upon by everyone and should only be used as a guide.