Sodium Bicarbonate Improves Performance in Beep Test
The notion of using sodium bicarbonate to buffer muscle acidity during times of intense exercise has been around for decades, with the first studies appearing in the early 1980's. It's a wonder therefore, why you don't see more commercial sodium bicarbonate supplements around.
The latest study published in the Journal of the International Society of Sports Nutrition from Sweedish researchers tested the effects of sodium bicarbonate on performance in the Yo-Yo intermittent recovery test level 2 (known more commonly as the 'Beep Test')1. Used a lot in team sports to assess fitness, the Beep Test has a marked anaerobic component and has been shown to correlate to the amount of intense running during the most intense periods in team sport games2.
While beta-alanine supplementation bolsters carnosine, which is the body's major intracellular buffer, sodium bicarbonate is designed to bolster extracellular (i.e. blood) buffer capacity. For this reason, thirteen trained male athletes (runners, team sports, triathlon) with an average age of 23 years and VO2max of 61.3 were given either sodium bicarbonate at a dose of 0.4g per kilogram bodyweight or no supplement. One of the reasons for the apparent poor uptake of commercial sodium bicarbonate supplements may have to do with their tendency to cause gastrointestinal upset, with symptoms such as nausea, stomach pain, and diarrhea and even vomiting in severe cases3.
With this in mind, researchers in this study distributed the sodium bicarbonate dose in 25 capsules, with one fifth taken at 90, 80, 70, 60 and 50 mins prior to exercise. This type of dosing schedule has been shown to reduce the negative gastrointestinal symptoms associated with sodium bicarbonate supplementation.
Compared with then the subjects did not take any sodium bicarbonate, they covered on average an extra 89m or a difference of 2 levels in the Beep Test. In addition blood pH and bicarbonate levels were higher pre- and post-test than when not taking sodium bicarbonate. Concerning blood lactate, when taking sodium bicarbonate, subjects had both higher peak values and levels at exhaustion, despite being the same pre-test. This served as additional confirmation that the sodium bicarbonate helped buffer blood acidity by affording higher lactate levels during the Beep Test.
The graph below shows the individual responses to sodium bicarbonate supplementation. One can see that two individuals responded particularly well, with only one showing a decrease in performance. The graph serves as a useful reminder of the differing individual responses that is characteristic of most supplemental or nutritional interventions.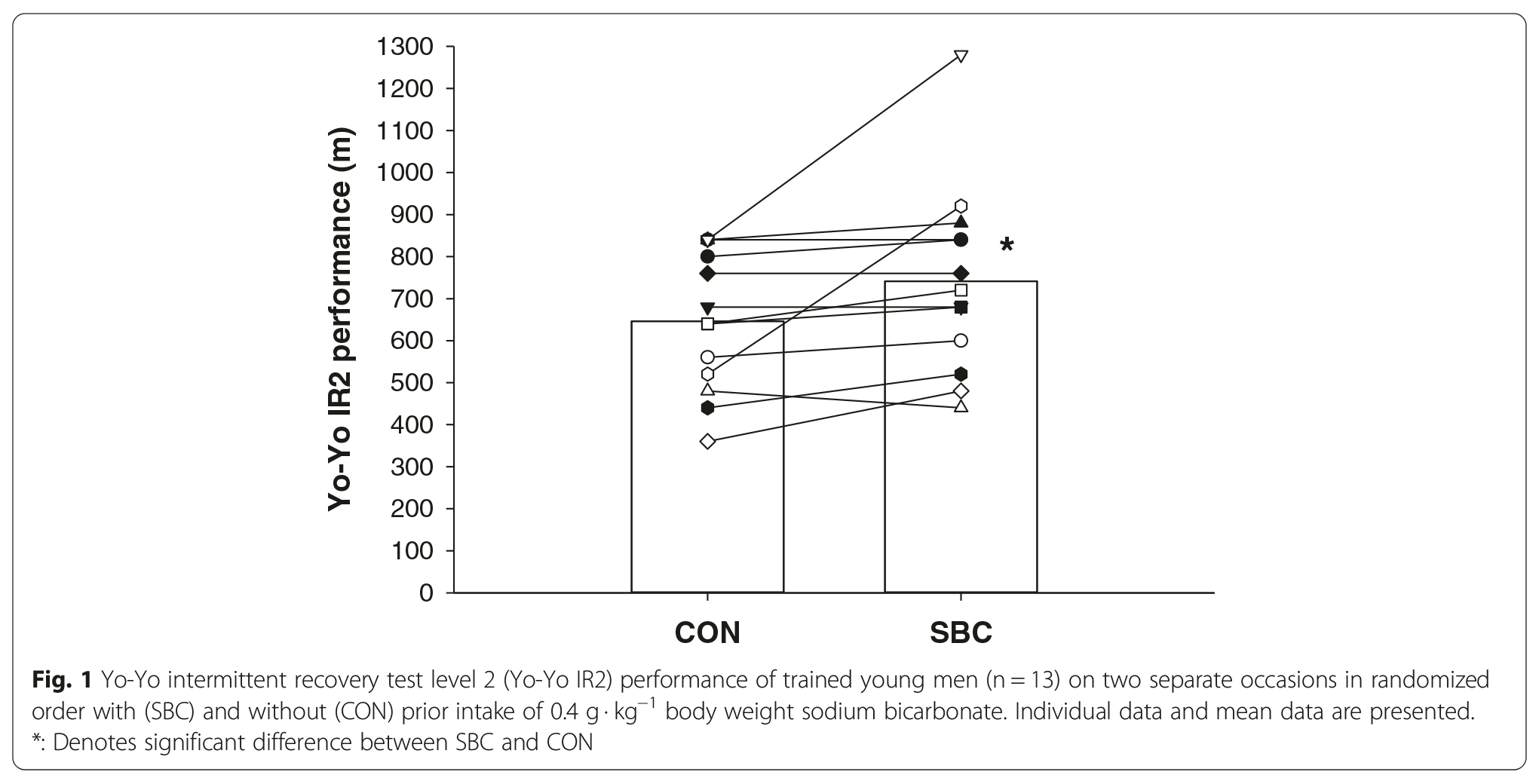 Considering that a significant improvement was seen from just a single acute dose of sodium bicarbonate, it shapes as one of the more economical ergogenics that can be used by any individual engaged in high-intensity activity.
Krustrup P, et al. Sodium bicarbonate intake improves high-intensity intermittent exercise performance in trained young men. Journal of the International Society of Sports Nutrition. 2015;12:25.
Bangsbo J, Iaia FM, Krustrup P. The Yo-Yo intermittent recovery test: a useful tool for evaluation of physical performance in intermittent sports. Sports Med. 2008;38:37-51.
Burke LM & Pyne DB. Bicarbonate loading to enhance training and competitive performance. International Journal of Sports Physiology and Performance. 2007;2: 93–97.