Latest Research: New Role for Nitrate in Regulating EPO
With its high nitrate concentration, beetroot has been casually dubbed 'Nature's EPO'. This is because nitrate has been shown to boost nitric oxide levels which in turn dilates blood vessels; leading to increased blood flow and the associated increase in oxygen and nutrient delivery to working muscles. But a fascinating new study in rats has unveiled a new mechanism by which dietary nitrate may regulate red blood cell production. What's more the study challenges the traditional notion of beetroot's label as Nature's EPO.
The label of Nature's EPO is based on the presumption that nitrate from beetroot serves to boost erythropoiesis and associated endurance. Erythropoiesis is the fancy name for the process in the body that controls red blood cell production; with stimulation of erythropoiesis resulting in higher blood cell volume (i.e. hematocrit). But another key function of nitrate is to increase the efficiency of oxygen utilisation; thereby decreasing the actual oxygen cost (i.e. requirement) of exercise. So it stands to reason that if you can make oxygen utilisation more efficient, then you don't need as much of it.
The other problem with the label 'Nature's EPO' is that stimulation of erythropoiesis and the associated increase in hematocrit also has the effect of increasing blood viscosity. An increase in blood viscosity over a certain level can actually impair blood flow. So the body has a delicate balancing act of regulating red blood cell volume through erythropoiesis (in response to changes in oxygen availability) and maintaining acceptable blood viscosity such that blood flow is not significantly impeeded.
In their pioneering study, researchers from the University of Cambridge and the University of Southhampton set out to investigate the effects of dietary nitrate on circulating haemoglobin in rats exposed to environmental hypoxia. They found that a moderate dose of nitrate (comparable to that known to enhance mitochondrial efficiency in humans) actually served to suppress EPO levels and lower circulating haemoglobin concentrations. When the researchers went on to investigate the mechanisms behind the process, they found that both the liver and kidneys were involved in optimising hematocrit in relation to environmental conditions and circulating nitrate concentrations. The diagram below is taken from the study and attempts to graph visually the dual regulatory role played by the liver and kidneys in response to dietary nitrate.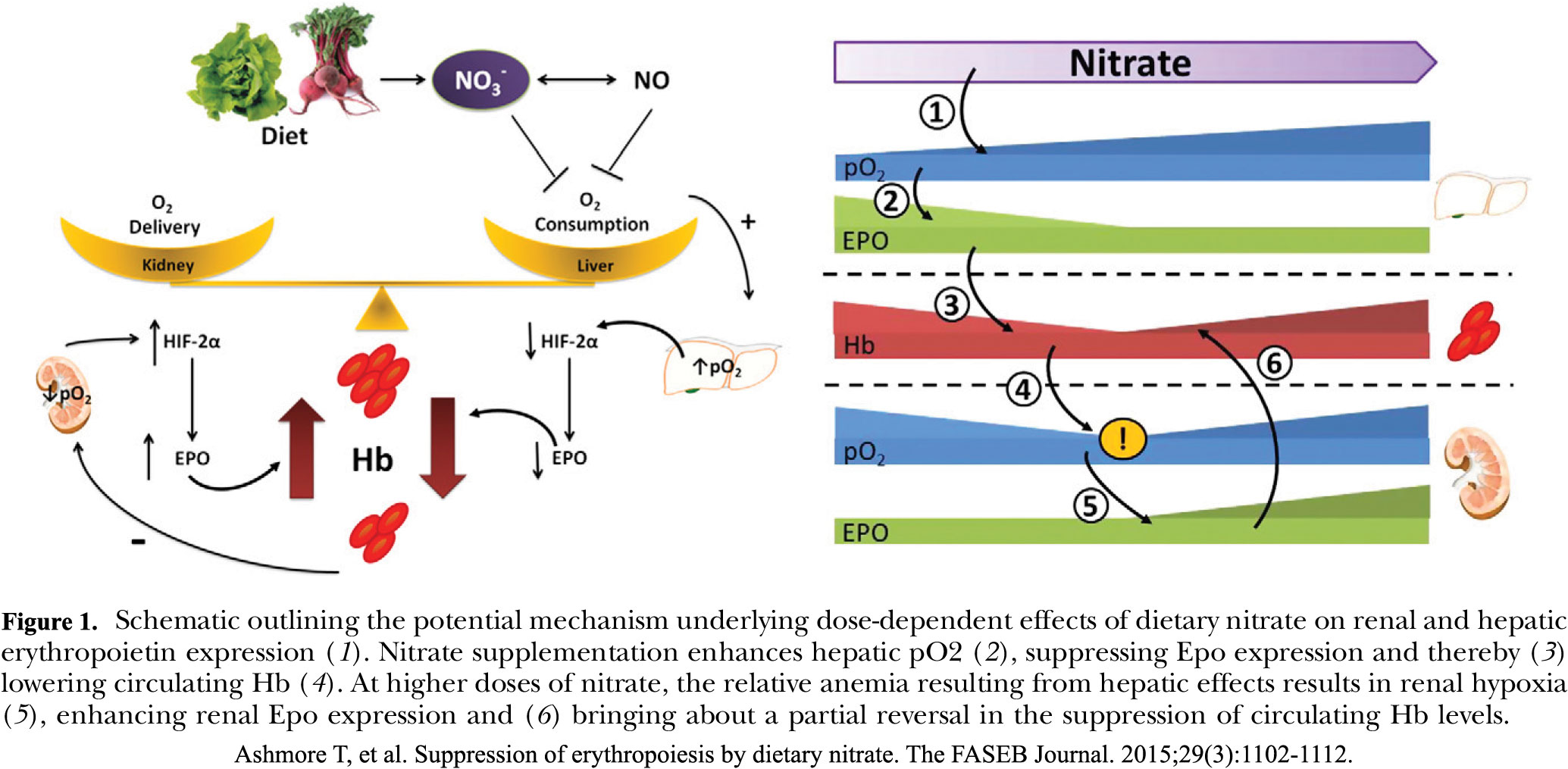 From the findings of the study published in the March 2015 issue of The FASEB Journal, It appears that the liver serves to suppress EPO production in response to dietary nitrate so as to decrease blood viscosity while matching oxygen supply to demand. On the other hand, the oxygen sensing role played by the kidney seems to act as a brake, preventing a potentially detrimental fall in hematocrit.
Together these finding show that in rats, liver and kidney oxygen-sensing pathways act in concert to regulate haemoglobin levels in response to dietary nitrate. Together the liver and kidney act to converge at an optimal minimal haemoglobin concentration that is appropriate to the environmental/physiologic situation. While these findings still need to be tested in humans during rest or times of increased oxygen demand (i.e. exercise), they make for another significant chapter in the book of nitrate and its role in oxygen usage and delivery to tissues.
Ashmore T, et al. Suppression of erythropoiesis by dietary nitrate. The FASEB Journal. 2015;29(3):1102-1112.