Muscletech Platinum 100% Creatine
Muscletech Platinum 100% Creatine Facts
The new Essential Series of supplements from Muscletech is the ultimate range of foundation supplements for trainers of all levels. Cheaper than many of their pre mixed supplements and rounding out their already expansive range, one of the supplements from this new Series is the Muscletech Platinum 100% Creatine.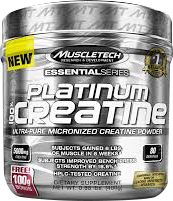 Muscletech Platinum 100% Creatine Review & Ingredients
Muscletech's Platinum 100% Creatine utilises a high quality form of micronized creatine monohydrate and nothing else. Creatine monohydrate is perhaps the most popular and effective supplement on the market next to protein and will help to maximise your training capacity by helping you to train longer and harder. Creatine supplementation at 5g per day over 3-4 weeks helps to support strength gains, endurance capacity and lean muscle mass growth.
Muscletech Platinum 100% Creatine Release Date
Platinum 100% Creatine from Muscletech is already available overseas however will most likely make its way down to Australia within the next couple of months and make a debut sometime in September or October 2014.