HIT Boosts GH More in Women vs Men
Ask the average lay person which gender they would expect to produce the most growth hormone output in response to an intense bought of exercise and they're likely to answer male. And that's exactly what makes the finding of the latest study in the Journal of Strength and Conditioning Research surprising.
The study, which was conducted in the Tel-Aviv University in Israel, took a group of healthy active young men and women (men = 12 and women = 16; age range:24–34 years) and measured their GH and IGF-1 responses to a popular standardised anaerobic fitness test called the Wingate protocol (4-6 x 30sec max sprints with 3-4min rest). The key aim of the study was to test the gender effect in the GH-IGF-1 response to anaerobic exercise.
Peak exercise-induced GH levels typically occur 25-30 minutes after the start of exercise, regardless of how long one exercises. As such, the researchers collected blood samples before and 20, 30, 40 and 60 minutes after the beginning of the exercise test. Each sample was analysed for GH, IGF-1. Post-exercise lactate levels were also measured.
While both genders exhibited a significant increase in GH levels after exercise, the GH peak was greater among the women. What's more as the graph on the right shows, the post-exercise growth hormone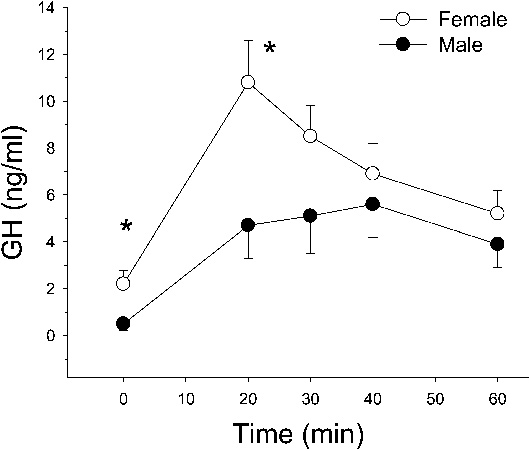 peak occurred significantly earlier (20 minutes) compared with male participants (40 minutes). When it came to IGF-1, only men exhibited a significant increase, however, there was no significant difference in levels when comparing genders. As far as lactate was concerned, levels were higher among men, but the difference between genders was not significant.
As for the practical takeaway from the study, its hard to make any firm conclusions about whether certain young females may respond more favourably to anaerobic or high intensity exercise. But it does confirm a specific relationship between the anabolic hormonal response to anaerobic exercise in men and women.
Eliakim A, et al. Effect of gender on the GH-IGF-I response to anaerobic exercise in young adults. J Strength Cond Res. 2014;28(12): 3411–3415.