Latest Research - Creatine Nitrate Safety Study
In much welcomed news, a study has finally surfaced on the hot new form of creatine that's been appearing in a lot of the new pre workouts; namely, creatine nitrate. Funded by none other than MusclePharm and supplied with creatine nitrate in the form of Arnold's Iron Cre3, the study is the first to produce any data on oral supplementation with creatine nitrate. While the notion of a supplement company sponsoring its own supplement study immediately sounds alarm bells, it worth highlighting that the study was a simple safety study that ran over 28 days. What's more, because the supplement consisted of Iron Cre3TM, it also featured other compounds in the form of vitamin C, vitamin E, calcium and a proprietary blend consisting of taurine, coconut water powder and l-glutamine. So the study cannot be classified as a strict safety study, given that there were multiple compounds being administered.
But putting the above issues aside, what did the study find? Published in the 2014 December issue of the Journal of the International Society of Sports Nutrition, the study involved a total of 58 subjects, with most being aged in their 20's and being recreationally active by doing at least 3 sessions a week of moderate to vigorous intensity exercise. The study ran for 28 days and consisted of full standard blood tests prior to and at the conclusion of the study. There were three different groups in the study, with one serving as the placebo/control, while the others consumed 1g and 2g respectively of creatine nitrate a day (in the form of Iron Cre3TM).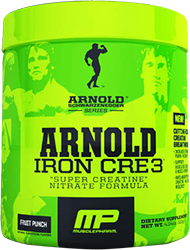 In the wash up, there were essentially no significant abnormalities resulting from supplementation with creatine nitrate. The only major abnormality that showed up was an increase in total lymphocytes and monocytes, which still remained within the accepted physiological range and not clinically significant. After considering possible explaining factors, the authors concluding that the most likely explanation was the variations in climate between Denver, Colorado and Tampa, Florida, the two cities that subjects came from.
While these findings are not likely to turn the masses to creatine nitrate, this type of data is nonetheless necessary in the long process of testing the therapeutic potential of new compounds. It will be interesting to see if MusclePharm follow up with another study testing the effect on performance and body composition.
Joy JM, et al. 28 days of creatine nitrate supplementation is apparently safe in healthy individuals. Journal of the International Society of Sports Nutrition. 2014;11:60.