Creatine Boost Cognitive Performance During Oxygen Deprivation
Just when it seemed every study on creatine had been done, researchers from Auckland have come up with a new one pointing towards potential neuromodulatory effects of creatine during oxygen deprivation.
In their first-of-a-kind study, researchers from the Centre for Brain Research at the University of Auckland, New Zealand, subjected 15 healthy adults to 7 days of creatine monohydrate supplementation to test its influence on neurophysiological and neuropsychological function during an experimental exercise that induced oxygen deprivation. The basic theory was much the same as normal studies with creatine; namely that creatine supplementation would bolster neuronal phosphocreatine levels and therefore protect against ATP depletion caused by reduced oxygen levels.
Subjects in the study were required to undertake a battery of specialised computer-based neuropsychological assessments before and after supplementation. Supplementation was performed in a randomised, double-blind crossover design such that subjects were taking either creatine monohydrate or placebo for 7 days and then switched groups with a washout period of 5 weeks between. Supplementation consisted of 5g of creatine monohydrate taken 4 times a day with food. As for the demographics of the subjects, there were 10 males and 5 females with an average age of 31 years.
The hypoxia intervention involved inhaling a gas mixture with an inspired oxygen fraction of 0.1 for 90 minutes, as shown below.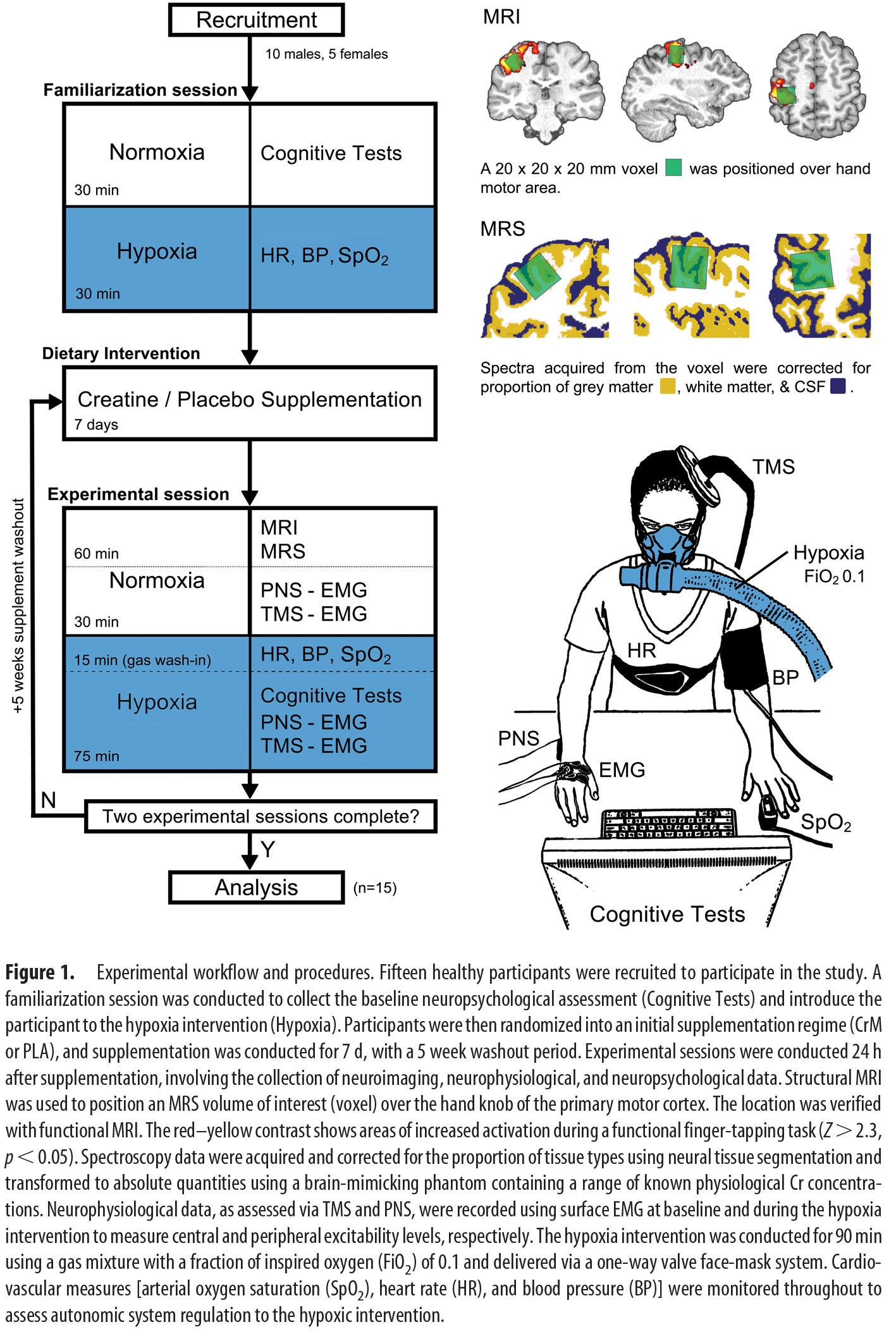 This procedure was designed to create a severe oxygen deficit, which was expected to significantly disrupt energy metabolism in neurons and subsequently disrupt cognitive function. During the intervention respiration, arterial oxygen saturation, heart rate, and blood pressure were continuously monitored to assess the response of the autonomic system as well as for safety.
The neuropsychological assessments administered to each subject were designed to test basic mental functions such as composite memory, verbal memory, visual memory, processing speed, executive function, psychomotor speed, reaction time, complex attention and cognitive flexibility.
During baseline testing (prior to supplementation), the hypoxia intervention was shown to adversely affect domains such as complex attention, composite memory and psychomotor speed. As such, the researchers were eager to see if these domains improved when subjects completed the same cognitive tests under conditions of hypoxia following 7 days of creatine monohydrate supplementation.
As per the researchers hypothesis, creatine supplementation was able to improve performance in a number of cognitive scores, thus effectively offsetting the decrements that were observed. Of note was that creatine was particularly effective at improving tasks involving complex attention. Trends for improvement were also seen in executive function, cognitive flexibility, and neurocognitive flexibility.
The question naturally arises: what sports involve periods of oxygen deprivation that may ultimately impact mental function? An obvious example is any intense exercise performed at high altitudes, such as cross country skiing and tour de france-type cycling races. But we know that it is already a common practice for elite endurance athletes to 'train at altitude'. Therefore it is interesting to consider whether creatine supplementation may be useful during such times, even if it is only for cognitive benefits.
As an aside, asthma is one common medical condition that it tied to poor oxygen supply. It's interesting to consider whether there would be any application for creatine supplementation in acute asthmatics.
With this study being the first one to explore this facet of creatine supplementation, it will be interesting to see what further research comes in this area. For the time being, its another arrow in the already jammed-packed quiver of supporting evidence for creatine monohydrate supplementation.
Turner CE, et al. Creatine supplementation enhances corticomotor excitability and cognitive performance during oxygen deprivation. The Journal of Neuroscience. 2015;35(4):1773-1780.