Casein Hydrolysate Superior to Whey for Use During Exercise
The question of the best form of protein for use during endurance exercise is a contentious topic. On the one hand, you have studies showing a benefit on performance when endurance athletes consume protein during exercise, while others show no effect. While factors such as what athletes eat beforehand, training status of athletes, habitual diet, whether or not carbohydrate is consumed together with the protein, and the amount of carbohydrate consumed all have an impact; up until now, there hasn't been a study that's specifically looked at the effect of protein type.
Scientists from the University of the Witwatersand, Medical School, Johannesburg, South Africa designed a clever study, which had a group of 8 highly-trained male cyclists trial 4 different beverages on separate occasions. The placebo beverage consisted of water-only, with the others being:
Carbohydrate-only
Carbohydrate + Whey Hydrolysate
Carbohydrate + Casein Hydrolysate (PeptoPro®)
The carbohydrate base in each of the beverages consisted of a fructose:maltodextrin ratio of 0.8:1. This is because recent studies have shown this ratio to result in the highest carbohydrate absorption and utilisation during exercise. This is because the added fructose allows for additional carbohydrate uptake in the gut using a different intestinal transporter to the one used for glucose.
The whey hydrolysate came from a raw material supplier called Hilmar Ingredients and contained a range of peptide lengths, namely, 70.8% tri- and di-peptides (<1000 Daltons), 12.9% 1000-5000 Daltons peptides, 6.6% 5000-20000 Daltons peptides, and 9.5% >20000 Daltons peptides. For the unacquainted, Daltons is a unit used to express the molecular weight of proteins, with a lower Dalton value equating to a smaller sized peptide and vice versa.
As for the casein hydrolysate, it was an exclusive mix (i.e. 100%) of tri- and di-peptides; and with the brand name of PeptoPro®. The carbohydrate concentration of each beverage (excluding placebo) was 7% meaning that every 1000ml of beverage contained 70g of carbohydrate. As for protein concentration, both the whey and casein were mixed at 1.7% or 17g per 1000ml. The table below shows the nutritional composition of each beverage.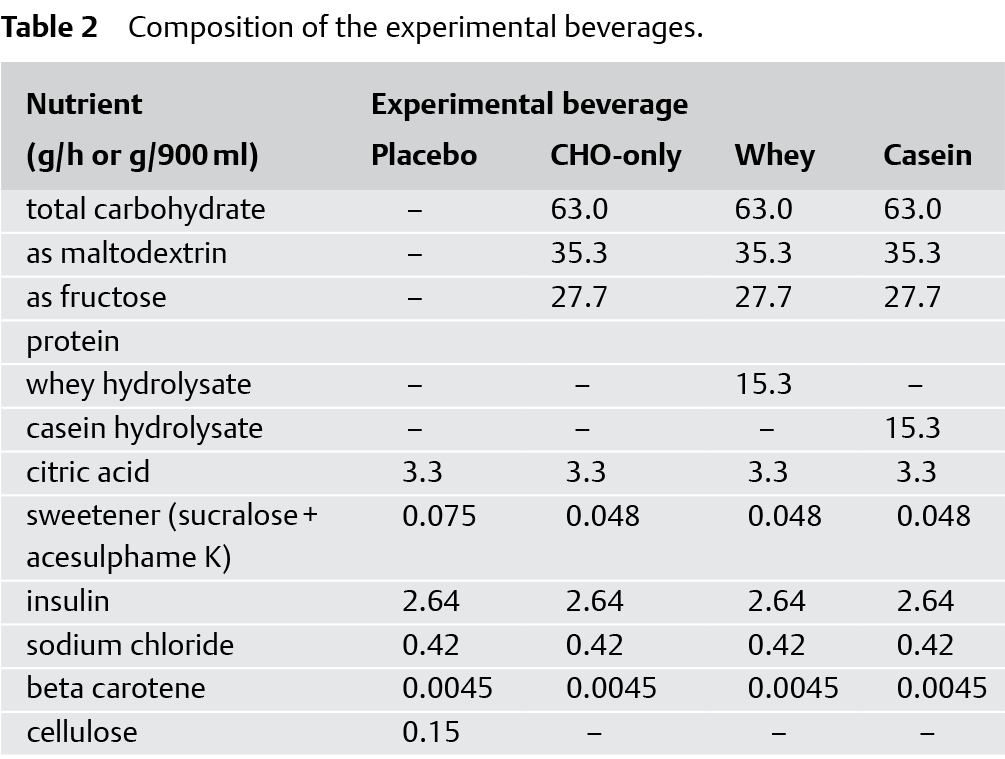 On each occasion, cyclist rode for 2 hours at 60% of their maximum threshold wattage, which was immediately followed by a 16km time trial, where each cyclist completed the 16km distance in as short a time as possible. During each trial, subjects consumed 1800ml of the beverages or an average of 900ml per hour as shown in the table above.
Using carbohydrate enriched with isotope carbon-13, researchers were able to measure how much of the total carbohydrate burned during exercise came from carbohydrate provided during the exercise trial (exogenous) versus carbohydrate that was already stored in their muscle (i.e. endogenous). Researchers also measured the amount of fat riders burned during the exercise test. By measuring these aspects of carbohydrate and fat oxidation, the researchers were able to determine to what extent the added protein affected substrate partitioning during prolonged exercise.
Interestingly, in both cases when protein (i.e. whey & casein hydrolysate) was added to the carbohydrate drink, there was no significant change in the rate of exogenous carbohydrate oxidation. This can be seen in the table below when looking at the 'Whey verse CHO-only' and 'Casein verse CHO-only' columns for exogenous carbohydrate. These results suggest that rather than replace a portion of carbohydrate oxidation with protein/amino acid oxidation, the body simply increases its protein/amino acid oxidation while maintaining a similar carbohydrate oxidation rate. This ultimately offsets the body's use of its own muscle protein for energy.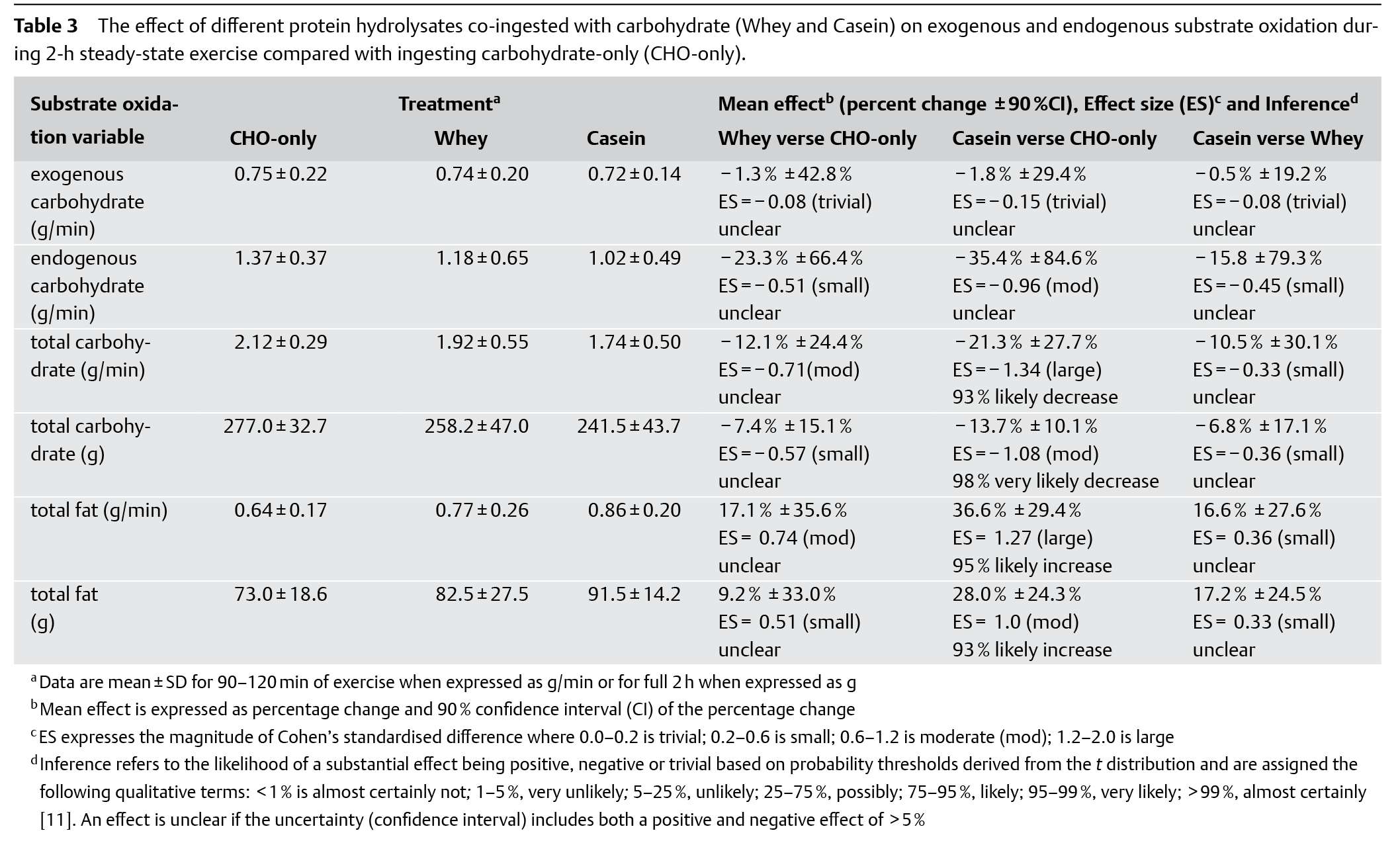 But when comparing the total carbohydrate oxidation over time (including exogenous and endogenous), there was a significant difference between casein and whey hydrolysate. This was accompanied by an increase in the rate of fat oxidation when consuming the casein hydrolysate mixed with carbohydrate. Importantly, this effect was only seen with the casein hydrolysate as opposed to the whey hydrolysate.
Overall, the study suggests that consuming a carbohydrate (i.e. maltodextrin & fructose) and casein hydrolysate mix during prolonged endurance exercise results in more efficient use of the body's precious and limited glycogen stores, by increasing the amount of both fat and protein that are burned for energy. As to why this effect was only present with casein hydrolysate and not whey hydrolysate, it most likely has to do with the peptide-length/size profile of the two proteins hydrolysates. As highlighted above, casein hydrolysate or PeptoPro® contained only di- and tri-peptides, which unlike larger peptides require virtually no digestion and are absorbed in the intestine via a specialised peptide-transporter called PEPT-1. During exercise, there is reduced blood flow to the digestive tract due to the diversion of blood to skeletal muscles. This highlights the need for protein that can be digested easily.
To top it off, when the riders received the casein hydrolysate + carbohydrate beverage, they had a small to moderate improvement in their time trial performance following 2 hours of steady-state cycling. All considered, this study suggests that protein has the potential to improve endurance exercise performance, but the form the protein is in may be the most important factor; with a very high di- and tri-peptide content seemingly the best type.
Oosthuyse T, et al. Whey or casein hydrolysate with carbohydrate for metabolism and performance in cycling. International Journal of Sports Medicine. 2015; May 5. [Epub ahead of print]