Best Flavour of Dymatize Elite Whey
Dymatize Nutrition Elite Whey is one of the world's most well known and popular blended whey proteins on the market. Using high quality whey protein types including whey protein isolate, concentrate and whey peptides, Dymatize Nutrition Elite Whey is an excellent beginner protein for those wanting to support their muscle growth and recovery without any unnecessary fillers. As well as being inexpensive and easy to mix, there are also a wide variety of flavours you can choose from, but which of the flavours is the best?

Dymatize Nutrition Elite Whey Flavours

At the moment, there are 14 delicious flavours in the Dymatize Nutrition Elite Whey range including:
Flavours

Apple

Cookies & Cream

Berry Banana Orange

Gourmet Vanilla

Butter Cream Toffee

Pina Colada

Café Mocha

Rich Chocolate

Chocolate Fudge

Smooth Banana

Chocolate Mint

Strawberry Blast

Cinnamon Bun
Tips for Picking Flavours of Dymatize Nutrition Elite Whey

Dymatize Nutrition Elite Whey is one of the blended whey proteins with the largest range of flavours along with Optimum Nutrition's Gold Standard 100% Whey and BSN's Syntha-6. With so many flavours to choose from though, here are some great tips on choosing the perfect flavour for you:
Mixing Liquid – If you're mixing with water, it's best to choose richer and stronger flavours such as Chocolate Mint, Chocolate Fudge, Cookies & Cream as well as Cinnamon Bun as these flavours will provide a more pronounced flavour. If you are mixing with milk however, any flavours will work well, especially Smooth Banana, Butter Cream Toffee and Café Mocha.
Sweetness – For those who like a less sweet flavour, try Café Mocha, Chocolate Mint and Gourmet Vanilla. If you've got a bit of a sweet tooth however, go for Cookies & Cream, Butter Cream Toffee and Chocolate Fudge
Cooking/Baking/Bars – If you're looking to make bars, cook or bake with the protein powder, I would go for the usual vanilla for greater freedom to make your own flavours, but any of the flavours can work. Baking will change the texture so avoid heating the protein for too long.
Top 5 Flavours of Dymatize Nutrition Elite Whey

With so many flavours available, we've gone through the sales figures to find out the most popular flavours for Dymatize Nutrition Elite Whey are.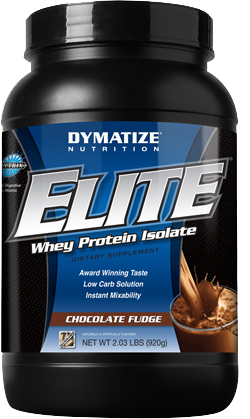 1. Chocolate Fudge – A smoother, creamier chocolate flavour than regular chocolate, this is ideal for people who like their shakes more filling and on the sweet side.
2. Rich Chocolate – A close second, chocolate is a failsafe flavour and Dymatize has made it taste just like smooth, chocolate milk. No grittiness and easy to drink; the perfect post-workout shake.
3. Gourmet Vanilla – Another foolproof flavour, the vanilla Dymatize Elite Whey is a great flavour base for those who like to add other ingredients to their shake. It's a pretty boring flavour, but not at all bad.
4. Smooth Banana – An excellent alternative to the usual chocolate and vanilla flavours, Smooth Banana has a moderately strong banana flavour and is a refreshing flavour for anytime of day.
5. Cinnamon Bun – A surprising inclusion in the top 5, Cinnamon Bun tastes similar to your typical cinnamon doughnut and is ideal for those who want a less sweet shake.
Other notable flavours which just missed out on the top 5 include: Butter Cream Toffee, Strawberry Blast and Chocolate Malt.
What is the Best Flavour of Dymatize Nutrition Elite Whey?

The best flavour from our analysis was the "Chocolate Fudge", very closely followed by "Chocolate". One things for certain though, whichever flavour you choose with Dymatize Nutrition Elite Whey, you know you're getting a highly pure, blended whey protein with very little filler and all the right nutrients to help you build muscle and boost recovery.