Commonly referred to as the "building block of proteins"; amino acids come in all shapes and sizes. And to the lay consumer or novice supplement user, it can be a bit of a minefield trying to get one's head around the different types of aminos and how they fit into the puzzle of protein. The reality is that amino acids have a diverse range of applications both within sports nutrition and in the clinical/medical nutrition setting. For this reason, the ensuing article will take a look at some of the common questions that arise when it comes to amino acid supplementation.
What Amino Acids Should I Take?
This is one of most common questions that surface and also the broadest – making it hard to provide a straight forward answer. Nonetheless, the answer invariably lies in the type of environment, diet and lifestyle of the particular individual. Diet is the most obvious factor affecting amino acid requirements, with physical exercise patterns a close second. Environment may affect amino acid requirements in cases where an individuals' work or home environment precludes exposes them to higher toxic environmental loads. For example, supplementation with amino acids such as glycine, methionine or cysteine can help boost glutathione levels in the body. The headings below will address some of the key questions that come up re the effect of diet and exercise on amino acid requirements.
Amino Acids for Vegans and Vegetarians
Vegans and vegetarians are one of the most common groups of people who stand to benefit from individualised amino acid supplementation. Vegan diets tend to be low in lysine, which is why its commonly used as a standalone amino acid supplement for such individuals. Depending on the type of vegetarian diet (i.e. whether or not they consume dairy), lysine supplementation can also be of benefit to vegetarians. A vegan's need for lysine supplementation is dictated largely by their intake of lysine-rich foods such as tofu, tempeh, soy meats, lentils, and seitan; with other foods such as quinoa, pistachios, and pumpkin seeds also providing reasonable sources of lysine.
Amino Acids in Free Form
Free form amino acids is a term banted about that is used interchangeably with single amino acids. When they occur as part of proteins, amino acids are joined in chains ranging from 50 through to several thousand. However, when separate from a protein and not joined to other amino acids, they are referred to as 'free form'. Free form amino acids have traditionally been thought to be better absorbed than whole protein, because they don't need to be broken down as such. However, studies have revealed that dipeptides and tripeptides are in fact the most quickly and efficiently absorbed form of amino acids, largely because the human intestine contains a separate carrier for these type of peptides.
Amino Acids Before Bed
One of the most intriguing areas of amino acid supplementation is night time or nocturnal supplementation. This is because several studies dating back to the 1970's & 1980's showed that certain amino acids, when taken at night, serve to increase growth hormone output during sleep. Importantly, these effects only occur when the amino acids are taken on an empty stomach (i.e. 2-3 hours after a meal). Studies show that the combination of amino acids such as lysine and arginine actually cross the blood brain barrier and stimulate the pituitary gland to secret hormone when taken on an empty stomach. Other amino acids shown to have similar effects include glycine, phenylalanine and methionine. Glycine in particularly has been shown to improve sleep quality when administered at a dose of 3g.
Important Amino Acids for the Gym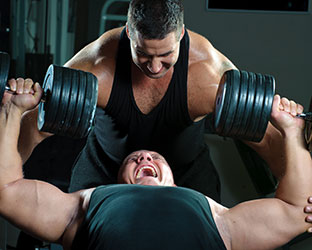 When it comes to pumping iron in the gym, there are certain amino acids which are very popular to supplement with. The most popular group of aminos are called branched-chain amino acids (BCAAs). A solid body of research has shown that BCAAs are effective for reducing the dreaded post workout muscle soreness; commonly referred to as delayed-onset muscle soreness or DOMS because it is generally worse after 48 hours versus 24 hours. There are a few other amino acids such as glycine and glutamine that are sometimes recommended, however, none of these carry the same weight of evidence as BCAAs.
In summary, there is a wealth of evidence supporting the clinical use of amino acids for promoting performance and correcting dietary inadequacies. Other benefits extend to increased growth hormone secretion and better sleep. However, treatment with individualised amino acid supplementation is best reserved for the discretion of a qualified healthcare practitioner.