The Role of Insulin in Bodybuilding
How Insulin Effects Muscle Building
Insulin is a potent anabolic hormone secreted by the pancreas in response to elevations in blood glucose and amino acid concentrations to facilitate their uptake into the cell.1 Insulin is the most powerful and important anabolic hormone in relation to muscle growth. If you are sedentary and have a high carb diet, insulin can increase fat stores. If you are a strength athlete who trains smart and times nutrient intervention appropriately, insulin will help you to achieve your goal of gaining muscle mass and strength, whilst keeping your body fat low. First isolated in the 1920s, insulin is a 51 amino acid peptide hormone that is released from the beta cells of the pancreatic islets in response to hyperglycemia (high blood glucose). It has been used extensively as an injectible replacement hormone in the treatment of diabetes. Previously, derived from animal sources, modern preparations are actually human insulin cultivated from bacteria. Insulin is administered via an intramuscular or intravenous delivery, usually more than once per day, in response to monitored blood glucose levels.
Use of Exogenous (Externally Derived) Insulin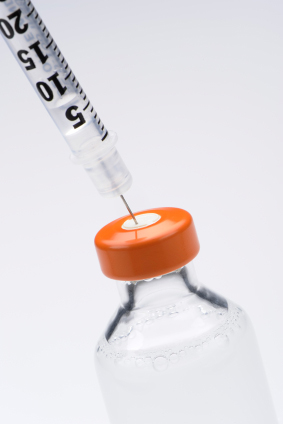 The use of intravenously injected insulin by athletes has emerged because of the effect it has in facilitating the uptake of glucose and amino acids by numerous body tissues, otherwise known as protein synthesis. 3 Its use among those who are not diabetics appears to be on the rise. The inappropriate management of insulin can cause hypogyycemia with symptoms including sweating, dizziness, palpitation, anxiety, blurred vision, slurred speech, unsteady movement, headache, personality changes, disorientation, seizures, and unconsciousness. In extreme cases, it can be fatal. 4
Natural Insulin & Supplementation
Ingestion of carbohydrates, amino acids, or combinations of both, before, during and/or immediately after resistance training is recommended for maximising the body's natural insulin's anabolic effect on muscle tissue. Ingestion of these nutrients before or during resistance training is especially important to maximise protein synthesis because the large increase in muscular blood flow will lead to increased amino acid delivery. 5,6 In a university study the positive effect of a carbohydrate/protein supplement on post-exercise protein synthesis was demonstrated. Investigators showed that a carb/protein supplement provided immediately after exercise increased protein synthesis almost sixfold over a carb only supplement. The carb/protein supplement showed a significant increase in net protein balance compared with the carb supplement. 7
Intra-Training Supplements & Insulin Response
By consuming carbs during exercise, you can reduce the cortisol response and thereby lessen protein breakdown. Consumption of high glycemic sugars increases blood insulin levels. Among its many effects, insulin prevents protein degradation. Thus by increasing insulin levels post-exercise, in the presence of other essential nutrients such as protein, you can turn off the muscles catabolic switch and turn on its anabolic one.8 Insulin 'Metabolic sensitivity' is when muscles can modify their metabolic activity in response to changing needs and various stimuli at any given instant. Insulin is a good example and is stimulated when you are not exercising, it can cause a conversion of carbs into fat, an undesirable result. However in the 45 minutes after exercise, the metabolic machinery of the muscle is extremely sensitive to insulin. At this stage it drives the rebuilding of the muscle and nutrients are more effective than those consumed later, when the muscles become insulin resistant.9
Creatine & Insulin
Creatine uptake in the muscle has been reported to be sodium dependent and mediated by insulin. This means that ingesting creatine with large amounts of glucose, dextrose of fructose, e.g. 80-100g of carbohydrate or carbohydrate/protein e.g. 50-80g of carbohydrate with 30-50g of protein, which is best known to increase blood insulin levels, may be an effective way to enhance creatine uptake.10
Insulin & Bodybuilding
As a strength athlete, by training wisely and timing your supplemental intervention properly, insulin, the most important anabolic hormone, will help you gain lean muscle and strength. Using the following supplements can help you exploit the anabolic power of insulin:
Pre-training – use a pre-workout supplement containing carbohydrate (in a fast digesting form, such as waxy maize)/protein blend.
Intra-training – use an intra-workout carbohydrate/protein supplement
Post-workout - use a carbohydrate/protein supplement with amino acids. Creatine can also enhance recovery. Use a formulation that includes fast absorbing simple carbs.
1Essentials of Strength Traning and Conditioning, Thomas R. Baechle and Roger W. Earle, p. 188
3 Essentials of Sports Nutrition and Supplements, Jose Antonio, PhD, Douglas Kalman, Phd, RD, Jeffrey R. Stout, PhD, Mike Greenwood, PhD, Darryn S. Willoughby, PhD, G. Gregory Haff PhD., p. 554
4(Essentials of Strength Traning and Conditioning, Thomas R. Baechle and Roger W. Earle, p. 188
5 Essentials of Sports Nutrition and Supplements, Jose Antonio, PhD, Douglas Kalman, Phd, RD, Jeffrey R. Stout, PhD, Mike Greenwood, PhD, Darryn S. Willoughby, PhD, G. Gregory Haff PhD., p. 67
6 Essentials of Sports Nutrition and Supplements, Jose Antonio, PhD, Douglas Kalman, Phd, RD, Jeffrey R. Stout, PhD, Mike Greenwood, PhD, Darryn S. Willoughby, PhD, G. Gregory Haff PhD., p. 650
7 Nutrient Timing by John Ivy, Ph.D., and Robert Portman, Ph.D., p. 57
8 Nutrient Timing by John Ivy, Ph.D., and Robert Portman, Ph.D., p. 12
9 Nutrient Timing by John Ivy, Ph.D., and Robert Portman, Ph.D., p. 10
10 Essentials of Sports Nutrition and Supplements, Jose Antonio, PhD, Douglas Kalman, Phd, RD, Jeffrey R. Stout, PhD, Mike Greenwood, PhD, Darryn S. Willoughby, PhD, G. Gregory Haff PhD., p. 426