When to take HGH
Brief Summary
Mix powder with water
Take before bed
Allow at least an hour between food or other supplements and HGH
Benefits of HGH
HGH supplements are designed to maximise the body's own production of human growth hormone, safely and legally, without the use of synthetic drugs or hormones.
HGH optimises strength and the rate at which our bodies lay down muscle. It also speeds up the metabolism and reduces body fat. People with higher levels of HGH recover more quickly from exercise, injury, and illness, have more energy and increased endurance, sleep better and have stronger bones. Higher levels of natural HGH can keep you looking and feeling younger, and performing at your peak.
Our natural HGH production peaks at the age of twenty, and decreases by 15% every decade, which makes use of an HGH booster a great option for men who are getting older and want to get the most out of their training.
Unlike hormonal HGH replacement, which in this country is illegal without a prescription, and comes with a number of unpleasant and dangerous side effects, most natural HGH boosters are based on amino acids and carry very few, if any adverse effects.
A landmark study conducted by Dr. A. Isidori at the University of Rome in 1981 showed that a mixture of amino acids L-Lysine and Arginine Pyroglutamate boosted natural HGH production by a whopping 700% in healthy male volunteers. This simple combination of amino acids is the basis of the most successful HGH supplements.
An HGH supplement is a safe and easy way to get the most out of your body's own natural hormone production.
How to take HGH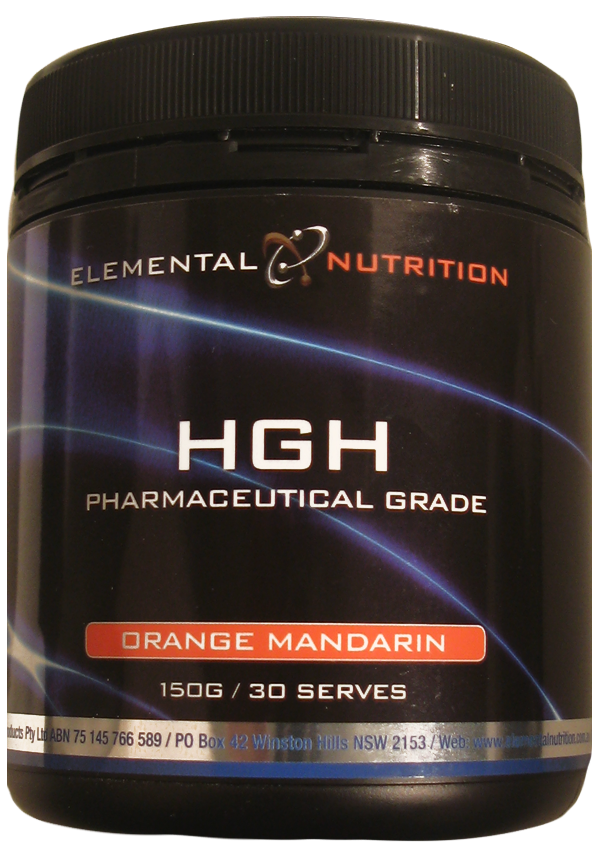 1.2g of L-Lysine and 1.2g of Arginine Pyroglutamate is considered to be the optimal dose of these hormone-stimulating aminos. Bestselling HGH booster, Elemental Nutrition HGH combines a whopping 2g of each amino acid with 25mg of niacin, which is also considered to be a potent stimulator of HGH. This supplement, like most HGH supplements, comes as a powder which dissolves easily in water to make a cordial-style drink. The amount of water used to mix HGH can be decreased from the recommended amount to reduce the need to get up during the night. An amino-based HGH supplement does not need to be cycled, but some men report benefit from taking two weeks off every eight weeks or so.
Best time to take HGH
An HGH supplement is best taken once a day, before bed, which is when the body repairs itself and lays down muscle. HGH is best absorbed on an empty stomach, so wait at least an hour, after food, night time protein, or other amino acid supplements.