Debunking The Myths In Supplement Advertising
Supplement noun/ˈsʌplɪm(ə)nt/ "A thing added to something else in order to complete or enhance it."

The very definition of a supplement suggests that they can only be beneficial when taken in conjunction with something else, whether that be weight training or a restricted caloric intake. Why then do 1 in 4 Australians still believe 'fast track' weight loss and muscle gain supplement ads to be true?

Between 2008 and 2012, four health companies; Sensa, L'Occitane, HCG Diet Direct and LeanSpa made over $364 million in the US alone from the sale of illegitimate weight loss products. In January 2014, the Federal Trade Commission (FTC) forced these four companies to pay a total of $34 million in customer refunds for the unethical sale of weight loss supplements.

In June 2014, Dr. Oz was put under fire by the FTC for supporting unfounded weight loss products on national TV. Dr Oz used terms such as "magic" and "miracle" when discussing Green Coffee Bean Extract as a weight loss product.

In May 2016, Australian conman Peter Foster was fined AU$660,000 as a result of his involvement with SensaSlim; a bogus 'weight loss spray' which made him around AU$6.4 million from the sale of franchises.

After numerous other similar incidents, the FTC said it would "urge media companies not to accept advertisements that make dubious weight-loss claims." However, the internet is still saturated with ads making such claims, and many people still fall victim to weight loss and muscle gain scams around the world.

To better understand why many internet users continue to accept these false claims as fact, we analysed relevant clickbait ads, conducted surveys and gathered insights from industry professionalss. Aiming to provide insight into the issue of false claims in weight loss and muscle gain clickbait ads, we want to arm consumers with a greater knowledge of supplements in the hope that they pursue safer and more realistic body transformations.
Over 1 in 3 Aussies are unhappy with their bodies
In order to gain a better understanding behind why users continue to accept such claims as fact, we first asked over 1500 Australians how they felt about the size of their body.

The survey revealed that just 63% of Australians were confident in their own skin - and within this group, multiple respondents still wished to improve with multiple individuals expressing their desire to "tone up" or gain "more lean muscle".


*Note that around 22% of respondents didn't provide a gender within the results.
The results also show that men were generally happier with their bodies than women, with 66.5% of men and 54.17% of women being happy with their bodies, respectively. However, a recent study conducted by the University of Sydney suggests that the number of men who are suffering from body image issues is rising. In this study, 2000 Australians were interviewed, with the results showing that around 15% of the male respondents have suffered from body image issues serious enough to push them to seek help.

Working closely with people who suffer with severe body image issues, clinical psychologist and founder of Body Image Clinic Joseph Nicolosi attributes a combination of factors to this ever growing issue noting that:
"Exposure to a constant barrage of unrealistic body image messages from advertisers, having higher anxiety, particularly OCD, growing up with critical parents, possessing a general sense of inadequacy, having a poor diet and health problems are all predictors of developing body dissatisfaction."
Millennials Are The Most Unhappy With The Size Of Their Body
Further analysis of the results shows a correlation between the respondents age and how they feel about their own bodies. The results of our survey suggest that young adults aged 25-34, closely followed by those aged 18-24 are the most likely to be unhappy with their body image. Dealing directly with body image sufferers, Body Image Clinic most commonly treats people from age 15 to 35. However, according to the clinic's founder:

"The age range is moving lower. Recently, it's been girls around age 16 who have shown the most interest in therapy for their body dissatisfaction."

The results of our study suggest that both men and women become more accepting of their bodies as they get older, with only 1 in 5 respondents over the age of 65 being unhappy with their bodies (compared to 1 in 3 for younger people).
1 In 4 Aussies Believe 'Fast Track' Fitness Ads To Be True
Further surveys conducted examined two common clickbait ads; one targeted at people wishing to lose weight, and the other targeted at people wishing to gain muscle. The ads themselves appear to be gender biased, with the weight loss ad targeting women and the muscle gain ad targeting men, respectively.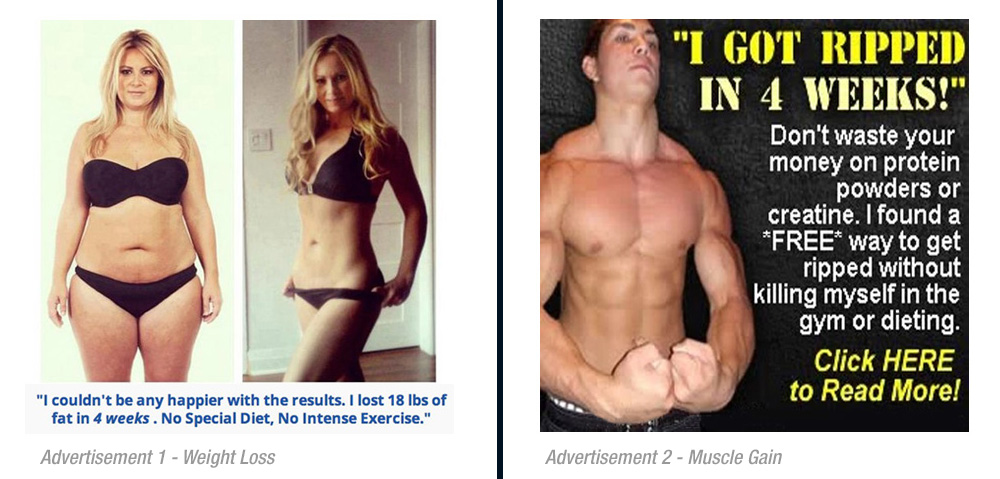 From a sample of 2,000 people that took part in our surveys, we found that 1 in 4 respondents could interpret the messaging and claims in these ads as fact. Nearly half of the respondents who believe these ad claims to be true were within the millennial age bracket.
In response to the weight loss ad, approximately a quarter of both male (27%) and female respondents (25%) believe that losing 18lbs of body fat in 4 weeks is possible. However, even with the belief that such a transformation is realistic, some respondents elaborated further stating that exercise and diet were a necessity.
Despite the highly unrealistic claims in the muscle gain ad, 13% of male respondents and 11% of female respondents believe that you can 'get ripped in 4 weeks'.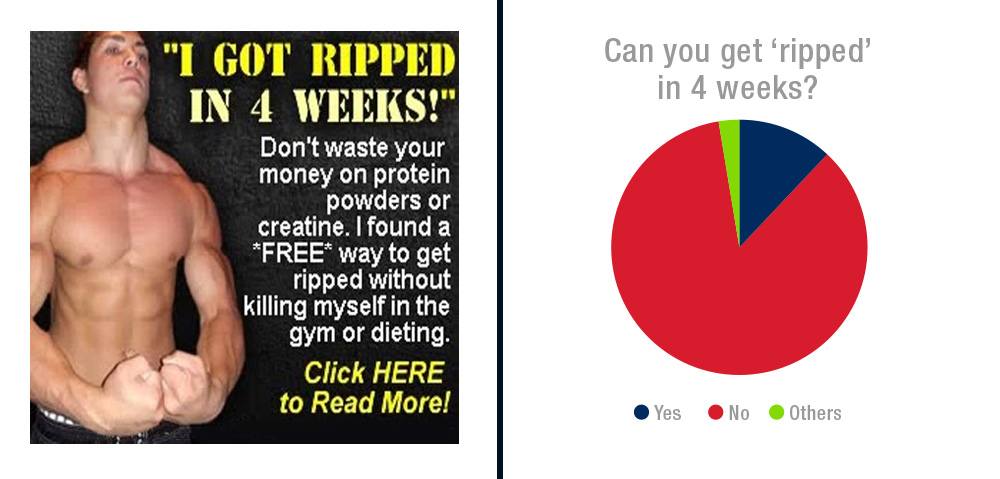 Dr. Joseph Nicolosi attributes the following factors as potential reasons behind why users continue to be duped into believing such outlandish claims:

"Often times my clients have been given fair warning about the risks that certain products carry. Many clients use supplements they probably know deep down won't work or will be risky, but my clients have developed "tunnel vision" about the kind of body they believe they must have, so they disregard any warning labels on the products they use."


False Advertising & Bogus Products
People who suffer from severe body image issues are the most likely to fall victim to bogus weight loss or muscle gain scams. "High anxiety", "a deep sense of inadequacy", "low self worth" and the "unrealistic hope" are all emotional traits which have been associated with victims of such scams.

By reviewing consumer reports taken from the FTC website, it's clear to see that scam marketers are targeting those who suffer with body issues, whether it be by offering 'free trials' of bogus supplements, or establishing fake websites which advertise or review existing products.

One user commented on their experience of purchasing Garcinia Cambogia from an online advertiser:

"I ordered a "free" sample of Garcinia Cambogia through these scam artist. I had to pay shipping and a small fee of approximately $10.00. I threw the stuff in the trash. I got my credit card statement and they had charged my credit card almost $200.00 because I didn't cancel within the 14 days trial period."

The disdain for such companies was echoed with another user's comment:

"I too got hooked into pure garçinia cambogia "trial" sample. Used a credit card to pay for the shipping. They then started charging $130-160.00 randomly to card. Contact with them was hard. They don't respond. I didn't take the product. The labels were crooked and on 1 bottle two labels were overlapped crookedly."

Garcinia Cambogia itself isn't a scam product, and when used properly it can to help promote weight loss due to its energy giving and appetite curbing properties. With this product's recent prevalence within the media however, there are plenty of scam artists ready to dupe consumers out of their money with misleading ads and illegitimate claims. In reality, this product will not magically make you "High School Skinny" as so often suggested, but when used properly it can be a helpful weight loss supplement.

At Mr Supplement, we have written about the benefits of Garcinia Cambogia and the proper way to use it to ensure that consumers know how to make the most of the product.
What Do The Weight Loss Professionals Think?
There are many famous cases of people losing an excessive amount of weight in a relatively short period of time, and this is particularly common for method actors who have to transform for a role. A recent example of this being Matthew McConaughey, who lost 25kgs for his role in Dallas Buyers Club (2013) and survived off a daily diet of "a Diet Coke, two egg whites in the morning, a piece of chicken, then another Diet Coke". Another notable case is Christian Bale who lost over 28kgs for his role in The Machinist (2004), with a daily diet consisting of "a can of tuna, an apple and black coffee". However these dramatic reductions in body weight didn't come without problems. Matthew McConaughey claimed that his strength levels dropped severely and even his eyesight began to be affected by the weight loss. Christian Bale's colleagues on the set of The Machinist said that his "ass literally dropped" due to a severe loss in his muscle elasticity.

Professionals working within the weight loss field suggest that by combining a healthy diet and regular exercise, losing between 2 - 4 kg a month is a healthy and realistic rate at which to lose weight. Therefore the notion that taking certain supplements and losing from 8 – 13kgs a month, with little physical effort or change in diet, is farfetched at best. In reality, if someone were to lose weight this quick, it could have a negative impact on their bodies. If weight is lost at such a rate, it won't just be body fat as advertised, but the loss of water, waste, muscle, and fat combined.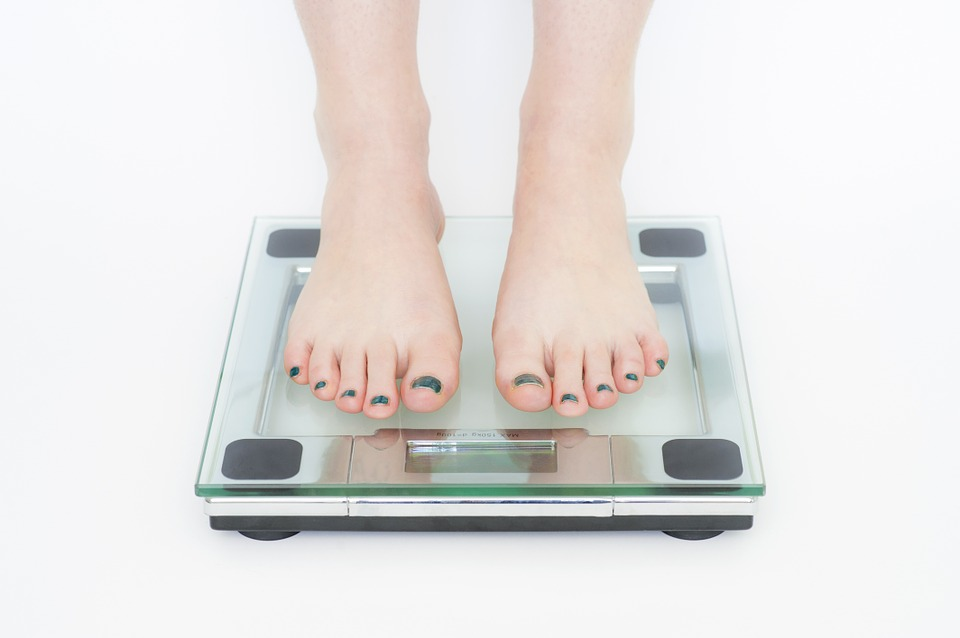 According to Ignatius Ajuebor Jnr; fitness professional, weight loss coach and founder of Angel Workout:

"There is a lot of bad and misleading information on the best way to lose fat such as magic products that will melt the fat away from your body. The truth about weight loss is that you have to burn more calories than you take in. In reality good nutrition/diet together with regular exercise is the ideal way to go. Loosing 13kg of body fat in as little as 4 weeks by just taking pills seems to me unsafe and a false claim. Aiming for 2-4kg a month is realistic and can be achieved safely."
Addressing rapid body transformations, Dan Defigio; nutritionist and author of Beating Sugar Addiction For Dummies warns about the negative aspects of losing weight too quick:

"When your body senses that too much weight has been lost, it will turn on the fat storage hormones, increase the appetite, slow the metabolism, and trigger cravings. Don't try to change too many things at once — make one or two healthy substitutions, then after those become "normal", make one or two more changes. Most people fail because they fall victim to the all-or-nothing mentality — they try to be perfect, and when they fail at that, they quit everything and go right back to what they used to do."

When it comes to losing weight, nutritionist, dietitians and doctors all agree that even when using legitimate weight loss supplements, reducing your daily caloric intake and exercising regularly is the only truly successful approach to weight loss.
What Do The Muscle Gain Professionals Think?
Numerous companies over the years have boasted outlandish claims about the results achievable by using their products. A common ad which has been plastered over the internet is for products that allow for a 700% muscle growth within just 7 weeks. One notable product that has been advertised in this way is C9-T11.
Addressing the claims of the above C9-T11 advertiser, Dr. Aditi Gupta, a licensed physician and health provider states that "it is certainly not possible to gain 700% muscle mass in such a short span of time." Going on to say that even with intense weight training, a strict diet and the help of products such as whey protein, gaining serious muscle mass takes years of dedication.

Nutritionist Dan Defigio states that adding 20lbs (9kgs) of muscle within a year is a realistic and good achievement for most people starting out in their training. This is backed up by Lyle McDonald's Natural Lean Muscle Mass Gain Model which suggests that for beginners, a lean muscle gain of 20-25lbs is achievable. Defigio goes on to say that to build muscle "you need to impose an overload on the muscular system via gradually increasing intensity and total workload so that it triggers a hypertrophic response", also noting that "adequate recovery time is essential for muscle growth." With regard to the use of supplements during training, "Whey protein, creatine monohydrate, branched-chain amino acids, and glutamine" are the best nutrition supplements for most bodybuilders and strength athletes.
Last year Influential Australian fitness model and personal trainer Robbie Frame took to his Facebook page to warn young people what can happen when bulking too fast. Discussing his early days of training, he commented that "My toothpick arms certainly 'got swole'… so swollen that I had to go to the physio for electrotherapy to alleviate the spasms in my biceps and triceps". This was during his final year of school. He went on to discuss how over time -

"You learn that it takes time to build muscle naturally.
You learn to plan ahead.
You learn to train properly.
You learn the importance of nutrition.
You learn to supplement effectively."


When it comes to building muscle naturally, high intensity weight training and proper nutrition are key. Packing on the pounds in a matter of months isn't realistic and even with dramatic weight gain, physiological restrictions mean that your extra mass would be combination of water weight, muscle and fat opposed to actual lean muscle. Building lean muscle takes a lot of time, dedication and hard work.
Our Role
It's alarming to see that a quarter of Australian consumers are still uneducated when it comes to sport nutrition supplements, thus leaving them susceptible to online marketing scammers.

At Mr Supplement, our aim is to provide those looking to improve their physical health and appearance with the right information on how to achieve their desired results in a safe and realistic way. We promote the use of tried and tested supplements in conjunction with proper exercise routines and strict diets plans.

Already having a large database of health articles, training plans, interviews, videos and more, it is our aim to continue being at the forefront of the sports nutrition supplements industry and provide consumers with only the facts when it comes to supplementation.
Methodology
Three surveys were conducted through Google Surveys asking over 1500 people if they are happy with their bodies and asking a further ~2000 people if they believed the claims in the provided internet ads were possible (two separate groups of ~1000). The data was analysed by breaking the responses into yes, no or other to gain the overall response.

Further qualitative analysis was completed on responses that gave an explanation for their position, e.g. 'Yes, because of steroids'. These responses were then categorised to find further responses that could be assigned to the same category. It should be noted that the majority of respondents did not provide a reason for their position.
About Mr Supplement
Founded in Sydney in 2004, Mr Supplement is Australia's largest online retailer of sports nutrition supplements. As a trusted player within the supplement industry, Mr Supplement pride ourselves on not only providing the highest quality supplements but also being a world class resource for health articles and videos. Mr Supplement is committed to helping Australians both improve their physical health and wellbeing.