Creatine is the most important supplement to take besides protein if you want some serious results. As one of the most well studied ergogenic ingredients on the market, creatine is not only extremely safe, but it can help you build plenty of lean muscle as well as increase strength and overall exercise performance. Gram for gram, creatine supplements are also some of the most affordable around, but which one should you get? As always, we've done the hard work for you and have picked out 10 of the best creatine supplements you should be getting in 2016.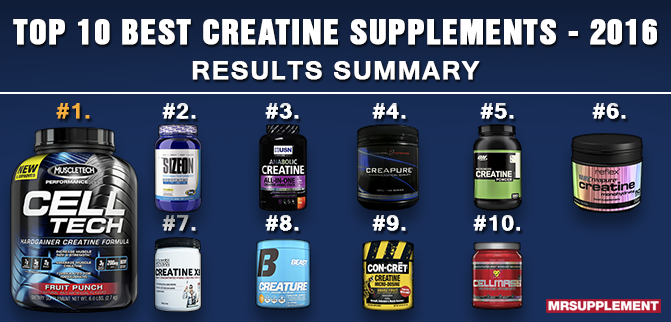 #1. Muscletech Cell Tech
If you're looking for a no fuss creatine supplement that is pretty much guaranteed to work, then Cell Tech from Muscletech is the supplement for you. One of the company's best sellers, Cell Tech combines creatine monohydrate with creatine HCL along with a multi stage carb system and insulin drivers to bolster the absorption of the creatine and provide optimal recovery support. It's a tasty supplement that provides a perfect combo of ingredients and is our pick for the top creatine supplement of 2016.


#2. Gaspari Nutrition SizeOn
Another powerful creatine blend, Gaspari Nutrition's SizeOn has been on the market for many, many years now and is still one of their best products. SizeOn is an all-in-one creatine, recovery, performance, hydration and mass builder supplement. Each serving of SizeOn provides a variety of creatine types, BCAAs (branched chain amino acids), carbs and hydration compounds to boost workout performance both on the day and for future training sessions. Its less transparent formula has pushed it back to a close second on this list.


#3. USN Anabolic Creatine
USN's Anabolic Creatine is a very similar supplement to SizeOn and Cell Tech. Each serving provides a creatine matrix along with a range of amino acids and carbohydrates to support absorption and delivery of the creatine to the muscle. The formulation has fewer carbs than the two previous supplements, but still has enough to make a positive difference. Anabolic Creatine from USN can be used before, during and after workouts with great effect.



#4. Elemental Nutrition Creapure
Creapure creatine is considered the best type of creatine monohydrate in the world. It's extremely pure and is of the highest quality. Extremely bioavailable, Elemental Nutrition's Creapure is a versatile and quick dissolving creatine that can be taken with your protein shakes, other supplements or with food. Elemental Nutrition's Creapure is ideal for trainers wanting more ease and flexibility with their creatine intake throughout the day. It's also made in Australia and it's always good to support local companies.


#5. Optimum Nutrition Micronised Creatine   
Optimum Nutrition's Micronized Creatine is another pure, 100% creatine monohydrate supplement that provides Creapure creatine. Similar to Elemental Nutrition's Creapure, it's easily dissolved and is ideal for anyone wanting more flexibility in when and with what to combine their creatine. The ON Micronised Creatine is also one of the cheapest, high quality creatine supplements around making it a perfect fit for this list.



#6. Reflex Nutrition Creapure  
Reflex Nutrition is one of the most trusted brands in UK and Europe and their Creapure creatine is another ultra premium supplement that provides 100% creatine without any added flavours, fillers and unnecessary ingredients. It's in a similar vein to both the Elemental Creapure and the Optimum Micronised Creatine and is another top choice if you want a straight creatine monohydrate supplement.



#7. Max's Lab Series Creatine X8
Max's are one of the most iconic Australia supplement companies around and many of the products are easily found in our top 10 lists. The Lab Series Creatine X8 has replaced the original Cre8 Carnage, but is still the same excellent formula. As its name suggest, each serving of Creatine X8 contains 8 different types of creatine compounds to help boost absorption, bioavailability and reduce any negative side effects such as bloating or stomach upsets. It's one of the most popular mixed creatine supplements around and easily makes our top 10 list for 2016.



#8. Beast Creature
Beast Sports Nutrition Creature is another mixed creatine supplement which combines 5 different types of creatine along with two insulin and absorption drivers. Each of the creatine sources have been carefully selected to provide maximum absorption and support workout performance without any unwanted side effects such as gastrointestinal issues. It's a solid choice backed by a formidable company. 

#9. Promera Con-Cret
Promera was the first company to introduce the highly concentrate creatine hydrochloride of creatine HCL. Promera claims that creatine HCL is highly soluble, making it more easily absorbed and without any negative side effects such as bloating and stomach upsets. It's also been suggested that you only require 1g compared to the conventional 3-5g of creatine monohydrate. While the claims are all yet to be substantiated, the popularity of the Con-Cret certainly suggests that it can definitely work. 

#10. BSN Cell Mass 2.0
BSN's Cell Mass has been around just as long as some of the top contenders on this list. Its formula has remained unchanged over the years and is still one of the top selling creatine supplements. Each concentrated serve of Cell Mass 2.0 provides 3 types of creatine including creatine monohydrate, creatine HCL and creatine anhydrous along with whey protein, glutamine and insulin drivers. It's a unique blend of ingredients and certainly has its fans. Combined with a good protein powder, Cell Mass 2.0 provides all your creatine needs to help you perform better in the gym and get more results out of the gym and is an excellent supplement to round out our top 10 list.


Notable Creatine Supplements of 2016
With so many excellent creatine supplements on the market, a few definitely just missed out on making this years list including:
If you want better performance in the gym and more lean muscle gains, you can't go past a good creatine supplement in your stack. With our expertly chosen list, you're bound to find the right creatine product for your needs in 2016.