CELL-TECH is a scientifically engineered hardcore creatine formula that is patent-protected and contains core ingredients supported by numerous clinical trials. Each two-scoop serving of CELL-TECH delivers 7g of HPLC-certified creatine monohydrate and 3 grams of creatine HCl. This dose of creatine is far higher than most creatine products, and yet those creatine products don't utilize a delivery system! Ask yourself, how much creatine from these untested formulas is actually making its way into your muscles?
CELL-TECH delivers a multi-stage combination of carbohydrates, including glucose polymers, dextrose, ModCarb™ (oat bran, quinoa, buckwheat, millet), waxy maize and highly branched cyclic dextrin totaling 75g per two scoops. After each max serving of CELL-TECH, insulin levels rapidly peak in the bloodstream, priming muscles for maximum creatine hypersaturation and retention. This is the key to CELL-TECH's unique ability to significantly increase insulin levels beyond what regular creatine supplements are capable of. The anabolic rush generated by this exclusive carb blend is engineered to force glucose, creatine and amino acids into the muscles at levels that are unmatched by any other creatine formula.
In fact, based on available published research, CELL-TECH is the fastest acting, most powerful advanced musclebuilding creatine formula ever developed, and once you see how dramatically and rapidly CELL-TECH can help transform your physique, you won't want to consider using anything else.

FORMULA OVERVIEW: THE FACTS DON'T LIE
Faster Muscle Growth
Each two-scoop serving of Cell-Tech delivers 7 grams of HPLC-certified creatine monohydrate and 3 grams of creatine HCl. Subjects who consumed the amount of creatine and carbohydrates supplied during the Cell-Tech loading stage (see directions) gained, on average, 3.4 pounds of muscle in 7 days. Subjects taking creatine with juice gained only 0.8 pounds.
Increased Strength
In another study, subjects taking the amount of creatine and carbohydrates found in two scoops of Cell-Tech significantly increased their strength on the bench press, leg press and biceps curl.
Enhanced Nutrient Transport
Each two-scoop serving of Cell-Tech includes 200mg of the powerful compound alpha lipoic acid (ALA). Research suggests that ALA helps improve the absorption of creatine and glucose into the muscle cell through specialized transporters.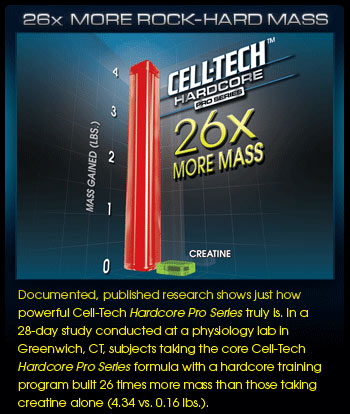 More Muscle Size and Fullness
Cell-Tech delivers a multi-stage combination of carbohydrates that forces a powerful insulin spike post-workout. This helps shuttle creatine and other nutrients into the muscle and rapidly replenishes glycogen stores, facilitating glycogen supercompensation and an intense muscle-expanding effect.
No Cycling
A clinical study revealed that the use of Cell-Tech did not lead to the down regulation of creatine transporters. This allows athletes to continue to benefit from creatine use, instead of cycling on and off.
Branched Chain and Cell-Volumizing Amino Acids
In addition to its key musclebuilding ingredients, Cell-Tech supplies the branched chain amino acids L-leucine, L-valine and L-isoleucine in a 2:1:1 ratio. Branched chain amino acids are free-form amino acids – singular molecules that are quickly digested and absorbed into the bloodstream. Cell-Tech also contains the amino acids taurine and alanine. These free-form amino acids are two of the most abundant amino acids in muscle and aid in cell volumization.
Get More for Your Money
Unlike the competition, Performance Series products contain superior key ingredients in clinically dosed amounts that are fully disclosed so you know exactly what you are paying for. Best-In-Class Taste: Every flavor of Cell-Tech won in head-to-head third-party taste tests against leading competitors.