MuscleTech Cell-Tech Performance Series is a scientifically engineered hardcore creatine formula designed for hardgainers who have trouble putting on size and strength. This patent-protected creatine formula contains core ingredients supported by over 30 clinical research studies conducted over multiple decades.

FORMULA OVERVIEW: THE FACTS DON'T LIE
Faster Muscle Growth
Each two-scoop serving of Cell-Tech delivers 7 grams of HPLC-certified creatine monohydrate and 3 grams of creatine HCl. Subjects who consumed the amount of creatine and carbohydrates supplied during the Cell-Tech loading stage (see directions) gained, on average, 3.4 pounds of muscle in 7 days. Subjects taking creatine with juice gained only 0.8 pounds.
Increased Strength
In another study, subjects taking the amount of creatine and carbohydrates found in two scoops of Cell-Tech significantly increased their strength on the bench press, leg press and biceps curl.
Enhanced Nutrient Transport
Each two-scoop serving of Cell-Tech includes 200mg of the powerful compound alpha lipoic acid (ALA). Research suggests that ALA helps improve the absorption of creatine and glucose into the muscle cell through specialized transporters.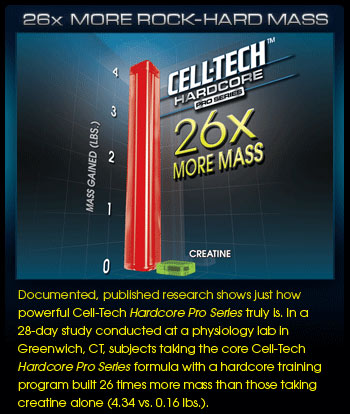 More Muscle Size and Fullness
Cell-Tech delivers a multi-stage combination of carbohydrates that forces a powerful insulin spike post-workout. This helps shuttle creatine and other nutrients into the muscle and rapidly replenishes glycogen stores, facilitating glycogen supercompensation and an intense muscle-expanding effect.
No Cycling
A clinical study revealed that the use of Cell-Tech did not lead to the down regulation of creatine transporters. This allows athletes to continue to benefit from creatine use, instead of cycling on and off.
Branched Chain and Cell-Volumizing Amino Acids
In addition to its key musclebuilding ingredients, Cell-Tech supplies the branched chain amino acids L-leucine, L-valine and L-isoleucine in a 2:1:1 ratio. Branched chain amino acids are free-form amino acids – singular molecules that are quickly digested and absorbed into the bloodstream. Cell-Tech also contains the amino acids taurine and alanine. These free-form amino acids are two of the most abundant amino acids in muscle and aid in cell volumization.
Get More for Your Money
Unlike the competition, Performance Series products contain superior key ingredients in clinically dosed amounts that are fully disclosed so you know exactly what you are paying for. Best-In-Class Taste: Every flavor of Cell-Tech won in head-to-head third-party taste tests against leading competitors.

MuscleTech Cell Tech Information
Ask a question about
MuscleTech Cell Tech
Do you still make the Blackcurrant flavour?
No we do not stock the blackcurrant flavour.
can I use anabolic halo with this product
Yes, Cell Tech will stack well with Anabolic Halo.
Hi can I use that product with muscletech advance mass gainer. Or not .. Or I can use normal protein powder with it. Thanks
CellTech can be stacked together with any protein powder, including mass gainers.
Does this creatine supplement require its use to be cycled on and off?
Creatine cycling is an old myth which recent research has found is no longer necessary.
How do I take CELL-TECH?
Take 1 scoop of CELL-TECH with 6 oz. of water immediately following your workout. If you're not training that day, have your serving in the morning when you wake up.<br>For Better Results: Take 2 scoops of Cell-Tech with 354mL of water immediately following your workout. If you're not training that day, take 2 scoops in the morning when you wake up.<br>For Best Results: For the first 7 days (loading stage): Take 2 scoops of Cell-Tech with 354mL of water in the morning when you wake up and 2 scoops with 354mL of water immediately after your workout. If you're not training that day, take 2 scoops with 354mL of water in the morning when you wake up and 2 scoops with 354mL of water later in the day. Maintenance stage: Take 2 scoops of Cell-Tech with 354mL of water immediately following your workout. If you're not training that day, take 2 scoops with 354mL of water in the morning when you wake up.
Should I take CELL-TECH on days when I don't train?
Yes. As directed on the label, you should consume one to two servings of CELL-TECH first thing in the morning on a day when you do not work out to maintain high levels of creatine in your muscles.
Is Creatine Safe?
Yes, Creatine is a natural amino acid present in the body of humans and animals. The human body has 100-115 grams of creatine in the form of creatine phosphate. No negative side effects have been noted in the research with the recommended levels of supplementation.
Are there any noted side effects?
Creatine is so efficient at shuttling water into the intramuscular compartment, that an emergent side effect associated with it is that of muscle cramping. This most often occurs when too little fluid is consumed whilst supplementing with creatine. Muscle Cramping, strains and tears are all anecdotal evidence that are not supported by scientific fact. Creatine draws water away from the internal working organs and therefore if you take a lot with no water then a mild stomach cramp will occur. There have also been reports of gastric upset or intolerance that a lot of compounds are known to cause in a few people.
Is Creatine safe to take for long periods?
In truth nobody knows although it does appear to be safe with no adverse effects reported in any study which we are aware of. Some people have been taking as much as 20-30 grams a day since it was first available in 1990.
What is Adenosine TriPhosphate (ATP)?
ATP is the organic compound found in muscle which, upon being broken down enzymatically, yields energy for muscle contraction. Creatine enhances your body's ability to make protein within the muscle fibres, which also increases your muscle mass (Creatine increases cellular hydration. The hydrated muscle has increased permeability, which allows more amino acids into the muscle cell). Building up a supply of these contractile proteins ( actin and myosin ) increases your muscles ability to perform physical work. The bottom line here, is that creatine will allow you to to perform more repetitions with a given weight. This will increase the time under tension, thus increasing the recruitment of muscle fibres, which will in turn increase the number of fibres stimulated. It also prevents your body from relying on another energy system called glycolysis, which has lactic acid as a byproduct. Lactic acid creates the burning sensation you feel during intense exercise.
What is Nanomolecular Hyperdispersion Technology?
Cell-Tech Hardcore represents a true breakthrough in harnessing the power of nanoparticulation. Nanoparticulation is the technical process of reducing a compound to microscopic size to initiate rapid absorption. Collaborating with Team MuscleTech ™ researchers, leading experts in nanoparticulation technology worked to create a micron-size, ultra-absorbable compound for the revolutionary Cell-Tech Hardcore formula. Using pneumatic and jet milling systems, researchers were able to reduce a precise portion of the creatine in Cell-Tech Hardcore to 2 to 50 microns. That's up to 7400 percent smaller than the creatine particles found in regular creatine supplements! The result is a nanoparticulated creatine specifically engineered to dramatically speed up the rate of absorption.
Is it OK to use Cell-Tech Hardcore with other MuscleTech supplements?
Yes. Cell-Tech Hardcore works even better with other MuscleTech products such as Nitro-Tech Hardcore. Cell-Tech Hardcore should be your number one staple in your bodybuilding supplement program to maximize anabolic muscle growth and serious strength gains.
Should i take a protein formula that focuses mostly on muscle repair after I finish training, and taking Muscletech Cell Tech Hardcore?
Yes correct. We suggest taking Cell-Tech immedietely post workout, with your protein (Nitro-Tech) taken approx 30 mins after this time.
Which would stack better with Nitro Tech out of Cell-Tech Hardcore and Creakic Hardcore?
For lean gains we would suggest Creakic Hardcore however for overall size gains you cannot go past CellTech Hardcore. Celltech Hardcore is one of, if not the best Mass Gaining Creatine available.
Why does Muscle-tech recommend taking Nitro-tech after your workout and not before?
Nitrotech Hardcore is a fast absorbing anabolic protein used mainly post workout. However it may be taken both pre and post workout.