Total Science Rush Pump Review
Rush Pump Highlights
Rush Pump is a cleverly formulated pre workout from the newly formed Australian supplement company Total Science Nutrition. In keeping with current pre workout trends, Rush Pump is a concentrated pre workout that comes with a 5g dose. It has a number of unique features that will appeal to certain segments of the pre workout market.

Rush Pump Ingredients & Dosage
Possibly the most significant ingredient in Rush Pump comes in the form of AMP citrate. Dubbed as the closest thing to DMAA, there is a lot of interest in the compound but still only a handful of pre workouts that contain it. With just 100mg per serve, AMP citrate is not present in very high amounts, but with 175mg of caffeine per serve, 2 serves will likely be the absolute upper limit for most users. Together with 30mg of methyl-synephrine (the popular stimulant from bitter orange), Rush Pump makes for a pretty strong pre workout that should satisfy the die-hard stim cravers.
The other major ingredients to feature are beta-alanine, AAKG and agmatine sulfate at 1700mg, 500mg and 500mg respectively. The choice of a 1700mg dose of beta-alanine is a little perplexing given that most studies on beta-alanine have used increments of 1600mg –so one could say 1600mg would have been a more relevant dose. Additionally, it's a little surprising to still see AAKG in a new pre workout given the industry-wide trend to move to citrulline as a more effective arginine booster. However, this could be a formulation/taste issue as citrulline is very bitter and therefore much harder to work with from a formulation standpoint.
Setting Rush Pump apart from many other pre workouts is it's unique list of additional ingredients. Rush Pump comes with an array of lower dosed ingredients which could be said are rather unconventional. A touch of DIM, gives the supplement an anti-estrogen edge, while the likes of co-enzyme Q10, r-alpha lipoic acid and vanadium sulfate can broadly be classified as mitochondrial boosters. A few studies have been published suggesting these nutrients work synergistically to enhance mitochondrial function and associated energy production.
Rush Pump Pros & Effectiveness
With its impressive line up of stimulants, there's no doubt that a single serve of Rush Pump will provide users a decent pump and mental lift. Together with proven ergogenics like caffeine and beta-alanine, Rush Pump has some 'guts' to its formula that are sure to support a high intensity workout. While we still wait for definitive research supporting the proposed nitric oxide boosting effect of agmatine sulfate, a 500mg dose is certainly considered therapeutic by current standards. So the average user is not going to be left wondering if they've taken a pre workout or not.
Rush Pump Cons
While not strictly a con, the 175mg of caffeine that's found in each dose means a lot of users may not be able to tolerate two doses (even if they wanted to). Naturally also, Rush Pump won't be suitable for caffeine-sensitive individuals. Considering Rush Pump comes with three relatively strong stimulants in the form of caffeine, amp citrate and methyl-synephrine, it is definitely not for the fainthearted. This could invariably mean that some users find Rush Pump too strong. But it's hard to put this down as a true negative.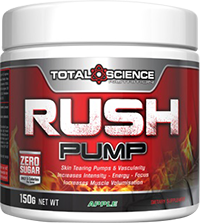 Rush Pump Taste & Mixability
Rush Pump comes in two refreshing flavours, namely apple and lemon lime. There's no issue when it comes to mixing the powder and most individuals should find the citrusy flavours enjoyable and pleasant.
Rush Pump Verdict
All considered, Rush Pump is a cleverly formulated concentrated pre workout that ranks among one of the stronger pre workouts on the market. With its amp citrate content, it will definitely appeal to the legions of gym junkies still vying for a suitable DMAA replacement. With a reasonable price tag, Rush Pump is certainly worth a try if you're after a strong pre workout.