Muscletech Anarchy Review
Muscletech has long been considered one of the best supplement company's in the world and have raised the bar in the last couple of years in terms of releases and product formulation. Their new Platinum/Essential Series has effectively pushed them past many of their competitors and into the stratosphere in terms of product quantity. Having placed most of their attention onto that series in 2014, Muscletech are back to expanding their Performance series with a brand new pre workout coming soon by the name of Muscletech Anarchy.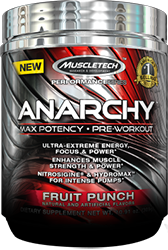 Muscletech Anarchy Pre Workout Review & Ingredients
Few details have been released for the product, but it looks as though 2015 is going to be a big year for 'pump' supplements, or at the very least pump ingredients. Anarchy boasts the use of two specially formulated compounds; Nitrosigine and HydroMax. Nitrosigine is a inositol stabilised arginine silicate, which is said to improve blood flow during training to give you those intense pumps. In addition, HydroMax is a glycerol powder which is said to be much better than traditional powdered glycerol monostearate. As such HydroMax not only supports better hydration, but also improved pumps as well. Beyond these two ingredients, there's very little indication as to what else is in the product, however at 10.3g per serve, we can expect to see some strong stimulants over endurance support ingredients. Muscletech isn't a company that's known for pre workouts, so Anarchy might just be their best one yet.
Muscletech Anarchy Pre Workout Flavours, Taste & Mixability
No flavours have been released for this product, but again, Muscletech have really improved the taste and mixability of their products in recent years and Anarchy should prove to be a tasty and easy to mix supplement. We're expecting the product to have at least three initial flavours including of course Fruit Punch
Muscletech Anarchy Pre Workout Release Date
There is no official release date for the new Anarchy Pre Workout from Muscletech, however, we expect it to hit stores early 2015 between February and March. We'll definitely keep you posted as more information comes through.