Low or High Carb Doesn't Affect Glycogen Use in Rugby League
Sports scientists and researchers are experts when it comes to glycogen use in endurance athletes such as cyclists and runners. But they know relatively little when it comes to team sports, especially ones like Rugby League or Australian Rules Football (AFL).
The natural assumption is that because team sports like Rugby League are of an intermittent high-intensity nature, players will perform best when consuming a high carbohydrate diet in the days leading up to the match.
But scientific history has taught us that it's sometimes dangerous to assume. With this in mind, researchers from Liverpool John Moores University set out to measure the effect of a low or high carbohydrate diet the day before a game on glycogen use during the game1.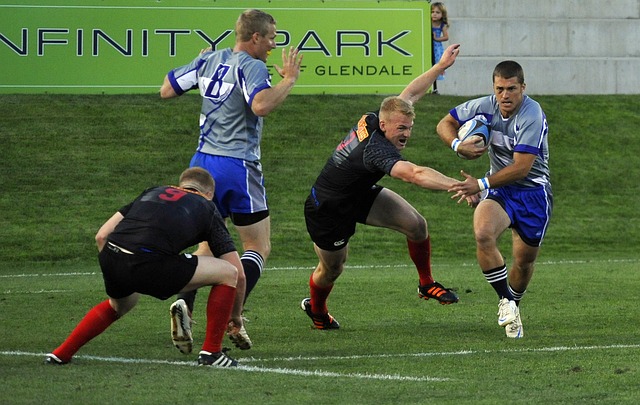 The 14 subjects that made up the study were recruited from a Super League rugby club in the UK and all players were full time professionals. The group was randomnly split in two, with the LOW carb group receiving a diet composed of 3g/kg/day carbohydrate (and ~1.8g/kg/day protein & 0.7g/kg/day fat), while the HIGH carb group received 6g/kg/day carbohydrate together with the same amount of protein and fat. It follows that the two diets were not equal in caloric value.
The authors don't offer much explanation as to why they used diets unequal in calorie content instead of providing equal calorie diets by boosting fat intake in the low carbohydrate group. This is the normal practice in most studies comparing high versus low carb.
In any case, the graph below shows the change in glycogen levels for the two groups. While visually, you can see a slightly bigger drop in the high carb group, statistically, there wasn't any major difference. It's interesting to note the large individual differences in glycogen depletion in the low carb group, compared with the high carb group.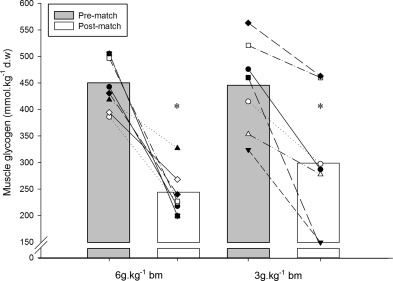 One might speculate that some of the individuals in the low carb group who showed a less dramatic drop in glycogen levels were more physiologically or biochemically adapt to a lower carbohydrate intake. One of the mechanisms by which an individual may adapt better to such a diet would be by concomittantly upregulating their fat oxidation. In fact, this phenomena has been documented in a recent study with ultraendurance athletes on a low carbohdrate diet for at least 18 months2.
While this simple study does confound some commonly held beliefs concerning carbohydrate intake, glycogen usage and intermittent high-intensity exercise performance, it does have some limitations. Namely, the diets were only implemented for 1 day prior to the game, rather than several days. This is stark contrast with other 'low' vs 'high' carbohydrate diets that have typically involved interventions lasting 1-2 weeks.
Given that most professional rugby league players taper their training in the lead up to a game, it's highly conceivable that even before commencing the low carbohydrate intervention, players may have already had replete levels of glycogen due to their habitual higher carbohydrate diet. Nevertheless, the study make a valuable contribution to an area of sports nutrition research that lacks sufficient data. It will be interesting to see what further studies eminate from this.
1. Bradley WJ, et al. Muscle glycogen utilisation during Rugby match play: Effects of pre-game carbohydrate. Journal of Science and Medicine in Sport. 2016. Published Ahead of Print.
2. Volek JS, et al. Metabolic characteristics of keto-adapted ultra-endurance runners. Metabolism. 2016;65(3):100-110.