Labrada PE1 Pre Workout
As one of the world's most recognised and famous bodybuilders, Lee Labrada has cultivated his brand of supplements for almost 20 years, having started in 1995. Constantly releasing new and innovative new supplements, one of Labrada Nutrition's latest products is their pre-workout formulation PE1 which stands for Performance Enhancer, 1 Scoop.
Labrada PE1 Pre Workout Review & Ingredients
According to Labrada Nutrition, with the new pre workout PE1, all you need is one scoop to boost your workout performance. Each of these powerful 6.5g scoops contains a range of stimulants, nitric oxide boosters and endurance enhancers including: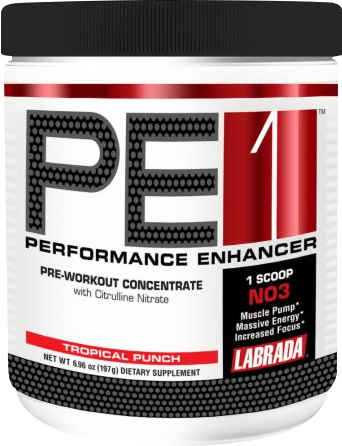 Beta Alanine as Carnosyn®
Performance Enhancing Pump Matrix – Citrulline, arginine, agmatine and creatine
Performance Enhancing Energy Matrix – Caffeine, Bitter Orange, Yohimbine, Vitamin C, Niacin, Folate and Vitamin B12
The supplement provides a good boost for workout capacity, but for trainers who are used to stronger pre workouts, ironically, you might need more than 1 scoop to obtain the same effects that you're used to. This is especially the case for the overseas version of the supplement as it won't have the stimulant Yohimbine in it.
Labrada PE1 Pre Workout Release Date
Labrada PE1 will be released by the end of August in the States in three flavours; Raspberry Lemonade, Tropical Punch and Green Apple. However, the supplement probably won't make it down to Australia till early 2015 as the product will need to be reformulated for the Aussie market.