Isatori Maxon Review
Isatori have become a company to watch out for in recent years thanks to a string of excellent releases and a cleaner image thanks to rebranding. With popular and effective supplements such as Hyper Gro and Isa-Test DA3, Isatori have hinted at a new pre workout for awhile. This has since culminated into Isatori Maxon Pure Strength.
Isatori Maxon Review & Ingredients
Nicknamed the 'The King of Strength', the new Maxon is designed to support and maximise strength during the training session. We know that it's going to feature 5 key active ingredients including:
Creatine HCl – 1.5g
Agmatine Sulfate – 500mg
elevATP (Adenosine Triphosphate) – 150mg
Torabolic (Fenugreek) – 500mg
Sodium Bicarbonate – 150mg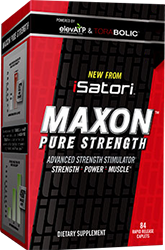 The pre workout strength amplifier that is Isatori Maxon is an interesting collection of ingredients, with plenty of research around all five ingredients. The dosing seems a bit small, but it will be in capsule form so there's only so much you can fit in. It'll be interesting to see whether the supplement works better once consumed than what it looks like on paper, but we'll be sure to update you as soon as it comes out. Each container of Maxon contains 21 servings of 4 quick release capsules.
Isatori Maxon Flavours, Taste & Mixability
Isatori Maxon is currently only available in capsule form, however we expect it to be formulated into a powder version as well to be better suited to the Australian and NZ markets.
Isatori Maxon Release Date
The new Maxon Pure Strength pre workout from Isatori is ready for imminent release sometimes in July 2015. However, Australian and New Zealand customers won't see it till later in the year around September.