Hydration & Bodybuilding
Your car wouldn't operate without petrol. Similarly, without adequate hydration, you will not only fail to perform, but put your bodybuilding aims at stake. Water enables energy metabolism, protein synthesis, and virtually all other chemical reactions used by the body for performance. Many bodybuilders overlook this simple nutrient. Pure water has no nutritional value as far as macro, or micro -nutrients are concerned, yet water is so essential to the performance of the human body that even if 2 percent of your body weight in water was lost, you would begin to lose your edge in the gym.
Hydration & Bodybuilding

Fluid replacement is one of the most important aspects of keeping your muscles growing. Bodybuilders have very low tolerance for missing out on crucial nutrition due to the stress they put their bodies through. Skipping the pre-, intra- or post-workout fluids, in particular, can be detrimental to your training aims. If you want to achieve the gains in bodybuilding, don't forget to hydrate, hydrate, hydrate.
Impact of Hydration & Performance
Muscle tissue is roughly made up of 72 per cent water.1 With a decrease of only 2 per cent total water weight, nerves that direct the function of the muscle tissue will be compromised, with noticeable decreases in muscle control and strength. Your strength training will decrease by about 21 percent and your aerobic capacity will drop by 48 percent with a water weight loss of about 2 percent. Protein synthesis and anti-catabolism occur when muscle cells are properly hydrated. Water is absolutely necessary for your performance in the gym and your growth outside of it. Water flushes lactic acid from muscle cells, serves as a key component of lubricating fluids for the joints, and serves as a shock protector in the joints and vertebral disks. Additionally, water stabilises body temperature through perspiration. Proper hydration is fundamental for increasing muscle mass.
Maintaining Hydration
In the case of the athlete, water loss occurs mainly due to sweating. Symptoms of dehydration vary with how much water as a percentage of body weight is lost:
% Body Weight Water Loss

Effects

1-2%

Weakness
Loss of Appetite
Slight Discomfort

3-4%

Performance suffers
Decreased blood volume
Decreased blood pressure

5-6%

Headaches or nausea
Sleepyness
Tingling in limbs

7-10%

Spasms
Exhaustion
Inability to maintain balance
Fainting

10-15%

Dry Skin
Vision dimming
Delirium

>15%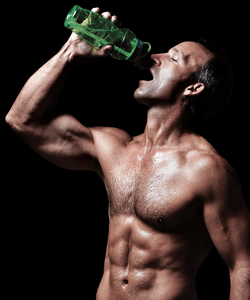 Hydration Recommendations For Bodybuilders
The athlete who follows a proper hydration program can avoid these conditions. Water lost must be rep
laced constantly. It is recommended that 200-600mL of fluid be consumed up to 30 mins before exercise commences. The most influential variable for water loss and rehydration is sweating and it's suggested to consume at least 118 ml of water per 100 kcals (kilocalories) burned during exercise or to replace 150% of the amount of water lost. To easily calculate water losses, simply weigh yourself before and after exercise2. This is the bare minimum that must be consumed when compensating for lost fluids caused by excessive perspiration, which will result from an intense workout and the temperature of the gym. Cool water is absorbed more quickly than cold water. This is important for keeping energy production at its maximum and lactic acid saturation to a minimum, which means better workouts and better results.3 According to the Australian National Health and Medical Research Council Nutrient Reference Values; the adequate intake of total fluid for males is 3400mL/day while for females the figure is 2800mL/day. Because a good proportion of fluids comes from food, the fluid requirements for drinks only are 2600mL/day for males and 2100mL/day for females.
1. Encyclopedia of Bodybuilding by Arnold Schwarzenegger, p. 705
2. Fluid, Who Needs It? By Australian Institute of Sport Sports Nutrition. July 2009
3. Macrobolic Nutrition by Gerard Dente, p.70
4. Water Intake How much is enough? By Dr. John M Berardi, Ph.D.