Dedicated Nutrition Unstoppable Review
Dedicated Nutrition are one of the newest brands on the block, but are already making quite an impact in the industry. Hailing from Canada, Dedicated Nutrition don't mess around when it comes to their supplements and this is extremely evident in their pre workout formula; Dedicated Nutrition Unstoppable.

Dedicated Nutrition Unstoppable Highlights
Well rounded supplement giving great energy, pumps and endurance
Potent stimulants to enhance focus, drive and energy
Vascular and long lasting pumps
Transparent dosing and respectable doses
Dedicated Nutrition Unstoppable Ingredients & Dosage
Dedicated Nutrition's Unstoppable utilises a completely transparent formula featuring quite a large range of ingredients including:
Caffeine – Both Caffeine Anhydrous & Di-Caffeine Malate
Stimulants – Ampheta-Tea (DMBA), Higenamine and Hordenine
NO Boosters & Pump Support – Trimethylglycine Nitrate, Glycerol, Norvaline, Adreno Pump (selaginella tamariscine)
Endurance Support Ingredients – Rhodiola Rosea, Phosphates Matrix (calcium, sodium and potassium salts) and Astragin
N-Carbamyl Glutamate
Cocoa Extract
Other ingredients include flavours, sweeteners and other ingredients to improve the mixability and shelf life of the product. Each recommended 1 scoop serve of 5500mg has no calories and you can have a maximum of 2 scoops.
Dedicated Nutrition Unstoppable Pros & Effectiveness
Unstoppable is actually a very well rounded supplement. Generally with pre workouts, you can alter three main factors; pump, endurance and energy. Many pre workouts fail in respects to one of those factors, but Dedicated Nutrition Unstoppable seems to be one of the most comprehensive pre workouts around. With Dedicated you can expect a strong energy kick, followed by a decent pump and longer endurance. The fact that it's transparently dosed it another one of its highlights and it's good to see a pre workout who's happy to completely advertise the amounts of their active ingredients. Some of the ingredients highlights would have to include:
DMBA – Also known as dimethylbutylamine or AMP Citrate, DMBA is considered by many in the industry as the replacement to the popular, but banned stimulant DMAA. It's a potent stimulant and should offer a similar energy buzz.
Trimethylglycine Nitrate – Also known as betaine nitrate, the compound is considered helpful in decreasing fatigue and also maintaining the integrity of cell structures to stressors. As such, cells such as muscle cells which aren't damaged can function better than damaged cells. Attaching to nitrate can also help to support nitric oxide levels and contribute to the pump.
Astragin – A patented compound featuring astragalus and panax notoginseng, which can not only help support absorption and bioavailability of the other ingredients but also help prevent fatigue and the effects of exercise stress.
Dedicated Nutrition Unstoppable Cons
There's aren't many flaws in Dedicated Nutrition's first pre workout. It's well rounded and as previously mentioned promotes excellent energy and pump. Perhaps the only lacking aspect is with the endurance side of things. While there are a couple of endurance support ingredients, it pales in comparison to the strength or the other aspects. But for any workout under 2 hours, Unstoppable should provide you with enough to last that long.
Dedicated Nutrition Unstoppable Flavours, Taste & Mixability
Unstoppable currently comes in two official flavours; Orange and Mango Strawberry. They're not bad flavours and is pleasant and easy to drink. Mango Strawberry is an odd flavour combination, but somehow it works. The pre workout mixes well with only minor clumping and residue, so a shaker bottle is definitely required if you want a smoother mix.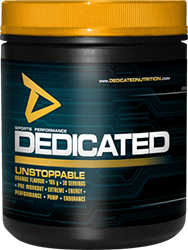 Dedicated Nutrition Unstoppable Verdict
The pre workout category at this stage is saturated, with products coming and going every so often, maintaining an odd equilibrium in the industry. Dedicated Nutrition's Unstoppable is one of the newer products on the market, but we sincerely hope that it sticks around because it's one of the most comprehensive pre workouts around. If an energy kick and decent pump is what you're after, then Dedicated Nutrition's Unstoppable is the right pre workout for you.