Caffeine Promotes Consumption of Sugar-Sweetened Beverages
When Dr John S Pemberton gave the first samples of Coca-Cola to customers at his local chemist on the 8th of May, 1886 in Atlanta Georgia, he almost certainly had no idea of the powerful synergistic effects that combining sugar and caffeine could have on reinforcing their dual consumption. But the latest findings of a recent study in the British Journal of Nutrition provide definitive evidence that adding small amounts of caffeine to sugar-sweetened beverages leads to greater consumption than the same sugar-sweetened beverage without caffeine. This likely explains in part the instant success of the humble Coca-Cola drink after initial tastes tests, where it went on sale at five cents a glass. As a chemist, John Pemberton saw Coca-Cola as a valuable 'Brain Tonic' and a cure for all nervous affections as seen in the photo below.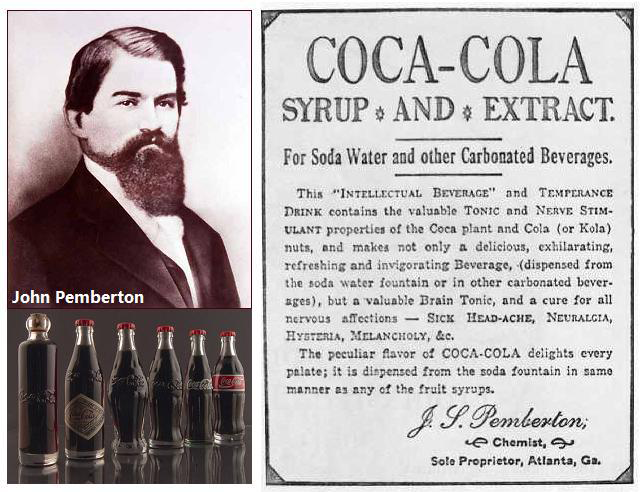 To uncover this fascinating link between sugar and caffeine, researchers from the Centre for Physical Activity and Nutrition Research at Australia's own Deakin University took 99 subjects and blindly assigned them to either a caffeinated sugar-sweetened beverage or a non-caffeinated sugar-sweetened beverage. However, in order to protect the integrity of their study, the researchers did not disclose the true purpose of the study to participants. Instead, participants were told the study would be testing the palatability and liking of a lemon-flavoured sugar-sweetened beverage.
Before putting each group through a 28-day ad libitum intake phase for each beverage, participants went through a 9 day 'flavour-conditioning' run-in phase, where each individual was asked to drink 600ml of their assigned sugar-sweetened beverage per day. This clever exercise was designed to allow participants in the caffeinated-sugar-sweetened beverage condition to associate the flavour of their beverage with caffeine. The argument being that the typical concentration of caffeine in sugar-sweetened beverages is actually high enough to modify consumption behaviour, whereby, increased consumption occurs as a means of redosing with caffeine.
Anti-caffeine advocates argue that caffeine in sugar-sweetened beverages may promote their consumption via the development of flavour preferences, where individuals unconsciously associate a food/flavour with its ability to alleviate caffeine withdrawal symptoms. If true, this in turn would promote higher than normal consumption of such beverages because of addictive behaviours, rather than simple hunger or thirst.
To make the findings of the study directly applicable to everyday consumers, the nutrient composition of the drinks were representative of typical commercial soft drinks; containing 11.5% carbohydrate, 10.7% sugar and 88% water. In addition to this, the caffeinated-sugar-sweetened beverage contained 100mg caffeine per 1000ml (i.e. 57mM caffeine). This is the same level of caffeine found in typical carbonated cola drinks.
When left to their own devices, participants consuming the caffeine-sugar-sweetened beverage averaged a daily intake of 419ml over the 28 days, compared with 273ml for the participants consuming the non-caffeinated sugar-sweetened beverage. What's more, participants consuming the caffeinated-sugar-sweetened beverage exhibited a higher 'liking' of the beverage compared with their non-caffeinated counterparts (as determined by a validated nine-point hedonic scale).
The combined findings of the study make a powerful argument that the addition of low concentrations of caffeine to sugar-sweetened beverages leads to significantly higher consumption. It follows that regulating caffeine as a food additive may be an effective way of combating the increasing consumption trends of caffeinated-sugar-sweetened beverages.
Keast RS, et al. Caffeine increases sugar-sweetened beverage consumption in a free-living
population: a randomised controlled trial. Br J Nutr. 2015;8:1-6.