BSN Clean Pre Workout Review
BSN's new Clean Series consists of 5 supplements that were designed to offer a cleaner supplement experience free of banned substances and most other artificial fillers. One of these new supplements will be the BSN Clean Pre Workout.
BSN Clean Pre Workout Review & Ingredients
The new BSN Clean Pre Workout is a simpler version of their other popular pre workout NO Xplode and contains a set of 6 key and transparently dosed ingredients including:
Arginine Silicate Inositol
N-Acetyl-L-Tyrosine
Glycerol Powder
Toothed Clubmoss Extract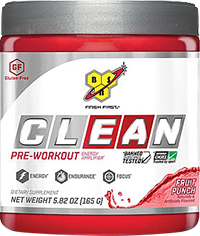 It's great that the new Clean Pre Workout is transparently dosed, if you're used to pre workouts, this supplement might not be the best for you if you were to have a single dose. However, for those who are new to this category of supplements, the Clean Pre Workout is a good introductory choice to help boost your energy levels, endurance and pump.
BSN Clean Pre Workout Flavours, Taste & Mixability
Clean Pre Workout is only available in the one flavour; Fruit Punch, however if it does take off, we have no doubt it'll be available in a couple of other flavours. As the servings are quite small and due to its similarity to NO Xplode, the new Clean Pre Workout will most likely mix easily and taste very similar.
BSN Clean Pre Workout Release Date
We expect BSN's new Clean Pre Workout to be released sometime in August 2015, as they products have already been launched overseas in the US.