Best Tasting Pre Workout
Pre workout supplements are one of the most popular categories that bodybuilders and weight lifters like to reach for. With the highly variable list of ingredients that can be found in such supplements, you can certainly find some products out there with a funky taste. However, with so much competition in the pre workout category, it really is in the best interest of manufacturers to develop a product that actually tastes good. This list will pay tribute to what we believe are the 7 best tasting pre workouts currently on the market in Australia.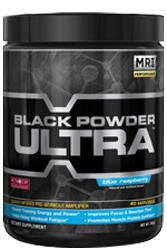 7. MRI Black Powder Ultra
A pre workout also containing some intra workout properties, Black Powder Ultra is the latest version of Black Powder, and over the years MRI have had an opportunity to perfect their flavouring technology. Black Powder Ultra, is in our opinion, the best tasting thus far. It has an excellent mild flavour with a tinge of saltiness, no doubt from the electrolytes. One tip, is to use the minimal amount of recommended water, otherwise it does tend to taste too dilute. Our top pick is watermelon.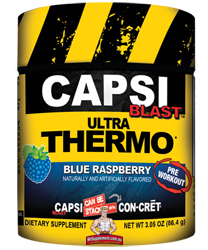 6. ProMera Capsi Blast
One of the best tasting supplements we have ever tried is BPI Blox. In regards to fruity flavours, this is the ultimate benchmark. Capsi Blast comes pretty damn closed to Blox, with its delicious flavour. What makes it more exciting is that Capsi Blast (as you can probably already guess) contains quite a dose of the capsaicin thermogenic, which gives the beverage an unusual spicy taste. This works well with a pre workout as it certainly perks you up a bit. A word of warning though, when you get to the bottom of the cup, there are some insoluble bits of capsaicin which is quite hot. Our pick, again, is watermelon.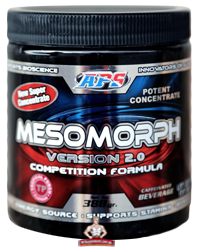 5. APS Mesomorph 2.0
Mesomorph 2.0 is currently one of the strongest pre workouts on the market. But this does not mean that it has to taste bad. When dissolved, it may look not particularly appetising but it certainly does taste good. It does suffer from having a distinctive unusual aftertaste (that is oddly not that uncommon). APS recommend that each scoop is to be mixed in 900 mL water. We feel that this is more than excessive, and around 500 mL is more than satisfactory. Our pick is grape.
4. BeautyFit Beauty Strong
Beauty Strong is marketed towards women, but don't let this fool you into thinking it's weak. BeautyFit also understand that its target market may be more selective with flavours, so they have hit the nail on the head with this product. Beauty Strong actually shares a striking resemblance to Mesomorph in regards to flavour (possibly why we liked it so much). However, like Mesomorph, it has the same aftertaste and we also recommend using less than the indicated amount of water.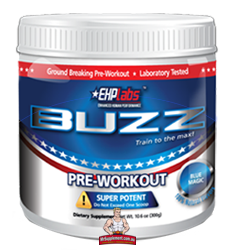 3. EHPLabs Buzz
From the makers of the top selling fat burner, OxyShred, the entire line up from the EHPLabs range are industry leading in regards to flavour. This is no exception with their pre workout, EHPLab Buzz. Although Buzz does not smell the best, it does certainly taste pretty good. Some may feel that the flavour is a tad strong, so we would recommend using a bit more water than indicated. Raspberry is our pick.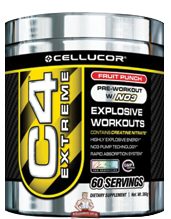 2. Cellucor C4 Extreme
One of the world's bestselling pre workouts also happens to be one of the best tasting. With its popularity, most people would not be at all shocked to see Cellucor C4 this high on the list. C4 is available in an extensive number of unique flavours. With varieties such as strawberry margarita, pineapple, and lemon lime, even those with the pickiest tastebuds would be able to find something they like. For a more detailed look at the flavours be sure to read our Best Flavour of C4 article.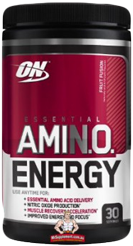 1. Optimum Amino Energy
Although Amino Energy may be the mildest pre workout on this this list, it is still a fan favourite because it has so much to offer. One of these, is no doubt because of its fantastic flavouring. Amino Energy is not only one of the best pre workouts, it is actually one of the best tasting supplements full stop. With each flavour being more than delicious, Optimum has really proven to everyone that pre workouts can be a pleasure to drink. Frankly, you cannot go wrong with any of the flavours, but our top pick is orange.