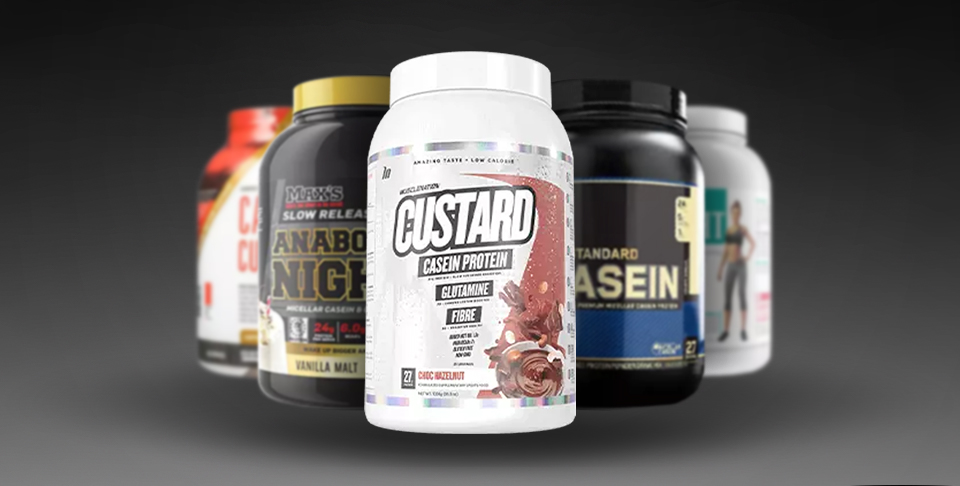 Although we are told time and time again to use whey protein to get that fix of muscle-building goodness right after a workout, this doesn't help us retain lean muscle mass throughout the day. If you are looking to maximize your workout results, you seriously need to consider adding casein protein to your supplement list. There haven't been many changes to the category so much of this list is similar to previous years. Without further ado, here are the top 10 casein protein powders of 2022.



#1. Muscle Nation Casein Custard
A good first step to a clean diet is cutting out dessert right? Not any more. Muscle Nation's ultra-popular Casein Custard is the perfect way to treat yourself to a dessert along with adding in those much-needed protein macros for the day. This gluten-free, non-GMO casein custard is sure to satisfy not only the cravings but your overall hunger. Being packed full of protein, fiber and added essential amino acids including BCAA's and added glutamine. This guilt-free dessert tastes amazing and is low in calories, making this a perfect treat for a slow-digesting night-time option.

#2. Max's Anabolic Night

Max's Anabolic Night is another popular protein supplement that contains a blend of slow-release proteins including micellar casein, calcium caseinate, and whey protein concentrate. It has an added GH support complex and some sleep support ingredients, making this a comprehensive recovery support protein. Overall, Max's Anabolic Night is all about helping you make maximum gains whilst you sleep and ensuring that you wake up feeling rested and ready to tackle each day head-on.

#3. Gen-Tec Casein Custard
Gen-Tech Casein Custard is a solid night-time protein that delivers high-quality amino acids to increase lean muscle and improve recovery. With added colostrum, Casein Custard can also help boost gut and immune health. Casein Custard mixes into a thick shake and is a delicious treat for those looking for a tasty and convenient way to supply a sustained release of essential amino acids to your muscles during sleep.



#4. Optimum Gold Standard 100% Casein
Remaining the world's best-selling casein, Optimum's Gold Standard 100% Casein is still going strong. Although the formulation is simple, it does the job. Optimum's Casein contains high-quality casein protein perfect to provide your body with a steady flow of amino acids when you're not eating.

#5. Maxine's Night Time
Maxine's has held its place in the supplement industry for quite a few years now. The female-specific brand makes low-calorie high-protein options and their NIght Time Protein is no different. Perfect for a craving-crushing night-time delight without the guilt as well as helping for improved recovery for your next sweat session.