Total Science Rush Burn Review
Total Science Nutrition is one of the most exciting up and coming brands to hit the Australian supplement industry. While they're range is still relatively small, they've focused their attention on two of the hardest categories to enter, the pre workout and fat burner categories. Their addition to the fat burner category is known as Rush Burn, but how well does it compare with other competitor products?

Total Science Rush Burn Highlights
Inulin Fibre to help support good digestive health
Acetyl L-Carnitine to help support fat metabolism and improve cognition
Caffeine, AMP Citrate and Methyl Synephrine for potent appetite suppressing, energy boosting and fat burning effects.
Chrysin and DIM which may assist in the maintenance of optimal hormonal profiles for weight loss.
Ideal formula for trainers of all experience levels wanting to reduce body fat
Total Science Rush Burn Review & Ingredients
The new Rush Burn fat burner from Total Science contains 11 active ingredients to help boost thermogenesis or fat burning. These include:
Prebiotic Fibre Inulin – 1.1g
Acetyl L-Carnitine – 1200mg
Arginine HCL – 500mg
Caffeine Anhydrous – 175mg
AMP Citrate – 50mg
Methyl Synephrine (Oxilofrine) – 30mg
3,3' Diindolylmethane (DIM) – 20mg
Co-Enzyme Q10 – 20mg
Chrysin – 20mg
BioPerine – 7mg
Vitamin E – 500IU
All ingredients are transparently dosed as shown above and the amount shown is per serve of approximately 5g. Each 150g tub contains roughly 30 servings.
Total Science Rush Burn Pros & Effectiveness
Rush Burn is an incredibly interesting specimen of a supplement. While it is considered a stimulant based fat burner at its heart, it can also effectively double as a pre workout formula. Looking at the ingredients, Rush Burn definitely has the stimulant side of things covered with plenty of caffeine, AMP Citrate and Methyl Synephrine (the active compound of bitter orange extract). The addition of the methyl group helps the compound bind better to beta receptors though, which are the range of receptors that assist with fat metabolism.
The acetyl l-carnitine and inulin should also assist with fat loss thanks to its ability to support fat metabolism and better digestive health respectively. The DIM & chrysin were added presumably to aid in hormonal support to assist with increasing lean muscle mass and reducing fat mass. One of the best aspects of the supplement though is its ability to support appetite suppression and Rush Burn is definitely a front runner when it comes to supplements to help keep hunger levels down.
Total Science Rush Burn Negatives & Cons
Perhaps one of the more glaring issues with Rush Burn are some of the doses of the ingredients. While it's fantastic that Total Science Nutrition has decided to opt for transparent dosing, this has left them flat footed with some of their ingredients. In particular, inulin, acetyl l-carnitine, DIM, coenzyme Q10 and chrysin are all dosed quite low. Good ingredients, but to really make it effective, you would need 2-3 serves, which is not advised due to the amount of stimulants in the supplement. However, you could split your doses throughout the day, you could take an extra serve or two.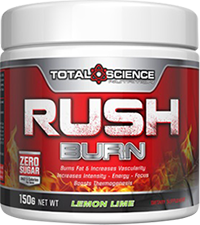 Total Science Rush Burn Flavours, Mixability and Taste
Total Science Rush Burn comes in two official flavours: Lemon Lime and Tropical. Both flavours are quite pleasant without any significant aftertaste. There is a slight bitterness, but that just signals the presence of stimulants. Rush Burn mixes well with very little residue or frothing. Overall the product tastes quite nice and should be easy to get through the tub.
Total Science Rush Burn Verdict
The new Total Science Rush Burn is a decent fat burner/pre workout supplement, ideal for those wanting to boost their fat metabolism and weight loss. It's an excellent product to help with suppressing appetite and boosting energy levels throughout the day, which is important to keep you focused whilst on a calorie deficit diet. Rush Burn can definitely be improved somewhat in terms of dosing, but it is still a solid supplement for the majority of trainers.