Top 10 Strongest Fat Burners of 2017- Review
Whether you're trying to lose weight or get shredded, fat burners or thermogenic supplements can help speed up the fat burning process. Because not all supplements are created equally, only through the analysis of the supplements main ingredients can we determine the rankings of the strongest thermogenic supplements on the market today. By strongest, we mean the biggest energy kick! So, let's see what products have made the cut.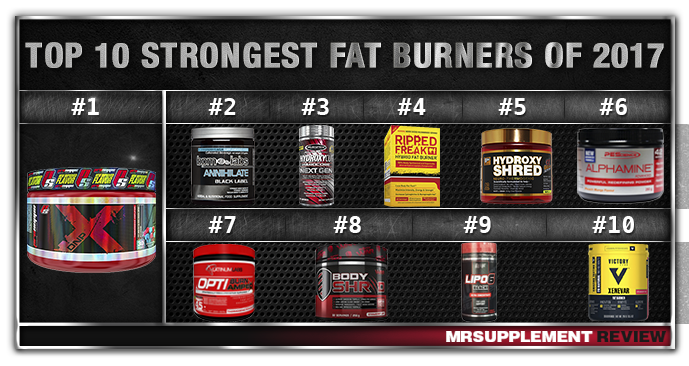 #1. Pro Supps DNPX
Pro Supps DNPX is a powdered thermogenic that has an extremely rich formula, designed to help you with better focus, mental acuity, and give you more energy. As one of the most potent weight loss aids in the supplement industry, the stand out point of the product is that it allows individuals to experience more energy and greater endurance. It is known for its high dose of caffeine (400mg) and its thermogenic effect. With a comprehensive list of ingredients such as Garcinia Cambogia, African mango, Forskolin, Raspberry Ketones and Acetyl L-Carnitine; DNPX is the ideal supplement for those looking for a weight loss supplement with a strong boost of energy.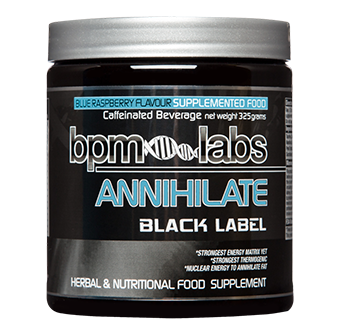 #2. BPM Labs Annihilate Black Label
BPM Labs Annhihilate Black Label is one of the most popular brands out there that has been well-known for creating some of the most innovative products on the market. Their black label range is definitely not for the faint hearted. The supplement offers a longer lasting stimulant effect keeping your energy levels high which is suitable for trainers who are after a fat burner with a longer effect. It is another high-stimulant product that can deliver the energy kick and focus you need during intense exercise.
#3. Hydroxycut Hardcore Next Gen
Muscletech's Hydroxycut Hardcore Next Gen is another strong fat burner with an ingredient mix designed to help you lose weight, detoxify the body and maintain energy levels. Some of these ingredients include caffeine, green tea, ornithine, and skullcap. Hydroxycut Next Gen is seen as the successor of the ever so popular Hydroxycut Hardcore Elite and they've definitely upped the game in terms of the strength and innovation of ingredients. Like the original, it also conveniently comes in capsule form which is suitable for any individual to carry on the go wherever they are.
#4. PharmaFreak Ripped Freak
PharmaFreak Ripped Freak is one of the most popular all-in-one hybrid fat burners that is designed for hardcore trainers looking to obtain a ripped and lean look. The main highlight of this product is that the formulation utilises a list of unique fat burning ingredients. Ripped Freak is the only company that includes the key fat burning ingredient known as methyl gallate ester. The function of this novel ingredient is to inhibit degradation of ingredients in the gut, supporting more effective distribution of these ingredients throughout the body. As such, it helps to boost the effectiveness of the other components in the supplement such as green tea extract. This helps to support better mobilisation of fat tissue and amplified energy levels.
#5. BSc Hydroxyshred
Body Science Hydroxyshred is another killer fat burner that is highly recommended for any individual that is interested in fat burning, boosting their energy levels and keeping up with their weight loss goals. When used in conjunction with a healthy diet and exercise routine, Hydroxyshred can be fast acting. BSc Hydroxyshred has added antioxidants, which play a vital role in the growth and repair of muscle as well as for optimal function of the body. It's a potent thermogenic fat burner that can take your weight loss goals to the next level.
#6. PES Alphamine Advanced
Alphamine Advanced which is manufactured by Physique Enhancing Science that has been on the market for a few years and has received good reviews thanks to its use of some natural ingredients and provides a good kick of energy and focus during your workouts. As one of the strongest fat burners on the market, Alphamine Advanced contains the ingredient leucic acid, which helps to reduce fat and preserve lean muscle mass simultaneously. For a well-rounded product, PES Alphamine Advanced is a product you should keep an eye out on.
#7. Platinum Labs Optiburn Amped
Platinum Labs Optiburn Amped is a supplement that helps provide strong sustained energy that can last up to 8 hours without you experiencing a crash. It contains a range of fat burning ingredients like acetyl l-carnitine that has been well-known for supporting fat metabolism and producing energy for the body to use. Another excellent feature of this product is that it is a good mood enhancer. Keeping fit isn't easy so having ingredients like raspberry ketones to keep you high in spirits is a plus. Optiburn Amped is a great choice if you're looking to get lean and get rid of stubborn fat.
#8. Body War Body Shred
As we move down the list, we have another extreme fat burner, Body War Body Shred. This advanced formulation is packed with a blend of potent fat burning ingredients that help you reach your weight loss goals faster. Body War Body Shred also offers users a high dose of stimulants that keep you focused for longer during high intensity training.
#9. Nutrex Lipo 6 Black
Nutrex Lipo 6 Black is an extremely potent fat burner that is popular amongst those who enjoy an energy kick from stimulants such as caffeine. Nutrex Lipo 6 is mainly made up of caffeine which has the benefits of offering boosts to energy levels, appetite suppression and fat burning. These effects are shared by other ingredients such as theobromine, which also acts to relax the muscle tissue and may induce mood enhancing effects. Nutrex Lipo 6 Black comes in liquid capsules which makes it faster-acting and ultra convenient for busy individuals. The strength of the supplement makes it ideal for more advanced trainers or those who have used high stim fat burners before.
#10. Victory Labs Xenevar
Xenevar by Victory Labs has been added to the top 10 list thanks to its clean and concentrated formula that helps you to burn unwanted fat. With its delicious flavours and powerful formula that supports rapid total fat loss, appetite control and mood enhancement, Victory Labs Xenevar will easily help your weight loss journey. They have chosen to include high doses of the ingredients, which means you will get the full benefit from each ingredient listed.
Other Notable Strong Fat Burners of 2017
For further information on fat burners, make sure to check out our article on fat burners of 2017.