Underground Labs No Fat is a high strength fat burner that will get you shredded, stripping away stubborn body fat fast. No Fat contains the latest ingrdients available, in potent high dose amounts that will kick your metabolism into overdrive, delivering energy, focus & fat burning. Looking for real results, looking for them fast, then look no further then Underground Labs No Fat.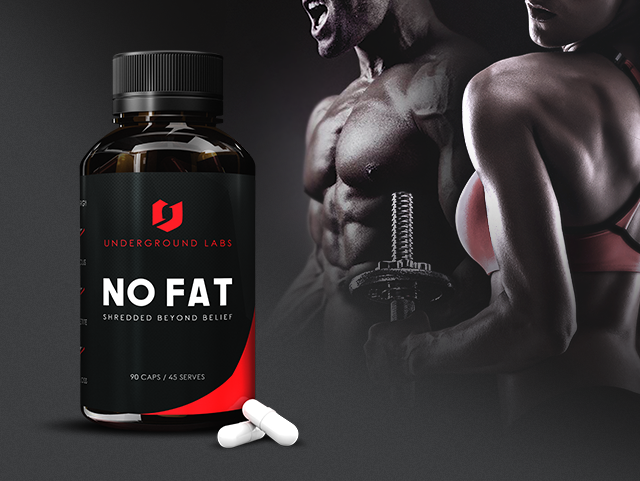 Product Highlights
Cutting edge ingredients including Dynamine, Teacrine & Higenamine
Energy & focus you can feel
Fat loss you can see
Works from the very first dose
Convenient & handy capsule form
100% Money Back Guarantee
Underground Labs make the worlds best supplements & are so confident you'll be more than satisfied, offer a 100% money back guarantee for any customer who is not. Tried it, not satisfied, don't like it, simply return it. 100% money back. Guaranteed.
Underground Labs No Fat
Serving Size
Servings Per Container
Nutritional Info
Per Serve: 700mg
Per 100g
Carbohydrates - Total
0.4g
25g
- Green Coffee Bean (12:1)
Made on a production line that also produce products containing Gluten, Egg, Soy, Nuts and Seeds.
Underground Labs No Fat Directions
Take 2 caps (1 serve) with water daily, 20 minutes before working out or upon rising.
Keep in cool dry place out of direct sunlight . Store below 30°C
This product is not a sole source of nutrition and should be used in conjunction with an appropriate physical training or exercise programme. Not suitable for children under 15 years of age or pregnant women. Should only be used under medical or dietetic supervision.
Do not use this product if subject to WADA or ASADA testing. Always check with your sports regulators prior to taking any supplement. Responsibility always is that of the individual consuming the product.
General Product Warning
Users should seek medical advice prior to beginning any supplementation program. This especially applies to individuals taking prescription medication or those with pre-existing medical conditions. Always read the label prior to consuming any supplement, always follow the manufacturer's directions & never exceed the recommended dose. In the event of experiencing any unwanted effects discontinue use immediately & seek medical advice if symptoms persist. Keep out of reach of children.
Copyright
Copyright MrSupplement.com.au Pty Ltd 2010-2018. This website, and the images, text and tables on it are subject to copyright under the Australian Copyright Act 1968 (Cth), as well as under the copyright law of other countries by virtue of worldwide treaties, belonging to MrSupplement.com.au Pty Limited and to its suppliers & or product manufacturers. Reasonable portions of this website may be printed out solely insofar as is necessary to order products from the MrSupplement.com.au web site. Any other reproduction or communication in whole or in part is unauthorised and may result in legal proceedings being taken to protect the intellectual property rights of MrSupplement.com.au Pty Limited and/or suppliers & product manufacturers.
Underground Labs No Fat Information
Ask a question about
Underground Labs No Fat
Hi i was curious as to if "No Fat" was banned by the ADF. As i need a fat burner which won't be flagged in their drug testing.
During drug testing, you shouldn't get any positive results as the formulation doesn't contain any banned substances.
Was just curious, does this product come up in drug and alcohol tests?
No it shouldn't
I was going to stack this with the musashi mega fat metaboliser but was wondering how the dosing would work. Do i take them at the same time or a few hours apart?
You can use the two products apart. I would suggest to take No Fat in the morning and the Musashi Fat Metaboliser later in the day.
This is going to sound like an absolute stupid question but when stimulant mentioned in this no fat product it is not talking about any type of stimulant found in illicit drugs is it ?Talk s about athletes I hope drug test during routine traffic check does not return a positive result too :)
No, the stimulants used in No Fat are synthesised from plants so you shouldn't receive any positive results from any drug test.
On workout days, can I take 2 in the morning and then 2 before workout when training in evenings? Or should I do 1 and 1? Thanks
If its your first time we recommend taking 1 capsule to start with in the morning and then if your body can tolerate it. Then proceed with 2. The maximum dosage is 2 caps. So you would take 2 caps in the morning.
is it ok to take this then have breakfast?
Yes, that's fine. However, if this is your first time taking this we recommend taking 1 capsule before proceeding to 2 to assess tolerance.
Hi , I am currently using BHB Keto and Shredding Matrix . Would it be too much if I use No fat as well.
You can stack the 3 products together, keep in mind that the No Fat does contain caffeine and other stimulants so I would suggest to take it earlier on in the day and start by taking 1 tablet first before proceeding to 2 tablets.
Can you use this product with oxyshred or is that too much for the body?
Because the two contain caffeine in it it may be too much depending on your tolerance with caffeine. Alternatively you can take the two products a few hours apart.
I don't usually take high strength fat burners. I've taken Oxyshred but that's as strong as I've had. Is this ok for me?
In answer yes No Fat is suitable for all healthy adults. We would recommend though to begin with one capsule on the first dose to assess your individual tolerance level. If your fine with this, which most people are then you can proceed to the full dose.
Hi, just wondering if this would be asada safe to use
We advise No Fat should not be consumed by athletes playing under ASADA regulations. This product may produce a positive or false positive test result.
Is this ok to take Underground Labs No Fat if I have high blood pressure and on meds to get it down?
In short individuals suffering high blood pressure should not take stimulant based supplements including fat burners or pre workout supplements. We always recommend individuals with pre-existing medical conditions receive approval from their medical professional prior to beginning any supplement program.
Would this be okay to take with a testorone booster such as max's the gear?
Yes you can use the two products together. Underground Labs NO Fat is suitable for use with many other supplements including Testosterone Boosters such as The Gear or Underground Labs Roidz.
Is the Underground Labs No Fat product safe for women to use?
Yes it is safe for women to consume.