Strongest HGH Supplements 2016
GH boosters, growth hormone support supplements, HGH supplements. Whatever you like to call them or know them by, these supplements are a great product to add to your existing stack to help boost recovery, reduce fat and build lean muscle. With so many different types of HGH supplements around though, it can be hard picking out the right one for you. As such, we've gone through the many, many different products and have selected the absolute strongest HGH supplements of 2016.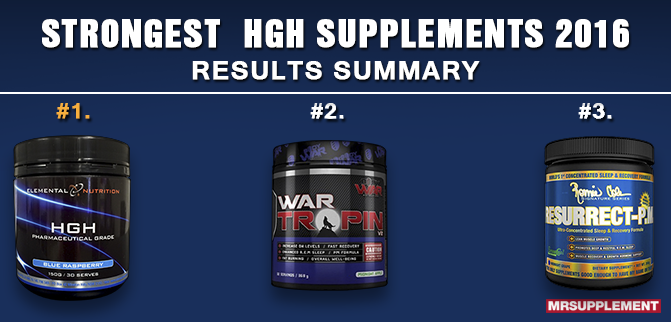 #1. Elemental Nutrition HGH
As Elemental Nutrition's flagship and best selling product, HGH is a simple product, but one that works extremely well. With a formula that's backed by science, the supplement is available in a variety of flavours and works best for trainers who are over 25 and finding that their recovery is slower than what they would like it to be. It's also an excellent supplement to add to your stack if you find yourself hitting a plateau. Elemental Nutrition's HGH has maintained its position at the top of this category for one simple reason, it's effective and does the job and is our pick for the strongest HGH booster of 2016.

#2. Body War Wartropin
Wartropin is one of the newer supplements from the increasingly popular Body War. With only a handful of specialty products in their line, Body War know how to create a truly effective formula. Wartropin is great at not only supporting and optimizing growth hormone levels, it's also a potent sleep support supplement. If you want deeper, more restful sleep and enhanced recovery capacity, you have to get your hands on a tub of this.


#3. Ronnie Coleman Resurrect PM
From the legendary bodybuilder himself, Ronnie Coleman's Resurrect PM has been around for a couple of years now, but remains as one of the most formidable HGH and sleep support supplements on the market. Known for thriving with very little sleep, Ronnie Coleman has based this formula on supplements that he himself has used in the past. Resurrect PM is well dosed and strong, so have half a recommended serve to begin with having a full serve.
Notable Strong HGH Supplements of 2016
The above list is only a taste of what's available on the market. Trainers are spoiled for choice these days when it comes to HGH boosters with more being released every year. Even though it's still a niche category compared to protein, they are excellent add-ons to your current stack. For some other excellent choices try:
Whatever your training status is, a good HGH booster can really kick your results up a notch. Get your hands on a strong one the first time and don't suffer the disappointment of a poorly dosed product. For other effective and popular HGH support supplements, make sure to read our Top 10 Best HGH Supplements of 2016 article.