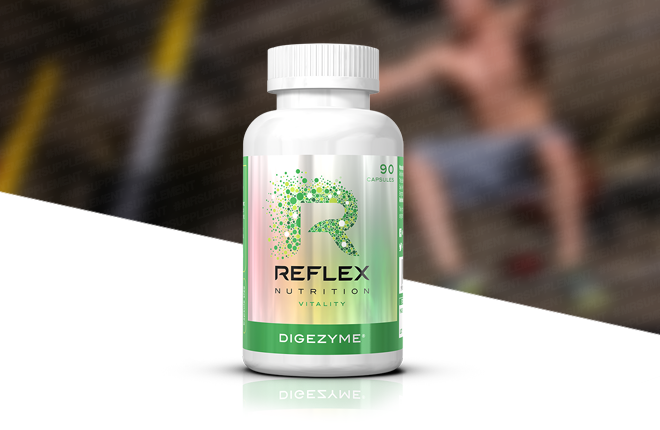 Reflex Digezyme - Part of their vitality category, Reflex have added a Digezyme supplement to help individuals support the digestion and absorption of nutrients in the body. Digezyme consists of an enzyme blend which help to breakdown carbohydrate, lactose, fibres, fats and proteins. The benefits of using Reflex Digezyme is that the enzymes are resistant to the action of gastric juices, whilst retaining their gastric activity.
What is DigeZyme®?
DigeZyme is a digestive enzyme blend supplement to aid digestion. Each capsules provides a multi-enzyme complex:
Amylase 3840µg
Protease 960µg
Lactase 640µg
Lipase 160µg
Cellulase 32µg
Enzymes are biological molecules (proteins) that act as catalysts and help complex reactions occur everywhere in life. These enzymes help to break down carbohydrate, lactose, cellulose fibres, fats and protein. They are also resistant to the action of gastric juices, whilst retaining their digestive activity.
What are the Benefits?
DigeZyme® contains amylase, which breaks down starch to sugars; protease, which aids the hydrolysis of peptide bonds and proteins to amino acids; lactase, which splits milk sugar lactose, to produce the glucose and galactose; lipase which breaks down fats; and cellulase which breaks down cellulose fibres.
Product Highlights
Digestive Enzyme Complex (Amylase, Protease, Lactase, Lipase and Cellulase)
Fast Releasing Capsules to Aid with Digestion
Helps to Breakdown Carbohydrate, Lactose, Fibres, Fats & Proteins
Contains Lactase Enzyme to help with Improving Lactose Digestion

Reflex Nutrition's DigeZyme® is also delivered in an easy to take capsule format, to provide an almost instant rate of digestion.