Quest Cravings Peanut Butter Cups Review
Quest Bars have taken off out of nowhere to be one of the best selling protein bars on the market. Since then, the folks at Quest Nutrition have been hard at work making a new product series called Quest Cravings. Starting off with the Quest Cravings Protein Peanut Butter Cups, a completely unique addition to the industry, fans are on the edge of their seat to see if these are any good.

Quest Cravings Peanut Butter Cups Highlights
High quality and healthy ingredients
Genuine peanut butter and chocolate taste
20 g protein and only 4 g of active carbs
Quest Cravings Peanut Butter Cups Ingredients
What makes Quest products so special are the ingredients they use. This is also true for the Quest Peanut Butter Cups. These cups are predominantly protein powder, containing a blend of whey protein isolate and milk protein isolate. There is also of course real peanut butter, chocolate (unsweetened), cocoa butter, and peanuts – all the goodies you expect to find in normal peanut butter cups. In addition, there are a few other ingredients for flavouring purposes.
Each pair of cups contains 240 calories, 20 g protein, 17 g fat (no trans fat), 10 g carbs (only 4 g active carbs), and 1 g sugar.
Quest Cravings Peanut Butter Cups Effectiveness & Pros
Quest Peanut Butter Cups are designed specifically to crush junk food cravings which arise from strict dieting, or simply from following a healthy lifestyle. Unlike regular off the shelf peanut butter cups, these have a macro profile that is much healthier. The high amount of protein from quality sources helps maintain satiety and support muscle building.
If you took a quick look at the nutrition facts, you may be taken aback by the 10 g of carbs in each pack. However, you will then note that the majority of the 10 g are actually derived from fibre and sugar alcohol, which means that only 4 g of the total is actually digestible and contribute to calories.
In true Quest fashion, all the ingredients used are of high quality. There are no cheap protein sources, or a plethora of unnecessary additives. The Quest PB Cups are therefore an excellent snack food for those who have a sweet tooth, but are also conscious about what they put into their bodies.
Quest Cravings Peanut Butter Cups Negatives & Cons
Ideally Quest PB Cups would be as low in fat as their Quest Bar cousins. However, to make a product of this nature with such little fat would be virtually impossible. As such, each serve contains a sizeable amount of fat (17 g). This means they are higher in calories than the bars (240 vs 170 calories).
Quest Cravings Peanut Butter Cups Taste & Flavour
We must admit that Quest PB Cups do not taste like traditional peanut butter cups. The peanut butter used is very powdery and dry in texture. It has a mouth-feel that may be unusual for some, but after it moistens, it does improve dramatically. The flavour is distinctively peanut buttery and the chocolate is very dark. Our staff certainly had no problems with eating this one, and some liked it much more than others, but be sure to have some water handy.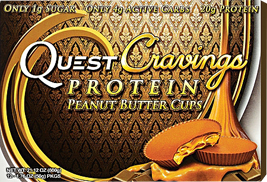 Quest Cravings Peanut Butter Cups Verdict
Quest Cravings Protein Peanut Butter Cups are a very original addition to the health food market. Quest have achieved something that has not been done previously. For this, they deserve kudos. The Peanut Butter Cups are a great snack for those with a sweet tooth looking for something a little different from the typical shake or bar.