Platinum Labs AminoGrow Review
Platinum Labs is has already made quite an impact in the industry in the short period of time they've been around. Their range already includes the extremely popular fat burner OptiBurn Amped and their equally popular pre workout Defcon-1. One of their newest products is an intra-workout and BCAA supplement known as Platinum Labs AminoGrow.
Platinum Labs Amino Grow Highlights
Well dosed blend of Branched Chain Amino Acids (BCAAs), Essential Amino Acids and other Amino Acids
Blend of Nootropic ingredients to help support Focus, Mood & Motivation
Complex of Essential Vitamins
Delicious and Mixes Well
Platinum Labs AminoGrow Ingredients & Dosage
Platinum Labs AminoGrow contains three sets of ingredients including:
AminoGrow Vitamin Spectrum – A mixture of 12 vitamins including B Vitamins and Vitamin A, C, D, E and K.
AminoGrow Focus & GH Boosting Blend (180mg) – Includes 3 ingredients including tryptophan, picamilon, theobromine.
AminoGrow Amino Matrix (7900mg) – 9 amino acids and amino acid like compounds including leucine, isoleucine, valine, lysine, taurine, threonine, methionine, alanine and phenylalanine.
The new supplement is a mostly transparently dosed supplement with roughly 30 serves measuring 11.5g each serve.
Platinum Labs Amino Grow Pros & Effectiveness
You can't really create a bad BCAA or Intra Workout supplement unless you were really trying to and that would involve severely under dosing. Platinum Labs AminoGrow provides 4g of BCAAs per serve along with 3.9g of other essential and non-essential amino acids. This is a decent dose, which will help you to minimise muscle damage during training sessions and throughout the day. The addition of tryptophan, picamilon and theobromine each help to support focus and mood and ensure that you're finishing your workout strong and with less fatigue.
Platinum Labs Amino Grow Cons
There's really nothing wrong with the formulation of AminoGrow, however the vitamins complex is a bit redundant in our mind. While the B vitamins are well known as ingredients which help to support energy levels and the other vitamins all have important functions, if you're eating a good diet or taking a multivitamin, you would be getting plenty of these essential compounds anyway. In addition, there's very little research that vitamin supplementation during a workout is ergogenic or protective against muscular damage. But the vitamins don't take up much room and their addition can't hurt.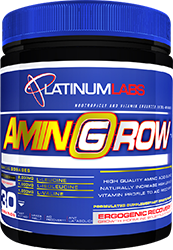 Platinum Labs Amino Grow Flavours, Taste & Mixability
Platinum Labs Amino Grow comes in two official flavours; Orange and Watermelon. Both flavours are extremely tasty and the powder mixes well, even without shaking. Amino Acid supplements aren't too hard to flavour, but Platinum Labs have always been great with their taste technology and this is just another great example.
Platinum Labs AminoGrow Verdict
An intra workout supplement or BCAA supplement is always a good addition for those who want to take their training and gains to the next level. Platinum Labs AminoGrow is a solid release from the up and comer Platinum Labs and provides a decent formulation. If you're after a new intra workout and BCAA formula, Amino Grow from Platinum Labs is a great product to try out.